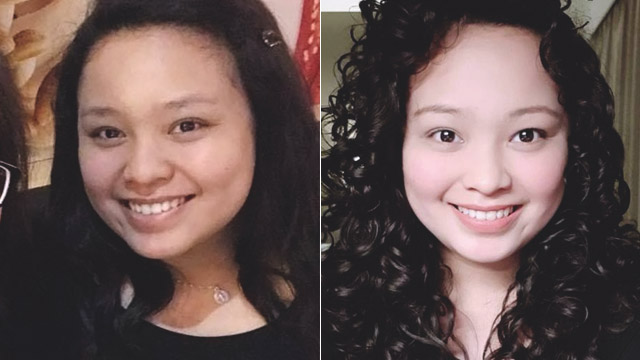 With society dictating that the coveted hair type is straight, silky, and shiny, it's no surprise that naturally curly-haired Pinays feel the unnecessary need to "tame" their tresses.
"I used to resort to chemically straightening my hair whenever my curls showed up" shares Avi, who constantly rebonded her hair for almost eighteen years. It only did more harm than good for her hair, resulting to stiff, straight locks. Fortunately, she found a way to save her tresses, without having to go through yet another hair treatment. "Earlier this year, I discovered and started doing the Curly Girl Method (CGM). It was through CGM that my curls finally started to come back to life."
ADVERTISEMENT - CONTINUE READING BELOW
CONTINUE READING BELOW
Recommended Videos
According to Ria Fernandez of Curly Girls Philippines, a growing online support group that guides Pinays who wish to unleash their curls, the Curly Girl Method developed by Lorraine Massey is the process of "avoiding certain ingredients and routines that are too harsh for curls and replacing them with products and techniques that enhance curl health."
Restoring her curls to their healthy state made Avi appreciate her textured hair. "The right products combined with the right technique/s (plus time and patience!) will definitely revive your curls no matter what state it's in!"
Avi isn't alone in this rising movement. In fact, she's only one out of the thousands of Pinays who have stopped obsessing over rebonding treatments that flatten out their wavy, curly, or kinky tresses. Curly Girls Philippines has become a space where women share their journey to reviving their naturally textured hair—and the transformations are inspiring.
ADVERTISEMENT - CONTINUE READING BELOW
Kate, a public servant from Batangas, attests that she has finally embraced her curls after so many years. "I used to hate my hair with a vengeance but I realized that curls can also be beautiful. Curly Girls Philippines helped boost my confidence. I never expected to be complimented for my curly locks and I couldn't be more thankful!"
Aprel, an online English teacher from Laguna, found new confidence in her curls with CGM and the group. "When I found out about the Curly Girl Method, I was ecstatic! 'There's hope for me, at last,' I told myself. I realized I was just using the wrong products. My natural hair was one of my biggest insecurities, and being able to accept it wholeheartedly turned things around for me in a major way.
"Belonging to a community of Pinays who are proud of their naturally-given roots has been so empowering for me. I'm continuously learning about how to take care of my curls and these ladies have inspired me so much to enjoy this journey!"
ADVERTISEMENT - CONTINUE READING BELOW
Ria Fernandez, who has previously shared story with Female Network, notes that it will take a while for the restoration to happen, especially after long years of constant chemical and heat application, but the end-result will truly feel liberating not only for your hair, but also for yourself. 
For more information, visit Curly Girls Philippines on Facebook. Upon your join request, please answer all three questions to have your group membership approved.
Comments
Load More Stories