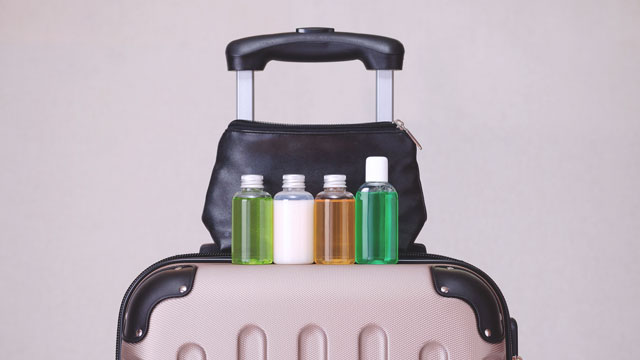 Whether you're escaping to the tropical paradise that is Palawan or going on a Hallyu tour of South Korea, don't get on that plane without carefully packing your skincare essentials. Here are five tips to help you out.
1. Think of your destination's climate.
If you're visiting a local city or hitting up a country with the same climate as ours, then you can freely use the same products you use at home. But if you're going somewhere cold, bear in mind that strong winds and frigid temperatures are far more drying to your skin. Equip yourself with thicker creams and oils, or even more layers of moisturizing products to protect and nourish your skin.
ADVERTISEMENT - CONTINUE READING BELOW
2. Make the most out of samples.
Now's the time to go through your collection of skincare samples! They're practically weightless and take up barely any space, so you have more baggage allowance left for other things (aka shopping). Just be wary about unfamiliar products from brands you've never tried—you wouldn't want to break out in the middle of your trip.
3. Decant things in spill-proof travel containers.
If relying on samples just isn't practical for you, simply transfer your tried-and-tested products into miniature containers. Check out department stores and discount shops for clear travel-sized pots and bottles—some are even sold as a set with a handy pouch to keep everything in.
4. Always keep 3-1-1 liquid rule in mind.
If there's one very important reminder you must know, it's this. According to the Transport Security Administration, "You are allowed to bring a quart-sized bag of liquids, aerosols, gels, creams, and pastes in your carry-on bag and through the checkpoint. These are limited to travel-sized containers that are 3.4 ounces (100 milliliters) or less per item." Trust us when we say that airport security officers are ruthless when it comes to products that don't adhere to this rule. You really wouldn't want to throw away your ultra-fancy moisturizer or expensive face oil just because it's over the size limit!
5. When in doubt, pack it in your check-in bag.
Don't insist on stashing your entire kikay kit in your handbag. Some things, like razors and tweezers, tend to be controversial and are subject to the security officer's discretion. Just play it safe! 
This story originally appeared on Cosmo.ph
*Minor edits have been made by FemaleNetwork.com editors
Load More Stories