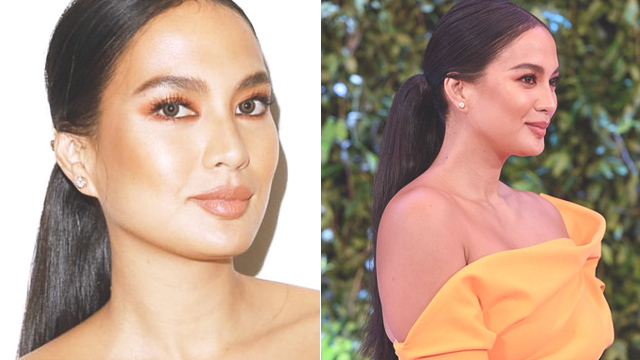 In an Instagram post thanking her glam team for the ABS-CBN Ball (previously the Star Magic Ball), It Girl Isabelle Daza shared that she actually asked her makeup artist, Jelly Eugenio, not to put any foundation on her. (She also revealed that her cousin Georgina Wilson created the look and that Suyen Salazar only took seven minutes to do her hair. Wow!)
ADVERTISEMENT - CONTINUE READING BELOW
While it was a surprising choice, Belle isn't the first celeb to have opted for minimal coverage on the red carpet. For Star Magic Ball 2016, Ellen Adarna only used brow pencil, blush, and lip tint to create her look.
Even Meghan Markle's makeup artist has shared that the Duchess prefers to keep foundation to a minimum, so her skin can look "really fresh and dewy."
Now, as we all know, the secret to pulling this off is by religiously following your skincare routine, staying hydrated, and getting enough sleep prior to your big event. However, not everyone can achieve flawless skin even with these tips (which is perfectly normal and you don't have to feel pressured to cover up every. little. thing.), so here are a few extra steps you can follow:
Use a blurring primer
Applying primer is like the final step in your skincare routine as it preps your canvas before makeup application. So even if you're not wearing foundation, make it a habit to apply a layer to make your skin look extra smooth. It'll also get your makeup to stay longer, so don't forget to apply on your eyelids as well.
ADVERTISEMENT - CONTINUE READING BELOW
FN TIP: Use your fingers to massage the primer onto your face. This will make your skin look plumper and the heat from your fingers will allow the product to melt and spread out more evenly.
Use a spot color corrector or concealer
While a primer is perfect if you're worried about the overall texture of your skin, dealing with a specific problem, like dark undereyes or blemishes, can be addressed by using color-correcting concealers. For eyebags, try a yellow-toned concealer. For blemishes caused by acne or allergies, try a light layer of green corrector.
ADVERTISEMENT - CONTINUE READING BELOW
Use a tinted moisturuzer
Some women aren't ready to go perfectly bare, which is no problem! In this case, you can opt for a layer of tinted moisturizer for light coverage, as this will keep your skin hydrated (this is essentially the key to a no-makeup makeup look). BB cream is also a good option if you want a bit more coverage.
ADVERTISEMENT - CONTINUE READING BELOW
FN TIP: You can also try one with built-in suncreen to minimize layers and keep things lightweight.
Take advantage of your highlighter
To avoid looking flat and dull, make sure to apply highlighter in all the right spots: your cheekbones, the bridge of your nose, under the brow bone, even the center of your eyelids. Doing so will enhance your natural features and make you look more awake.
ADVERTISEMENT - CONTINUE READING BELOW
Bonus: Bring a translucent powder and blotting papers
If you have oily skin, it's best to be prepared for long events by carrying translucent powder and blotting papers in your purse so as not to ruin your makeup. No air con in the venue? You can also bring a facial spray to rehydrate your skin mid-day.
Load More Stories