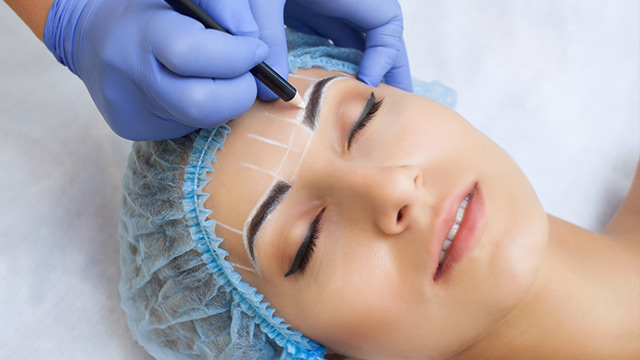 Ever since full brows became a trend, women have become obsessed with making sure that their kilay was on fleek. But it takes work and time (especially if you're not used to touching your brows), so people started looking for a hassle-free solution. Enter microblading, the semi-permanent beauty technique that will look like you woke up with killer brows without putting on the effort.
ADVERTISEMENT - CONTINUE READING BELOW
Here's everything you need to know before booking that brow appointment: 
What is microblading?
Microblading is a semi-permanent tattoo for your brows. Tiny needles are used to mimic hair strokes so you achieve beautifully-shaped and natural-looking fuller brows. Because it is not a permanent process, the color will fade eventually, but your brows can last between a year to three years depending on your skin type. Those with oily skin will most likely fade out the pigment faster than someone with dry skin.
How microblading works
Julie Cautiverio, a former freelance makeup artist in the Philippines and a certified and licensed microblade artist who runs her own studio in Silicon Valley, California, shares microblading takes about two to three hours. The first step is assessing the client's face and mapping an ideal brow shape.

"I take my time to measure my client's brow points and create a shape that incorporates what they want to achieve for their brows," she shares in an email interview with SmartParenting.com.ph.

After finalizing the shape, a numbing cream is used on the brows to lessen any discomfort while tattooing. After 10 to 15 minutes, Julie begins to microblade hair strokes with light pressure. It takes 20 to 30 minutes for the first pass, and Julie applies another numbing formula for the rest of the procedure.

ADVERTISEMENT - CONTINUE READING BELOW

"I go back and perfect the strokes and check with the client if she's satisfied with how it looks. If they request a more filled-in look, I will add machine shading for a soft powder-filled look. Then, I set the brows with pigment for five to 10 minutes, wipe the brows, and new brows are born!"

Don't be intimidated by your new, darker brows—this is perfectly normal. Expect peeling within 10 to 14 days after which your brows will be a few shades lighter. Julie says it takes about four to six weeks for the true color of the brows to appear.



After the appointment, you need to give your brows time to heal. Julie notes that healing time varies per person since everybody recovers differently and have different skin types.

She stresses that post-treatment care is very important. Brows cannot get wet for 10 days, so avoid exercising (because of the sweat) and wearing makeup on your brows. Avoid scratching and picking at any scabs.

Though you may have perfect brows after the initial appointment, a follow-up appointment is recommended after six to eight weeks. This is to "reinforce missing brow strokes, build color, and perfect the brow shape," according to Julie. A yearly color boost is also recommended to keep up with the brow shape.

ADVERTISEMENT - CONTINUE READING BELOW
Does microblading hurt?
It's one of the most common questions a client asks. You may feel a little discomfort or very minimal pain. Julie describes it as "one to three out of 10, depending on your pain tolerance." It is also why Julie personally prefers to numb the skin twice — to prevent any pain as possible.
Is microblading for you?
Julie shares most of the clients that come to her avail of the treatment because they are tired of drawing their brows. Her clientele includes busy moms, hardworking women in the medical field, corporate employees, teachers, and caregivers. But the microblading treatment is also for cancer survivors and men and women who have lost their brow hair due to alopecia (or spot baldness).

Julie does not recommend microblading to people who have skin issues on their brow area, allergies, or those who are prone to keloids. Pregnant and nursing women are advised to hold off their treatments, as well those who take medication or have any medical issues. Julie says it is crucial to get clearance from a doctor for the procedure.

There are already a number of clinics in the Philippines that offer microblading, but Julie encourages those who would like to have their brows done to do their research and pick the right artist for them. "I have had clients go to me for cover-ups because they were not satisfied with their previous tattooed brows," she shares.
ADVERTISEMENT - CONTINUE READING BELOW
How much does microblading cost?
In the Philippines, professional brow artists charge around P20,000 to P25,000 for the treatment. Some clinics can go up to P80,000 depending on the kind of brows you are going for.
Where can I have my brows done?
Browhaus
Ask for: Brow Resurrection services
Starts at P42,000
Click here for a list of their branches.
PhiBrows artists
These are certified microblading artists from the Phi Academy, a microblading academy that started in Europe. Their master trainers travel around the world to do intensive training with potential artists. In the Philippines, the pioneer PhiBrows microblading artist is Ron Maclang-Peña. Contact her here.
Strokes by Momoi Supe
Starts at P20,000
Click here for a list of their branches.
If you're still on the fence about microblading, Julie says most clients do it out convenience, "In the end, convenience is our best friend. Why not save time to look good and have your brows on point 24/7?"
ADVERTISEMENT - CONTINUE READING BELOW
This story originally appeared on Smartparenting.com.ph.
* Minor edits have been made by the Femalenetwork.com editors.
Recommended Videos
Comments
Load More Stories