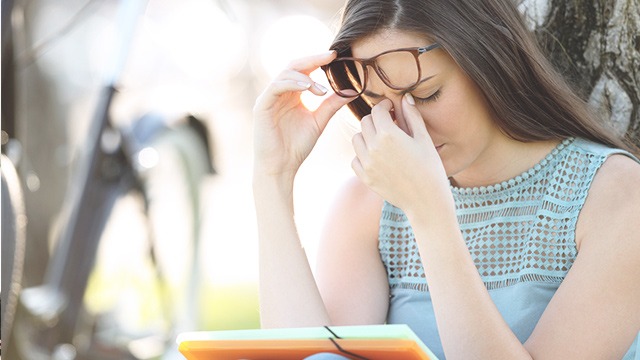 Do you sometimes feel a stinging sensation in your eyes after a day of wearing makeup? To the point where you start to tear up and your vision gets blurry? Not only is it a hassle, it's also dangerourous especially when you're driving or walking in the street (in heels...while carrying your purse, laptop bag, and coffee). To avoid this issue, it's a must for you to alter your beauty routine to accommodate your eye sensitivity. Here are 12 things you can do:
ADVERTISEMENT - CONTINUE READING BELOW
Stop using your fingers to apply makeup.
Or better yet, just stop touching your eyes altogether. "The skin around the eyes is among the thinnest and most sensitive in the body," says Joshua Zeichner, the director of cosmetic and clinical research in dermatology at Mount Sinai Hospital in New York City, as featured on Allure. "It is often regularly exposed to allergens and irritants not affecting other body parts, simply because of contamination from dirty fingers rubbing your eyes." If you really need to do it, then be sure to wash your hands first, especially after applying topical solutions on other body parts.
Clean your makeup tools regularly.
We all know we need to do this, and yet how often do you really clean your makeup brushes? About once a month? Yeah, we thought so, too. It may be nakatatamad to do it weekly, but your smooth skin and irritation-free eyes will thank you later. 
CONTINUE READING BELOW
Recommended Videos
Don't put makeup on your inner eye.
It's a Tyra Banks-approved practice to use white eyeliner on the inner eye to achieve a fresh, wide-eyed look. But according to research, doing so could cause your tear film to thin, leading to dry eyes. Avoid beauty shortcuts, and just be sure to get eight hours of sleep when you need to look good!
Apply eyedrops before putting on makeup.
About 30 minutes before putting on makeup, apply some drops to keep your eyes from drying. For days when you need to wear heavy makeup, Canadian makeup artist Andrea Claire tells Bustle that antihistamine is her secret weapon. "The antihistamine actually helps so your eyes won't go red or teary."
Use primer especially formulated for your eyes.
There's a reason why there are primers especially formuated for the eyes in the market. And that reason is called oily lids. A primer acts as a barrier that protects your skin by keeping your makeup in place, so be sure to invest in a good one!
ADVERTISEMENT - CONTINUE READING BELOW
Opt for paraben-free and hypoallergenic products
According to a Cosmo.ph feature, "it's believed that when you use products with parabens, they can enter your body through your skin and disrupt hormone function by producing too much estrogen and increasing the growth of breast cells, which can lead to tumors." While its link to breast cancer is yet to be proven, paraben can also cause major skin irritation, along with other allergens. Stay on the safe side by checking for this in each product's list of ingredients. Take it a notch higher by going straight to hypoallergenic brands like Neutrogena, Clinique, and VMV Hypoallergenics.
Change your makeup regularly.
Old, and more importantly, expired makeup can harm the skin around our eyes. Alternatively, bacteria could also easily get into makeup products we use often, especially when they come into contact with different tools or worse, your fingers. Make it a habit to regularly replace your makeup, and don't think that it's sayang to change it after some time. Remember, skincare comes first.
ADVERTISEMENT - CONTINUE READING BELOW
Use cream eyeshadow
While Pinays are huge fans of powder makeup, those with sensitive eyes should consider switching to creams instead. Powder makeup is more likely to flake and enter your eyes, which could cause bad reactions.
Choose your mascara carefully.
While it seems like it makes sense to just invest in a waterproof liner, those are harder to remove at the end of the day, and the process could irritate your eyes each time. If you really love the dramatic effect of curled lashes, here's a list of some mascaras with gentle formula. But if you want to skip the hassle altogether, you may even just go bare and solely use an eyelash curler. 
Experiment with different pigments.
Interestingly, there are shades that contain more allergens than others. Tim Quinn, national director of creative artistry for Giorgio Armani, shares that he tends to "avoid using anything with red or purple hues, as they can sometimes heighten the sensitivity issue."
ADVERTISEMENT - CONTINUE READING BELOW
Remove makeup properly, and with the right product.
Regardless of skin sensitivity, makeup should never be worn to bed. That said, try a remover made specifically for eye makeup—epecially if you can't live without your eyeliner, mascara, and eyeshadow. 
Change your nail polish.
If all else fails, you might want to take a break from your getting manicures and see if there are any improvements on your skin. That means that your nail polish might be the culprit! If that turns out to be the case, try a five-free polish, or brands that have eliminated the use of known carcinogens (formaldehyde, dibutyl phthalate, toluene, formaldehyde resin, and camphor).
Sources: Bustle, StyleCraze, Allure
Load More Stories