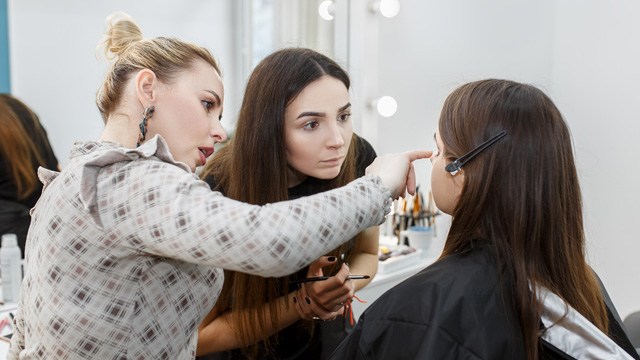 "Putting on makeup is like putting on high heels. It gives you confidence and makes you feel more in control", says Sonia Kashuk, makeup artist and founder of Sonia Kashuk Beauty. In the last few years, makeup tutorials have become all the rage on YouTube and Instagram–with good reason. Makeup can really make a difference in your confidence levels for the day. Just as we have different sets of clothes for different occasions, the concept of "putting on a face" using makeup can help prepare you for whatever the day has in store for you.
ADVERTISEMENT - CONTINUE READING BELOW
Enhancing your natural beauty definitely has to be one of the top reasons for you to wear makeup. It's about highlighting your favorite features and sharing it with the world. However, that can be harder than it sounds. Even with all the online tutorials available, it's still often difficult to blend, highlight, contour or get those eyebrows on fleek without the guidance of someone who can actually see your face and tell you where and what to apply. So, we've put together a list of three beauty classes you can take in your spare time, not just so you can slay everyday, but also to get some well-deserved me time that will leave you feeling like Beyoncé.
Everything that is built well starts with good foundation–including makeup! Using a good quality foundation combined with proper application can create a perfect base for any look. In this workshop, celebrity and lead makeup artist, Mark Qua, will share with you his secrets for finding the perfect shade for your skin tone and how to apply it for a flawless, younger looking you. And as a special gift, you get first dibs on Laura Mercier's new Flawless Fusion Ultra-Longwear Foundation, which will be exclusively available only at the workshop. 
ADVERTISEMENT - CONTINUE READING BELOW
You can send your RSVP here.
Good makeup always starts with great skin. Suesh not only includes makeup application techniques in their workshop, but also educates you on proper skincare. It is a personalized step-by-step and hands-on approach that suits your lifestyle and preferences. If you're one to multitask, this is a great option for you because it's also something you can do with your girlfriends or your officemates. This workshop also leaves you with a new set of brushes and some products that you can practice with at home.
If you have sensitive skin, don't want to put too much makeup on, and would rather focus on how to properly care for your face, this might just be for you. Try treading down the all-natural path in the Cosmetic Course: Organic Emulsion. They hold workshops that will help you learn how to make your own face creams, masks, serums, and sunscreen on your own. That way you know exactly what's going on your skin and you can play and create the products that will help you achieve that inner glow just like J.Lo.
ADVERTISEMENT - CONTINUE READING BELOW
Comments
Load More Stories