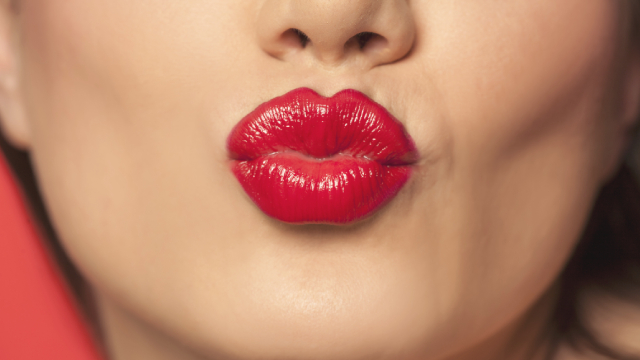 In an interview with In Style, No Doubt singer Gwen Steffani gave one of the most relatable lipstick quotes ever, "No matter what's going on in my life, makeup is like war paint for the day," something pretty much true for many women. Makeup, specifically lipstick, can make you feel inches taller with confidence—maybe because it reminds you that you've done at least one thing for yourself during a busy day.
ADVERTISEMENT - CONTINUE READING BELOW
If you'll look at the history of lipstick, it actually has actually its roots in female empowerment. Red tints, specifically, were used by suffragettes from the 1900s to the 1920s who fought for the right to vote for all women in the U.S. While the '70s had some women rebel against makeup, "condemning the commercialized beauty business as degrading," there were also those at the other end of the spectrum who used lippies as a means of self-expression. As a Harvard paper says, "lipstick became a symbol of social rebellion, adopted by both sexes of the punk-rock music and cultural movement to express…general nonconformity."
Today, women wear lipstick (and makeup in general) for themselves, and not for anyone else. A kikay kit staple, lipstick adds just the right touch of color to your look, even if you decide to go without blush or eye shadow for the day. There are now a lot of options for your puckers—bullets, liquid lippies, tints, oils, powders—but they all serve the same purpose of making you feel ready to conquer the world.
ADVERTISEMENT - CONTINUE READING BELOW
Recommended Videos
Ready to swipe on your favorite hue? To add a bit of inspiration, we've collated several quotes from popular celebrities and iconic personalities on their love for lippies, so if you're in need of pick-me-up, we've got you covered:
1. Coco Chanel
"If you're sad, add more lipstick and attack."
2. Audrey Hepburn
"I believe in manicures. I believe in overdressing. I believe in primping at leisure and wearing lipstick. I believe in pink. I believe happy girls are the prettiest girls. I believe that tomorrow is another day, and... I believe in miracles."
ADVERTISEMENT - CONTINUE READING BELOW
3. Monica Bellucci
"Lipstick is the most valuable weapon in a woman's make-up kit. It has the power to transform the appearance and mood of the person wearing it, and, at the same time, arouses the admiration of everybody else."
4. Kate Moss
"Lipstick is iconic. It's the one product that marks out an era, and a certain lip colour can define a season. It makes me feel more 'done'. I wear a beige lip in the day, but red when I'm going somewhere—it makes that transition from day to night."
5. Elizabeth Gilbert, from the book Eat, Pray, Love
"Well, I always tried to look nice and be feminine even in the worst tragedies and crisis, there's no reason to add to everyone's misery by looking miserable yourself. That's my philosophy. This is why I always wore makeup and jewelry into the jungle-nothing too extravagant, but maybe just a nice gold bracelet and some earrings, a little lipstick, good perfume. Just enough to show that I still had my self-respect."
ADVERTISEMENT - CONTINUE READING BELOW
6. Dolly Parton
"Well, my smile's pretty hard to miss, considering I'm a gal who likes her lipstick—the redder the better."
7. Dita Von Teese
"Heels and red lipstick put the fear of God into people."
8. Mindy Kaling
"Sometimes you just have to put on lip gloss and pretend to be psyched."
ADVERTISEMENT - CONTINUE READING BELOW
9. Stephen F. Campbell
"She was the kind of girl who wore dark lipstick and didn't need to speak a word to seduce you."
10. Charlotte Tilbury
"Red lipstick is instant glamour."
11. Elizabeth Taylor
"Pour yourself a drink, put on some lipstick, and pull yourself together."
12. Vivienne Westwood
"I was a punk before it got its name. I had that hairstyle and purple lipstick."
13. Jonathan Van Ness
"There is a diva in there, but all she needs is a bit of a bold lip."
ADVERTISEMENT - CONTINUE READING BELOW
14. Joanna Lumley
"I find it a great antidote... lipstick and mirrors and hairspray."
15. Gwyneth Paltrow
"Beauty, to me, is about being comfortable in your own skin. That, or a kick-ass red lipstick."
16. Alexandria Ocasio-Cortez
"Any attempt to make femininity trivial or unimportant is an attempt to take away my power. So I'm going to wear the red lipstick."
17. Lady Gaga
"Live your eyeliner, breathe your lipstick."
ADVERTISEMENT - CONTINUE READING BELOW
18. Cristela Alonzo
"I decided to go for a bright red to highlight my mouth so that people knew my words were important."
19. Kate Spade
"She has a way with words, red lipstick, and making an entrance."
20. Beyonce
 "That's one of the things I love about makeup. You can change your whole attitude by just doing your eyeliner or lipstick differently."
21. Twiggy
"For me, getting older doesn't mean throwing away a favourite colored lipstick or a fabulous pair of boots; instead, it's about harnessing all the great things I have learnt over the years about what does and doesn't suit me, and enjoying the way in which cleverly selected outfits can enhance the nice bits."
22. Sofia Vergara
"When you find the right shade of lipstick, you feel more confident."
23. Emma Watson
"If I'm feeling tired, I just say, 'I'm going to paint my nails purple and put some lipstick on!'"
ADVERTISEMENT - CONTINUE READING BELOW
24. Keira Knightly
"Lipstick is for when you've had a shit day and you need red lipstick to face the world."
25. Kendall Jenner
"Do your squats, eat your vegetables, wear red lipstick, [and] don't let boys be mean to you."
26. Catherynne M. Valente, from the book "Deathless"
"Did you ever think, even once, that I loved lipstick and rouge for more than their color alone? …Cosmetics are an extension of the will. Why do you think all men paint themselves when they go to fight?"
ADVERTISEMENT - CONTINUE READING BELOW
27. Rose McGowan
"I came out of the womb waving red lipstick."
28. Collen Ballinger
"I would do whatever the haters said they didn't like. They'd say, 'I don't like your lipstick,' so I'd put on more."
29. Naomi Wolf
"For I conclude that the enemy is not lipstick, but guilt itself; we deserve lipstick, if we want it, AND free speech; we deserve to be sexual AND serious – or whatever we please. We are entitled to wear cowboy boots to our own revolution. "
ADVERTISEMENT - CONTINUE READING BELOW
Sources: Good Reads, Harper's Bazaar, Brainy Quote, Style Caster
Load More Stories