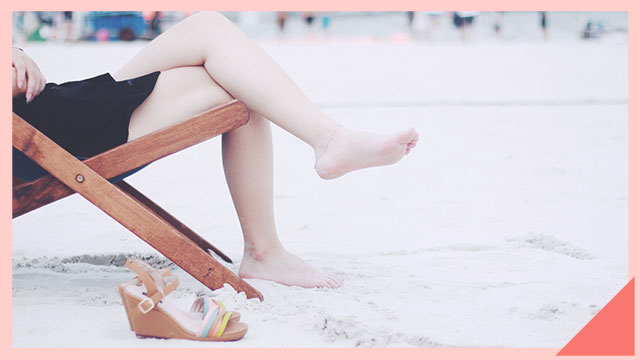 Scars are a normal part of life. Everyone has at least one, whether from an injury when they were younger or from medical procedures they once had. But no matter how (metaphorically) beautiful scars can be, the opposite rings true when it comes to your appearance. The truth is, scars and marks can deflate your self-esteem, especially when they're on visible areas of your body.
ADVERTISEMENT - CONTINUE READING BELOW
You might have thought about finally getting rid of your annoying scars, and have probably tried a few remedies, so we sought advice from dermatologist Dr. Kristina Reyes-Bacani, CEO and Medical Director of Luminisce Holistic Skin Innovations, to know how to properly treat leg scars. 
CONTINUE READING BELOW
Recommended Videos
"Skincare products alone are not enough to completely eliminate leg scars," says Dr. Reyes-Bacani. "Moreover, home remedies can actually be dangerous as these are not isolated actives, so the risk of irritation or allergic reactions is much higher." Isolated actives are pure, concentrated formulas that have been clinically proven to be effective in targeted treatments. Below, we find out the different kinds of scars, over-the-counter treatments, and derma procedures to help reduce the appearance of your leg scars.
What are the different kinds of scars?
In order to figure out the best approach in treating your leg scars, the answer lies on the mark itself. "There are different types of scars, and treatment depends on what types are present in the skin," says Dr. Reyes-Bacani. One treatment does not fit all, and not all scars are formed the same. 
ADVERTISEMENT - CONTINUE READING BELOW
1. Atrophic scars
"An atrophic scar appears as a depressed area or 'dent' on the skin," explains Dr. Kristine. Acne scars fall under this category, which can be divided further into three kinds: icepick, boxcar, and rolling scars.
2. Hypertrophic scars
These appear as bumps on the skin. "It's important that though the scar is raised, the bump doesn't extend the original wound area," notes Dr. Kristine. Hypertrophic scars usually form from burn injuries, but are also known to appear on wounds from piercings, cuts, and acne. 
3. Keloidal scars
"Keloidal scars are frequently bigger than the original wound," says Dr. Reyes-Bacani. These are similar to hypertrophic scars, appearing as bumps on the skin, but the difference is that these marks tend to extend beyond the wound borders due to its accumulation of excessive scar tissue. Keloidal scars can form from chicken pox scars, burn injuries, scratches, among others.
ADVERTISEMENT - CONTINUE READING BELOW
4. Contracture scars
From the term itself, these scars make the affected skin become tight. "Contracture scars appear puckered or pinched and tend to have an irregular surface," explains Dr. Reyes-Bacani. This is common in burn wounds and can also limit your range of mobility due to the scarring.
5. Post-inflammatory hyperpigmentation
While it's not exactly considered a scar, these marks form after picking and squeezing on acne—or when it comes to your legs, ingrown hair—and results in a discolored patch of skin. "Post-inflammatory hyperpigmentation is the most common scar found on legs," notes Dr. Kristine.
What active ingredients help reduce the appearance of scars?
If you're not keen on reading labels, it's high time to make it a habit. For your next skincare haul, make sure your products have these listed as active ingredients to make your scar-reduction process more effective. 
1. Zinc oxide or titanium dioxide
If you have a fresh scar, avoid sun exposure on the area during the first six months. You already know that UV rays are bad for your skin, but it only gets worse for your scars, as these can turn darker under the sun due to the already weak or damaged layer of skin. To avoid darkening scars, look for a sunscreen that contains zinc oxide or titanium dioxide—this chemical pairing forms an invisible barrier at the topmost layer of your skin and protects you from both UVA and UVB rays.
ADVERTISEMENT - CONTINUE READING BELOW
2. AHAs, BHAs, and azelaic acid
Alpha hydroxy acids or AHAs help your skin-shedding process and are usually found as a component in exfoliants. A popular example of an AHA is glycolic acid, which has been proven effective in promoting collagen production, sloughing off dead skin cells, and brightening your skin. 
ADVERTISEMENT - CONTINUE READING BELOW
TRY: PIXI Glow Tonic, P1,115/100mL, available online
Beta hydroxy acids or BHAs are deep-penetrating compounds typically found in anti-acne treatments that clear out gunk deep within your pores, and you might be familiar with its most popular type: salicylic acid. 
Finally, azelaic acid neither falls under AHAs and BHAs. It's packed with anti-microbial and anti-inflammation properties, and is available in the form of a gel, cream, or foam. This is often used to boost cell turnover at a faster rate to reduce scarring.
3. Silicone
Silicone-based scar gels are effective in preventing and healing scars. How a silicone-based gel typically works is that it helps break up thickened scar tissue and creates a protective layer to keep the damaged skin from losing moisture, which is integral to the healing process.
4. Vitamin C
If you're taking a vitamin C supplement every day, then you're on the right track. Ascorbic acid is considered one of the holy grail ingredients in anti-aging skincare, which is why you might want to consider investing in a vitamin C serum. Vitamin C is vital in scar revision, which means it breaks up old collagen to make way for new collagen. It also helps with evening out your skin tone due to scarring or hyperpigmentation because of its antioxidant effect.
ADVERTISEMENT - CONTINUE READING BELOW
What are some derma treatments that help reduce scar appearance?
While topical prescriptions and over-the-counter remedies are available, you might still prefer a more permanent solution to your leg scars. According to Dr. Kristine, here are some procedures you might want to consult with your derma about on your next appointment: 
1. Laser treatments
The go-to treatment of dermatologists when it comes to scar reduction is laser treatment—and there are several kinds, depending on the kind of scar you have. "A fractional laser works best in treating atrophic and contracture scars," explains Dr. Reyes-Bacani. This treatment involves removing old or damaged skin to stimulate new collagen formation. A pulsed dye laser can be used to treat hypertrophic scars by targeting the redness of some scars to improve the appearance and texture of the scar surface. In post-surgical cases, laser treatments can also help make a scar more pliable to improve movement.
ADVERTISEMENT - CONTINUE READING BELOW
2. Microneedling
Another way to treat atrophic and contracture scars is via microneedling. Sounds painful, but that's why you're treated to a numbing cream before the procedure. Similar to a fractional laser treatment, it requires a slightly more abrasive approach to remove islands of skin, leading to the formation of new collagen. The only difference is the infusion of platelet-rich plasma or PRP in the treated area, which Dr. Kristine says "helps facilitate more efficient healing and collagen production."  
ADVERTISEMENT - CONTINUE READING BELOW
3. Injections
If you're not a fan of sharp objects piercing your skin, this might not be a favorable option—but you could be missing out on its scar-minimizing benefits. Just like laser treatments, there are different kinds, and Dr. Reyes-Bacani recommends the intralesional steroid injection or 5-fluorouracil injection to treat hypertrophic and keloidal scars. To break it down for you, a steroid injection inhibits inflammation, which leaves you with a flattened and less irritated scar, while the 5-fluoracil (5-FU) injection helps get rid of excessive collagen formation, which is how raised scars are formed, to leave you with a less bumpy skin surface. 
4. Cryotherapy
Less science fiction and more scientifically proven, cryotherapy applies liquid nitrogen on hypertrophic or keloidal scars. "This destroys scar tissue and promote collagen production for new skin to grow," says Dr. Reyes-Bacani. This can also be combined with other treatments, like a steroid injection, to reduce the appearance and inflammation for better results.
ADVERTISEMENT - CONTINUE READING BELOW
5. Chemical peels
For skin-surface marks like your post-inflammatory hyperpigmentations, chemical peels work best to scrape the discolored layer of your skin. Peels are usually infused with glycolic or salicylic acid to help in the healing process. "You can combine the chemical peel with an Nd:YAG or pico laser to help brighten the area," advises Dr. Kristine. "Just don't forget to moisturize the pigmented area three to four times a day."
ADVERTISEMENT - CONTINUE READING BELOW
Load More Stories