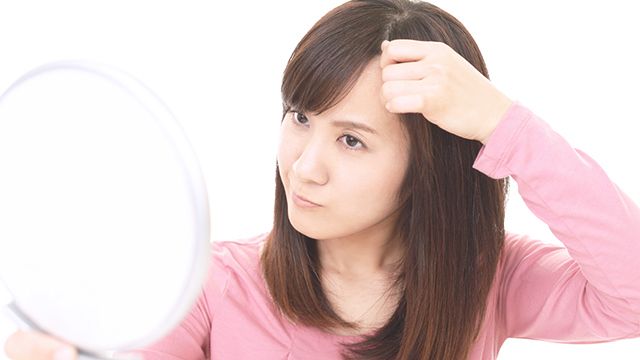 Washing your hair everyday is a known beauty mistake. It strips too much oil from your scalp and dries your hair out. While that's definitely still true, we know that not everyone can skip a day of shampoo—and it's usually because of this one reason: an oily scalp.
ADVERTISEMENT - CONTINUE READING BELOW
It's a fact. Some people's scalps just produce way too much oil than others, and skipping a day or two of washing will leave them with a bird's nest ready to fry up some sunny side-ups. And if you have this kind of hair type, forget about the hair-washing rule first and attack the root (pun intended) of your greasy problem. 
According to Svenson-certified trichologist Teresa Cruz, an oily scalp is the result of excess sebum, or the natural oil that is produced by the sebaceous glands. She then confirms that having an oilier scalp can be genetic, but external causes factor in as well.
"It is also possible to develop [an oily scalp] overtime through the excessive use of oil-based products and consuming a high quantity of fatty foods," she says. The trichologist adds that hormone surges, stress, pregnancy, menstruation, and hormone-targeted medication can also cause excess oil production.
With that said, here are six ways to help your scalp recover from the grease:
1. Wash your hair more often.
"Shampoo more frequently to wash off the excess amount of oil. Also, use a shampoo product that is specific to your oily scalp condition," says the hair specialist.
2. Avoid using too much oil-based products.
This means your greasy hair serums, oils, masks, etc. Try not to use them for a week or two to see the difference. "If you can't avoid them, make sure to rinse them well instead in order to eliminate any residues that might cause more oiliness."
3. Adjust your diet.
Eating a well-balanced diet just about solves everything. The trichologist, however, stresses the importance of cutting down on foods that are high in fat.
4. Drink enough water.
"Drinking plenty of water will keep your scalp moisturized from the inside, since a dry scalp tends to produce more oil," Teresa explains.
ADVERTISEMENT - CONTINUE READING BELOW
5. Avoid staying up too late.
Stress and sleep deprivation triggers overproduction of oil in the scalp, so try to keep your stress levels down and late-night parties to a minimum.
6. Get a scalp treatment.
If all else fails, run to a hair expert. Teresa recommends Svenson's Corrective Treatment, which helps control oil production.
This story originally appeared on Preview.ph.
* Minor edits have been made by the Femalenetwork.com editors.
Load More Stories