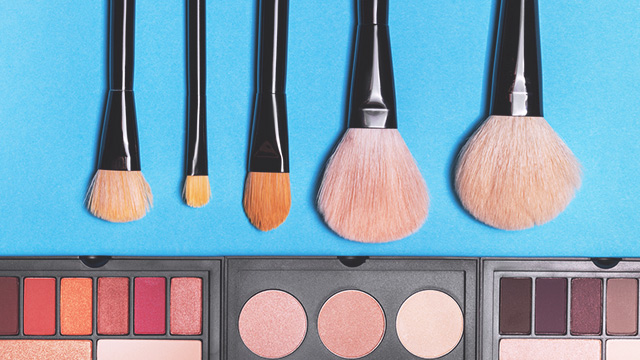 Just in case you needed a reminder, using dirty makeup brushes could be just as bad for your face as skipping your skincare routine at night. Not cleaning your makeup brushes as often as you should will only render your expensive beauty investments useless, and it doesn't even cost a lot of money to do it (and time, really, if you don't count waiting for the brushes to dry).
ADVERTISEMENT - CONTINUE READING BELOW
"If you are one of those people that does all the right things and yet can't understand why you have rashes and spots, take a look at the tools you use to apply your products with," says Lynne Sanders, cosmetic scientist and founder of Cosmetics a La Carte, as noted by Glamour.
CONTINUE READING BELOW
Recommended Videos
The same feature also reports that "With the daily grime comes consequences like breakouts, congestion and skin irritation. Let alone the brushes limp, clogged bristles that no longer blend evenly. At worst, it can also lead to infections, like folliculitis."
So if you don't want to reverse all your hard work and retain the magic your A.M. and P.M. routines have brought your skin, read on for more tips on cleaning your makeup brushes and other beauty tools.
How to clean your makeup brushes
To properly cleanse your makeup brushes, you might need more than a regular brush cleaner. Just remember to use a gentle soap like natural dishwashing liquid or baby shampoo (some also swear by adding a little olive oil to the mix). Wet the bristles with warm water, and swirl the brush on your palm or a clean, flat surface like a bowl to help wash out the accumulated makeup and oils. Repeat the process until the water runs clear, but make sure not to scrub too vigorously as the hairs of the brush might fall out.
ADVERTISEMENT - CONTINUE READING BELOW
Squeeze out the excess water, and proceed to air out the brush, making sure the water doesn't touch the part where the bristles meet the base. It helps to use a makeup bursh mesh net protector to make sure your makeup brushes retain their shape. 
How often to clean makeup brushes
While many of us probably wash our makeup brushes once a month, a feature on Elle notes that we should be cleaning brushes weekly.
If you're not a heavy makeup user, using a brush cleaner weekly. And if you don't have a brush cleaner, you can also use isopropyl alcohol (not ethyl alcohol). Doing a major wash once a month will do. But if you are a heavy makeup user, with both liquid and powder makeup products in your beauty aresenal, and you use the same brushes to touch up or reapply product later in the day after you've been exposed to city pollution, sweat, and other elements, then it's best to clean them after each use and shampoo them every week. This is to prevent the dirt and oil from building up in your beauty tools.
ADVERTISEMENT - CONTINUE READING BELOW
Concealer and foundation brushes, as well as any brush you use on your eyes (like your eyeliner brush or eyeshadow blender) require to be cleaned more often, so make sure to prioritize these pieces to lessen chances of a breakout, or worse, an eye infection. If you're not a heavy makeup user, was your concealer and foundation brushes weekly, and your eye makeup tools twice a month.
How to clean oval makeup brushes
Similar to your typical makeup brush, only the bristles of the oval makeup brush should be washed, and not deeper into the part where the bristles meet the brush (the glue can get damaged and cause hairs to fall out). Using a gentle soap or shampoo, wet the bristles and put it in a container or the palm of your hand, swirl the paddle to get rid of all the gunk and grime on your beauty tool, and dry out.
ADVERTISEMENT - CONTINUE READING BELOW
It's best to air them out sideways as well, so that the water doesn't drip to the base of the bristles.
How to clean makeup sponges
Using warm, running water, wash the makeup sponge (be sure it's soaked completely!) with dish soap or baby shampoo and massage it until the soap lathers. Repeat the process until the water runs clear. (You may also use hand or a bar of soap if you haven't cleaned your beauty blender in some time.)
Makeup sponges, like your beloved beauty blender, require to be cleaned more often: for light users, a weekly rinse is advised, but twice a week or every few days is necessary if you use it often. Like makeup brushes, sponges collect and absorb the dirt and oil on our faces, and it transfers back along with bacteria every time you use it.
It's also important to note than unlike makeup brushes, beauty blenders are only to be used for up to three months.
ADVERTISEMENT - CONTINUE READING BELOW
Sources: Allure, Refinery29, Bustle
What are the best makeup brushes
There are tons of reliable brands to choose from, so it'll all really depend on what your needs are, where you put makeup on the most, and your level of expertise. Not everyone will know what to do with an angled eyeliner brush, for instance, so there's no need to buy a 48-piece set if you only apply three products a day.
That said, here are some of the most popular makeup brush sets our Girltalkers and editors love to use:
Zoeva
ADVERTISEMENT - CONTINUE READING BELOW
May Girltalkers can attest to this brand, falling in love at first purchase and never looking back. You can purchase the luxury set over at Sephora.ph for P4,087.
Sigma Beauty
Some brushes available on Sephora.ph include a three-piece set of the E35 Tapered Blending, E25 Blending, and E45 Small Tapered Blending , which retails at P1943. The 5-piece Skincare Brush set is at P3,220, but you can also try the Travel Kit which has seven smaller brushes at P4,662. 
ADVERTISEMENT - CONTINUE READING BELOW
Suesh
Their 16-Piece Personal Pro Brush Set is available at P2,500!
Morphe
ADVERTISEMENT - CONTINUE READING BELOW
A favorite among Girtlalkers, the brand just recently launched a collaboration with the colorful Jeffre Star.
Real Techniques
A reliable go-to brand at affordable prices. You can also buy their Travel Essentials set for P880 on Lazada.
Eco Tools
ADVERTISEMENT - CONTINUE READING BELOW
A cruelty-free brand with a more environment-friendly approach to beauty.
Comments
Load More Stories