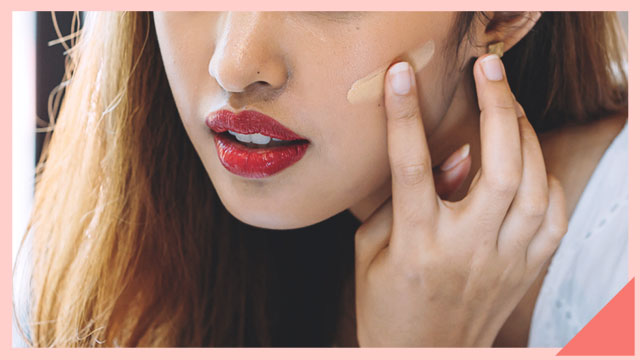 There are a lot of factors you need to consider when buying foundation. After all, it doesn't come cheap and you must find a bottle that will perfectly suit your skin tone and skin type. When you purchase one in the wrong formula or shade, it will be obvious! It can either emphasize the stuff you want to hide (texture, shine, large pores, or wrinkles) or give your face a different color compared to the rest of your body. Lastly, it's available in many kinds—powder, mineral, cream, stick, and liquid. These options can be confusing and overwhelming.
ADVERTISEMENT - CONTINUE READING BELOW
CONTINUE READING BELOW
Recommended Videos
That said, we prepared a list of questions you should ask yourself before buying foundation: 
1. What's my skin type?
Knowing your skin type is important. From here, you'll know which formula will suit your skin concerns. Here's a cheat sheet:
Oily skin - A powder formula is lightweight so it won't "suffocate" the pores. Plus, it can control shine. If you want to try liquid foundation, pick one that says "oil-free" or "non-comedogenic" on the label so you can be sure that it won't leave your face slick and trigger breakouts.
Dry skin - Your complexion will glow with cream or liquid foundations. A powder formula will just emphasize the skin's flakiness and wrinkles.
Normal skin - You can use all types! Lucky you. 
Sensitive skin - Look for the ones with "hypoallergenic" on the label. These foundations are free of ingredients that may irritate your skin.
2. What's my skin undertone?
Besides knowing your shade match, being aware of your skin's undertone—whether it's cool or warm—will help you find the PERFECT foundation. Here's a quiz you can take to determine yours.
ADVERTISEMENT - CONTINUE READING BELOW
3. What's my lifestyle?
Do you have the luxury of time to do a full-face routine every day? Do you like using a sponge, brush, or just your fingers? Are you just starting to learn how to put on makeup? These are the follow-up questions you need to answer to determine what kind of beauty lifestyle you have.
If you're low maintenance, powder foundations are your best bet. These are foolproof and they offer full coverage.
On the other hand, if you've got advanced makeup skills, you may try liquid and cream formulas. These require a brush or a sponge for flawless application.
4. What's my budget?
Knowing how much you're willing to spend is to be honest, the most pressing factor of all! A bottle of foundation can be as affordable as P195 to as expensive as P6,000. 
Now that you've answered the questions above, here's how you can find the right foundation shade:
ADVERTISEMENT - CONTINUE READING BELOW
How to find the right foundation shade when buying in-stores
We recommend that you try the foundation in-store, so you can observe how it will react to your complexion. Plus, you can ask help from the saleslady in finding your shade match.
How to find the right foundation shade when buying online
Purchasing foundation on a website can be tricky. The colors may appear different on our screens versus in real life. Some sites have foundation guides (like Sephora), which are reliable. Alternatively, you can turn to this foundation database. Simply key in the current perfectly matched foundation you own to see its shade counterparts from other brands.
Load More Stories