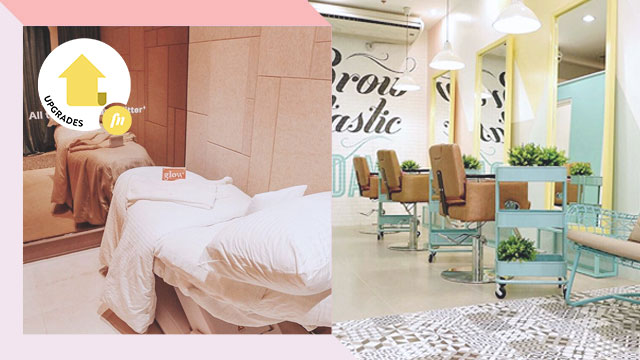 Sorry to say this, but shaving is not the best way to go when you want to get rid of unwanted hair. This may get the job done instantly, but frequent shaving actually causes more harm than good. When you shave, you merely cut off the hair at the surface, making the regrown hair blunt and grow thicker. Of course, there are also the horrors of ingrown hairs, chicken skin, and even dark spots, which we're sure you know and have experienced before. Lastly, though shaving rids off hair instantly, the effect is only temporary. So you'll just keep on shaving and damaging your skin every time you do this.
ADVERTISEMENT - CONTINUE READING BELOW
CONTINUE READING BELOW
Recommended Videos
That's why many opt to go to a professional to remove unwanted hair from head to toe. The most common methods of achieving that hair-free body are waxing and laser hair removal. Both are hands-down winners when it comes to doing their jobs, and promises to help prevent hair growth as long as you consistently undergo these services.
If you need some guidance, below is a list of places and their prices where you can undergo waxing or laser hair removal. From eyebrows, underarms, to legs and private areas—we have got you covered.
Eyebrows
Benefit Cosmetics
Benefit Cosmetics Philippines has Benefit BrowBar which offers a Brow Wax service for those who want perfectly-arched brows that go well with the newly-bought eyebrow makeup you got from them.
Price: Starts at P700
Location: Phase II Greenbelt 5, 2F Alabang Town Center, Ground Floor SM Makati, 2F SM MOA, 3F TriNoma, and more branches here.
ADVERTISEMENT - CONTINUE READING BELOW
Browhaus
Just like their name, Browhaus prides itself on being the first and only concept store that specializes in brow grooming services. They have various stores in Singapore, London, New York, Shanghai, Beijing, Hong Kong, Bangkok, Jakarta, and of course, the Philippines. 
Price: Starts at P698
Location: 4F Greenbelt 5, 2F The Piazza at Serendra, FS 417 & 418 Lucky Chinatown, 5F Mega Fashion Hall, P1 Concourse Level Rockwell, and Ground Level TriNoma
Brow Lounge
Brow Lounge is another popular salon in the Metro which specializes in brow grooming and threading. They have over 25 stores in the country and are all located inside malls so it's convenient for clients who want to squeeze in a bit of grooming in between shopping.
Price: Starts at P180
Location: 5F SM Megamall, 2F SM MOA, 3F Glorietta 1, 3F Robinsons Magnolia, and more branches here.
Ooh La Lash
Ooh La Lash's Arch That Brows service uses all-natural and 100% organic threads—perfect for first-timers because it's gentler and safer for those who have sensitive skin.
ADVERTISEMENT - CONTINUE READING BELOW
Price: P230
Location: 3F Glorietta 3, 2F SM MOA, and 3F Robinsons Galleria
Stylash Manila
Aside from lash extensions, Stylash Manila also offers several brow services such as cleaning, shaping, and waxing. They also provide an additional Q10 Collagen eye mask treatment during the service.
Price: Starts at P220
Location: SM MOA, TriNoma, SM Manila, Robinson's MetroEast, SM Light, and more branches here
Upper lip
Hey Sugar! Waxing Salon
Craving something sweet? Their Choco Lip Upper Lip Waxing Service is definitely a must-try if you have a sweet tooth (But of course, you're not there to eat it, so just smell it). This is also 100% all-natural sugar so there will be no adverse effects on your skin.
Price: P150
Location: Festival Mall Alabang, SM Clark, UP Town Center, and more branches here.
Maxwax
If you're scared of pain from waxing, Maxwax promises a painless upper lip hair removal in every session. The place is also Instagram-worthy so you can document your first-time here—sans the ouchy—thanks to their pain-free service.
ADVERTISEMENT - CONTINUE READING BELOW
Price: P230
Location: Alabang Town Center, SM Aura, Ayala Malls the 30th, and UP Town Center
Underarms
Glow Skin Clinic
Hit two birds with one stone with Glow Skin Clinic's Goodbye & Hairwell service. This combines hair removal and whitening using the diode laser called Mediostar Next Pro.
Price: P3,500
Location: 2F Uptown Place Mall BGC
Skinstation
Skinstation uses Diode Laser Hair Removal which is "virtually painless." They also have promo packages for this, depending on your budget and needs, for you to choose from.
Price: P1,500
Location: SM Fairview, SM MOA, SM North, Gateway Mall, and more branches here.
Arms 
Barenaked
Barenaked uses a completely natural paste made from lemon, sugar, and water. Their sugaring hand technique features hair extraction in the direction of its growth—making sure that they got the unwanted hair from the roots.
Price: P300
Location: SM North, Glorietta 5, Market! Market!, and more branches here.
ADVERTISEMENT - CONTINUE READING BELOW
Facial Care Centre
Facial Care Centre uses Laser Light Hair Removal which is an advanced laser hair technology that promises a permanent and pain-free hair removal session.
Price: Priced upon consultation
Location: Eastwood, Greenhills, BGC Taguig, and more branches here.
Legs
Flawless Face and Body Clinic
Flawless Face and Body Clinic is known for their Lifetime Hair Removal session which guarantees each client unlimited sessions of laser hair removal (can be Diode or SmartPL) forever. They also have over 45 clinics nationwide and is known for their "Guaranteed Hygienic" pouches which have tools that are solely for one-time use only.
Price: Starts at P10,500 (Starts at P120,000 for Lifetime Sessions)
Location: 5F SM Megamall, 2F SM Light, 2F Farmer's Plaza Mall, 4F SM Makati, 2F SM MOA, and more branches here.
Flirt Waxing Lounge
Laser Luxe is Flirt Waxing Lounge's painless hair removal service. They advise clients to shave their legs prior to the treatment as their aestheticians are not allowed to do so. It is recommended to get this every eight weeks for the legs.
ADVERTISEMENT - CONTINUE READING BELOW
Price: Starts at P5,000
Location: 2F SM Light and Kapitolyo, Pasig
Bikini
Lay Bare Waxing Salon
Lay Bare has been in the industry for more than 10 years and is known to be the go-to waxing salon in the country. Aside from their services, they also offer after-care products for waxing enthusiasts.
Price: P280
Location: Check all branches here.
Pink Parlour
Pink Parlour's Alphalight Permanent Hair Removal does not just remove hair, it also removes chicken skin and promises to lighten the selected area! Note: You'll notice hair falling off within seven days to three weeks after the session—don't panic as this is normal.
Price: P4,000
Location: The Rise Makati, Robinsons Galleria, SM North, and Eastwood.
Brazilian
Strip
One of Strip's most innovative service is the Strip Ice (Laser) Hair Removal. This uses beams of specially filtered light which effectively stops hair growth from its roots. A variety of wavelengths are used depending on the customer's condition as well.
ADVERTISEMENT - CONTINUE READING BELOW
Price: P19,500 for Strip Ice
Location: 4F Greenbelt 5, 2F Serendra, and 5F Mega Fashion Hall
Wink Laser Studio
Wink uses the Gentlemax Pro which they dub as "the fastest and easiest way to banish unwanted hair." In fact, a Brazilian session lasts for a maximum of 30 minutes, and you only need 6 to 12 sessions to see the utmost results.
Price: P4,000
Location: SM MOA, Podium, Power Plant Mall, and more branches here.
Comments
Load More Stories