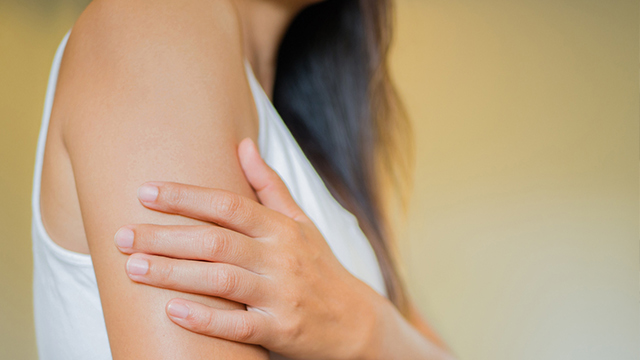 When I was a kid, before the word "insecurity" was in my vocabulary, I didn't have strong feelings about being morena. I never even gave my skin a second thought. So when people started teasing me about my skin color, what annoyed me most was them thinking that just because I was darker, may lamang sila sa 'kin. And it annoyed the hell out of me. (Pretty angsty for a child, I know.) I didn't think much of it then, but now that I'm all grown up, I realize how lucky I was that I was raised to never feel ashamed about my skin color, because as I've come to know, not everyone has that privilege—to some women, growing up morena was a source of distress and anxiety and really restricted them from going for what they wanted. And because of this, only now do I have a strong sense of pride behind my skin color; not because I chose it, but because it's shaped the woman I've become.
ADVERTISEMENT - CONTINUE READING BELOW
Don't get me wrong, just because I didn't hate being morena doesn't mean I was fine with getting teased about it. I got mad a lot, and for different reasons, too. (People can get creative when they're trying to be offensive.) Since both my siblings are as fair as our universally-acknowledged tisay mother, I was no stranger to the 'ampon ka siguro/napulot sa inidoro' jokes (which are really made in poor taste, come on, people). I've also had some not-so-distant relative exclaim, 'iitim ka lalo niyan' repeatedly over the years, every time I'd have a slice of black forrest cake or a glass of Coke (to the point where I'd opt for sansrival or Sprite in his presence just so I wouldn't have to deal with any more 'dark food, dark skin' comments). 
Interestingly though, what irritated me the most was the low-key, seemingly encouraging 'puputi ka rin eventually' statements from "concerned" titas, as if being morena was some sort of curse I had to live with. Newsflash, Tita, morena and proud! Too bad I never really bothered to say it out loud.
CONTINUE READING BELOW
Recommended Videos
Things kind of changed for me, however, when Miriam Quiambao became a Miss Universe first runner-up—after gracefully recovering from a fall, no less. Represent! For once, being morena was IN, and all the formerly nega titos and titas started calling me "our future Miss Universe!" That year, it was all about Miriam Quiambao and morena pride. Never mind that she won the judges over because of the grace and sophistication she showed when she recovered from her wa-poise moment. All they noted in that entire win was that she, like me, was morena! In a way, I found it almost offensive, that they just credited her win to yet another physical attribute and not her actions. In that moment, everything clicked, and I realized the harsh truth that some people will always see only what they want to see. And worrying about what they think, especially when it changes every five minutes, won't get you anywhere in life. You know what does, though? Pulling a Miriam Quiambao and remembering the importance of grace under pressure. No one can touch you if your confidence comes from within.
ADVERTISEMENT - CONTINUE READING BELOW
So in one way or another, growing up morena taught me not to put too much weight on other people's opinions. Instead, kill it when you pursue your passion, and give them something else to talk about. Trust me, there's nothing as satisyfying as proving haters wrong (as long as you keep it classy, of course). Now, where's my crown?
Load More Stories