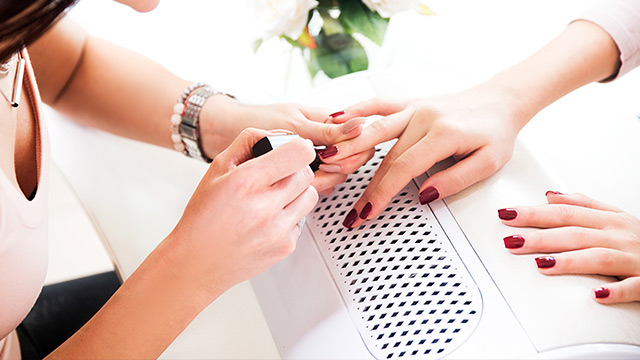 Achieving work-life balance is never an easy feat, but allowing yourself to indulge in a little 'Me time', even for just an hour, is a great way to start balancing out your career and your personal life. Before you head home (or even during your lunch break), treat yourself to a quick massage, or better yet, get a fresh manicure because a mani-pedi session is always a quick way to feel pampered, especially with nail salons that go beyond delivering a simple mani and pedi service, offering complimentary massages and even detoxifying hand, foot, and skin treatments! 
ADVERTISEMENT - CONTINUE READING BELOW
How much does it cost to get your nails done in Manila
Don't know where to start? To help you find a place that will fully satisfy whatever your pampering needs are (not to mention your budget!), we listed down some of the best nail salons to get your nail fix in the Metro, including their rates and services below (Rates may change without prior notice):
Posh Nails
Rates and Services: 
Manicure - P190 
Pedicure - P250 
Posh Spoiling Hands (Soak, spa, scrub, manicure, and massage) - P320 
Posh Spoiling Feet

(Soak, spa, scrub, pedicure, and massage)

- P510 
Gelicure Polish Hands - P800 
Gelicure Polish Feet - P900 
Location/s: 5/F Bldg. B, SM Megamall, Mandaluyong City, 3/F Venice Grand Canal Mall, Mckinley Hill, Taguig City, Lower G/F, Annex 2, SM Fairview, Quezon City and more branches here. 
If you want to pamper your nails without hurting your wallet, make an appointment at Posh Nails! All of their nail treatments cost less than P1,500—including special procedures like nail extensions.
Got lots of time to spare? You can take your pamper session up a notch with additional services like nail whitening, a "micro-crystal treatment that cleanses your nail beds" to brighten yellowish nails or an anti-aging treatment for the hands and feet that "reduce[s] age spots, wrinkles and fine lines." Remember that the hands are an extremely overworked part of the body, so they tend to reveal the early signs of aging through thin, wrinkly skin. 
ADVERTISEMENT - CONTINUE READING BELOW
Nail Tropics
Rates and Services: 
Classic mani and pedi (Cleaning, trimming, buffing and polishing) - P375
French mani and pedi - P390 
Gel polish mani and pedi - P1,390 
Nail art (Stones, gems, glitters and others) - P5++ per accessory 
Nail art (Appliques or 3D stickers) - P35++ per nail 
Nail art (Freehand art) - P50++ per nail 
Nail art (Embossed or marbelized) - P100++ per nail 
Location/s: 1/F Rustans Cosmetics Area, Alabang Town Center, Muntinlupa City, 3/F Ayala Fairview Terraces, Quirino Highway corner Maligaya Drive, Novaliches, Quezon City, 3/F Cinema Level, Century City Mall Kalayaan, Makati City, and more branches here. 
Bored with your same old nude manicure? While this salon does a pretty good job in achieving clean, classic nails, Nail Tropics' intricate nail art is worth checking out. Their professionally-trained artists can whip out an elaborate free-hand pattern or whatever your heart desires. 
Not all nail art has to be bold and flashy; there are subtler nail art styles you can wear at work like this french mani with a colored tip: 
ADVERTISEMENT - CONTINUE READING BELOW
...Or this soft, muted manicure with glittering accent nails: 
Nailandia
Rates and services: 
Manicure - P180
Manicure and gel polish - P700
Pedicure - P220 
Pedicure and gel polish - P800
Whitening hand spa - P220 
Nail art (Hand painted design) - P200 to P400 
Nail art (Stones, rhinestones and pearls) - P20 per piece 
Location/s: Annex 2, SM City Fairview, Novaliches, Quezon City, One Oasis, Pasig City, and more branches here. 
With all the deadlines and meetings you've got to deal with, it's always challenging to squeeze in a pamper session, so make the most out of your beautifying session at Nailandia; here, you can get your digits pampered, have your brows threaded or your underarm waxed, and even indulge in a Swedish massage to cap off your 'Me time.'
It's also a total plus that Nailandia offers a wide array of imported nail polishes like O.P.I., Zoya, and Essie that don't come with additional charges.   
ADVERTISEMENT - CONTINUE READING BELOW
Maison By Nail Spa
Rates and services: 
Express hands - P260
Express feet - P360
Deep sea kelp hands (Cleaning, scrub, 15-minute massage, and premium polish) - P500 
Deep sea kelp feet (Soak in bubble bliss, scrub, cleaning, 20-minute massage, and premium polish) - P950 
Paraffin express hands (Cleaning, paraffin dip, five-minute massage, and regular polish) - P700
Paraffin express feet (Cleaning, paraffin dip, five-minute massage, and regular polish) - P850
Nail art - P45 per finger 
Location/s: G/F Edades Tower and Garden Villas, Amorsolo Drive, Rockwell Center, Makati City and 5/F Shangri-La Plaza, EDSA corner Shaw Boulevard, Mandaluyong City and more branches here. 
This nail salon will easily be your new favorite hideaway if you want to escape from the city's hustle and bustle. It's nestled in secluded areas like hotels and condos and even upscale malls, so you already get a peaceful vibe before coming in—what more when you step inside its cozy, luxe space. 
Don't get intimidated by its posh interiors, though! Their basic nail treatment isn't overpriced; in fact, it even comes with a free, quick massage. But if you want to indulge a little more (and feel classier), try out their Bliss Hands treatment where your nails will be painted in designer lacquers from Chanel to Dior, which even comes with a 30-minute reflexology sesh. 
ADVERTISEMENT - CONTINUE READING BELOW
Nail-a-holics Nail Salon and Spa 
Rates and services: 
Serene island manicure - P190 
Sea crest french manicure - P260
Nature's haven spa manicure - P320 (This includes micro-exfoliation using an all-natural scrub made from sea salt) - P320 
Palm beach pedicure (Nail shaping, cuticle treatment and polish, with an anti-bacterial foot soak and a restorative mini foot massage) - P230 
Nail extension full tip - P680
Nail extension french tip - P720
Nail art (Dots, zigzag, and lines) - P800
Location/s: Lower Ground Floor, Felix Huertas Street corner (C-2 Road), Lacson Ave Ext, Santa Cruz, Manila City, 2/F, Cash & Carry Mall, Pres. Sergio Osmeña Highway corner Emilia St., Makati City, Space L4 – 458 – 459 4/F Market! Market! Bonifacio Global City, Taguig City, and more branches here. 
Need a quick escape from the office? Make your way to Nail-a-holics where its inviting, beach-themed interiors will make you feel like you're on vacation—even for just an hour. They've got branches all over the metro too, so it's easily accessible! 
Each of their nail services come with a hand and wrist or foot massage, so you'll feel even more pampered in your lounge chair. And if you want to give your damaged nails some TLC, Nail-a-holics has all sorts of nail treatments for that; try out their Deadsea Mud Mask Detoxifying Spa, which restores the skin's strength and elasticity through a Mud Mask treatment infused with Moringa and Sunflower oil. P.S. It has a lavender scent that won't fail to calm your senses! 
ADVERTISEMENT - CONTINUE READING BELOW
Comments
Load More Stories