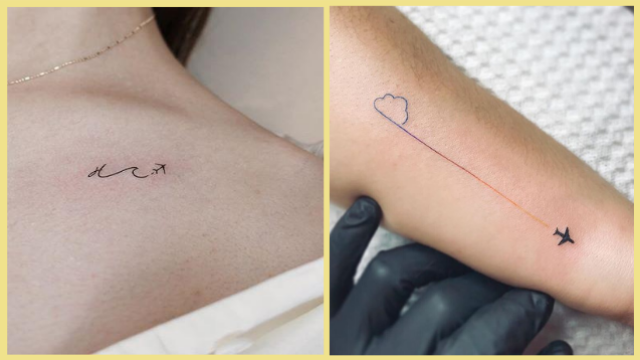 My "office" at home is our dining room, which has a giant window with the best view of the sky. When I need to take a break from my laptop, I usually walk over to the window and think about my last flight. I miss everything about flying; it's such a thrill to get on a plane and know that in a few hours, you'll be immersed in a completely new environment. Each trip makes you feel like the possibilities are endless. 
ADVERTISEMENT - CONTINUE READING BELOW
CONTINUE READING BELOW
Recommended Videos
Here are 10 beautiful airplane tattoos that'll keep your travel dreams alive until we get to fly again.
1. This stunning ink has her initials, a wave, and a plane. 
2. Keep your head in the clouds.
3. This one's too pretty (and it has everything you love about the night sky)!
4. If you want something more low-key:
5. Traveling really does make your life more colorful.
6. Love this delicate ink.
8. If you've found your travel buddy for life:
A tattoo to match all the pretty blue and white porcelain plates you've been buying lately.
9. Fuel your wanderlust.
10. The perfect view:
***
What does your zodiac sign say about you? Subscribe to Cosmopolitan Philippines and find out!
Comments
Load More Stories