Who doesn't know Sailor Moon? This 90's manga-turned-anime is considered to be one of the very first to feature fanny-kicking female leads who fought to protect the galaxy with very little help from men, giving fans (like me!) a superhero show that they can actually relate to and characters that they can aspire to be.
As the series recently celebrated its 20th anniversary and is fast approaching its 25th year, Sailor Moon has collaborated with several makeup manufacturers to produce products that Moonies and even non-fans will love. Here are my top picks:
Miracle Romance Shining Moon Powder
Produced by: Creer Beaute
Inspired by the second transformation brooch of Sailor Moon, this exclusive item was initially released in 2013 as part of the Miracle Romance line in celebration of the series' 20th year in 2012. The product aims to replicate the Moon Princess' innocent glow, so it's pretty light and gives a shimmery, barely-there look.
Price is at around P3,642.00 ($73.180) an is available on Zendo Japan via Amazon.
Rainbow Moon Chalice Blush Cheek Color and Moon Stick and Cutie Moon Rod Brushes
Produced by: Creer Beaute
The chalice which transforms Sailor Moon into Super Sailor Moon now holds your blush! Get Sailor Moon's natural cheek tone with these fancy products that you can set up on your vanity table.
Released only last December 2016, the Rainbow Moon Chalice Blush Cheek Color is priced at around P 2,190.48 (4,968 Yen) while the brushes are around P1,524.00 (3,456 Yen) each. You can get them at Premium Bandai, or just have a friend who's heading to Japan buy them from you.
Miracle Romance Prism Compact Makeup Eye Shadow
Produced by: Creer Beaute
This replica of Sailor Moon's first transformation brooch contains four basic eye shadow shades you can play with.  Add a bit of shimmer to your peepers, or if you're in a rush, use the available red pearl tint to add life to your cheeks!
ADVERTISEMENT - CONTINUE READING BELOW
The Prism Compact Makeup Eye Shadow is available at approximately P1,857.15 (4,217 Yen) and is up for preorder at Premium Bandai. Official release is in March.
Dramatic Powdery UV and Dramatic Skin Sensor Base UV
Produced by: Shiseido
The first official cosmetics collaboration for Sailor Moon's 25th Anniversary is with Shiseido, and boy, they're packaged beautifully. Shiseido's MAQuillAGE line features the Dramatic Skin Sensor Base UV, which keeps your makeup in place the whole day. Also included in this limited-edition set is the Dramatic Powdery UV, which is basically a mousse that turns light and powdery upon application to hide imperfections. It gives you an even complexion that looks very natural.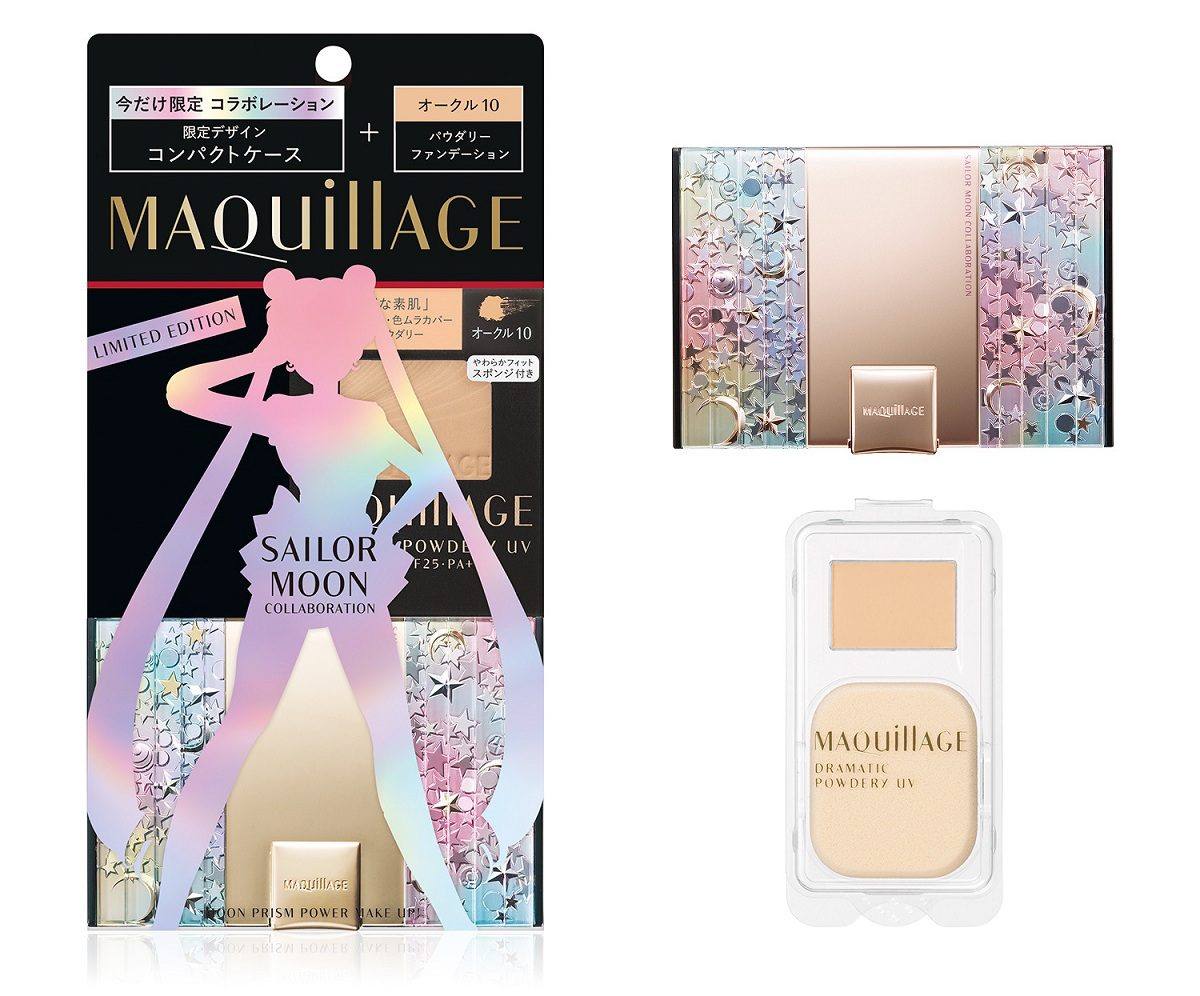 The Sailor Moon x MAQuillAGE set will be available on April 21, 2017, at around P3,095.24 (7,020 Yen). It's up for preorder at Premium Bandai.
FN TIP: Remember that if you live outside of Japan, you'll need a deputy service to process your orders. Sailor Moon Collectibles shares a quick how-to for fans interested in purchasing these limited edition items. 
Sources: Sailor Moon Official, Sailor Moon Collectibles
Comments
Load More Stories