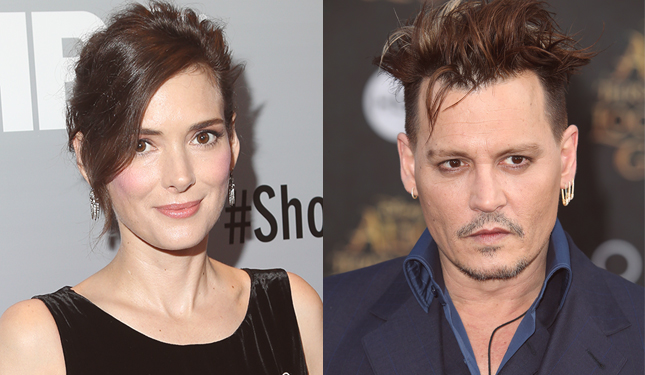 Winona Ryder is shocked at the domestic violence allegations against her ex-fiance Johnny Depp, insisting he is a loving man.

Johnny's estranged wife Amber Heard filed to end the couple's 15-month marriage in May, and then obtained a temporary domestic violence restraining order against Depp, accusing him of abusing her throughout their marriage.

Winona began dating the Pirates of the Caribbean star in 1989 and they became engaged the following year. The couple ended their engagement in 1993, but the 44-year-old has nothing but fond memories of her time with Johnny.

"I can only speak from my own experience, which was wildly different than what is being said," she tells Time Magazine. "He was never, never that way towards me. Never abusive at all towards me. I only know him as a really good, loving, caring guy who is very, very protective of the people that he loves."

The Black Swan star is careful not to imply Amber is lying about the allegations, but she admits she is surprised by her claims.

"I wasn't there," she continues. "I don't know what happened. I'm not calling anyone a liar. I'm just saying, it's difficult and upsetting for me to wrap my head around it. Look, it was a long time ago, but we were together for four years, and it was a big relationship for me. Imagine if someone you dated when you were - I was 17 when I met him - was accused of that. It's just shocking. I have never seen him be violent toward a person before."
CONTINUE READING BELOW
Recommended Videos
ADVERTISEMENT - CONTINUE READING BELOW
Winona is not the first of Johnny's exes who have come to his defence since the allegations hit the headlines last month. Johnny's former partner Vanessa Paradis, the mother of his two children Lily-Rose, 17, and Jack, 14, insisted her longtime partner was "sensitive" and "loving", and insisted, "I believe with all my heart that these recent allegations being made are outrageous."

She added, "In all the years I have known Johnny, he has never been physically abusive with me and this looks nothing like the man I lived with for 14 wonderful years."

Her comments echoed those of Johnny's first wife, Lori Anne Allison, who also leaped to the actor's defense. Lori Anne, who married the actor in 1983 and split from him two years later, said he was never physically abusive with her and never even screamed or shouted.

Meanwhile, Johnny returned to the spotlight in Los Angeles on Sunday night, when he took the stage at a comedy club.
ADVERTISEMENT - CONTINUE READING BELOW

The 53-year-old, who has been avoiding his divorce drama at his island retreat in the Bahamas since returning from a European tour with rock supergroup The Hollywood Vampires made a surprise appearance at the Comedy Store, when he interrupted comedian Mat Edgar's set and exchanged jokes with the comic.

Depp looked relaxed and happy as he hit the stage sporting a cropped, Mohawk hairdo.

He reportedly arrived at the club with his friend Doug Stanhope. The Comedy Store bosses posted a shot of Depp and Stanhope hanging out backstage with fellow comedians Ryan Adams, Kerry Mitchell and Brett Erickson.

ADVERTISEMENT - CONTINUE READING BELOW
Stanhope has been front and center of the Depp divorce drama, attacking Heard and accusing her of lying about the alleged domestic abuse she suffered at the hands of her estranged husband.

In response, Heard filed a defamation lawsuit against the comedian.
Comments
Load More Stories