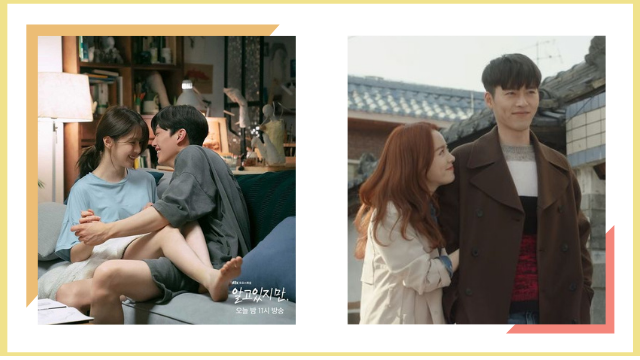 Watching a K-Drama is a lot like riding a rollercoaster. Sometimes you're up, sometimes you're down, sometimes you're laughing, and sometimes, you're crying, but almost always, it ends up a major feel-good high. For this list, we round up 10 underrated titles that are sure to pass the vibe check. You know, the type that's deceptively wrapped up in a feel-good comedy, but will hit you like a 10-wheeler truck with the feels every so often.
ADVERTISEMENT - CONTINUE READING BELOW
Put these 10 underrated K-Dramas on for some good vibes:
She Was Pretty
Where to stream: iQiyi, Netflix
Gist: Two childhood friends cross paths again as adults-only they've switched fortunes. Kim Hye Jin (Hwang Jeung Eum) was once rich and pretty. When her family business goes bankrupt, though, things go downhill. Meanwhile, her old friend Ju Sung Joon (Park Seo Joon), who was once a shy boy with low self-esteem, grows up to become a chief editor-right at the magazine where Hye Jin works.
Bring in the GVs: We know you're thinking this is probably just another "makeover" story (Read: "ugly" girl takes off her glasses and suddenly she's gorgeous and worthy of the guy's attention). Trust us when we say it isn't! Yes, there is a makeover for sure, but there's a different, more honest take to this series' happy ending.
Be Melodramatic
Where to stream: Rakuten Viki
Gist: Three 30-something-year-old women are the best of friends just trying to make it through life, each one with their own different path. Jin Joo (Chun Woo-Hee) is a writer currently working on a 16-episode series with a prickly director, Eun Jung (Jeon Yeo-Bin) is a successful documentary filmmaker whose fiancé passed from cancer, Han Joo (Han Ji-Eun) is a single mom and marketing executive. Hilarity ensues when they all somehow end up entangled in the making of Jin Joo's show.
Bring in the GVs: This refreshingly honest-sometimes using borderline crack hilarity-series executes the slice-of-life angle almost addictively. Plus, this is one of the rare South Korean series that tackles the life of a gay man, Lee Hyo Bong (Yoon Ji On), Eun Jung's younger brother, head on.
Shopping King Louie
Where to stream: Netflix
Gist: The extravagant Louis (Seo In Guk) is the heir to a chaebol-which means that yup, he can buy pretty much anything he wants. When he loses his memory though, he ends up in the care of Bok Shil (Nam Ji Hyun) who teaches him the true worth of things, both tangible and not.
Bring in the GVs: There's always something great about watching two people from different worlds fall for each other. To add to that unbeatable romance equation, both Bok Shil and Louis' innately good characters are hard not to love.
Navillera
Where to stream: Netflix
ADVERTISEMENT - CONTINUE READING BELOW
Gist: Sim Deok Chul (Park In Hwan) may be 70 years old and could have Alzheimer's but his optimism-in the face of even a disapproving family-is exactly the inspiration the younger Lee Chae Rok (Song Kang) needs to become a ballet dancer like his mother.
Bring in the GVs: How many male ballerino stories have you seen? Especially one about a 70-plus-year-old? Nothing is more wholesome than an older person that hasn't given up on their dreams.
Do Do Sol Sol La La Sol
Where to stream: Netflix
Gist: Go Ara takes on the role of an always sunny, gifted piano player Goo Ra Ra (see what they did there?), a rich kid down on her luck who ends up in a small town. There she crosses paths with Sunwoo Joon (Lee Jae Wook) at a small piano institute called La La Land.
Bring in the GVs: South Korea knows exactly how to inject comedy with feel-good crying moments. Just take Do Do Sol Sol La La Sol for example. Goo Ra Ra ends up crossing paths with many more broken souls in the small town-leading to many poignant moments.
ADVERTISEMENT - CONTINUE READING BELOW
Move to Heaven
Where to stream: Netflix
Gist: After his father dies, the young Geu Ru (Tang Joon Sang) is left in the care of his ex-convict uncle Sang Gu (Lee Je Hoon). Together, the two stumble through life-and most importantly, attempt to continue the family business of "trauma cleaning," a service where they come clean up after unfortunate events.
Bring in the GVs: This series was based on an essay from a real-life trauma cleaner, Kim Sae Byul, entitled "Things Left Behind," so you can expect a real hard hit wrapped up in subtle poignancy with this one.
Nevertheless, 
Where to stream: Netflix
Gist: Song Kang and Han So Hee play two students at Hongseo University's Sculpture Department, named Park Jae Eon and Yoo Na Bi respectively. Neither believe in romance-the first is a flirt that hides his feelings and the second had her heart broken by her first romance-but that might change after they meet.
ADVERTISEMENT - CONTINUE READING BELOW
Bring in the GVs: It's still too early to tell how everything will unfold two eps in as of writing, but we're all for young love and the feeling of being liked. Some might say this realistic drama is for all those battling trust and commitment issues, but no one could blame you if the show makes you swoon despite your marupok self. Plus, the duo being art students make the series even more of a visual treat.
Hyde, Jekyll, Me
Where to stream: Netflix
Gist: Gu Seo Jin (Hyun Bin) is a chaebol whose family owns a theme park-and who is inflicted with dissociative identity disorder due to a traumatic incident. The complete opposite of his cold, perfectionist nature, Seo Jin's alternate personality is the kind Robin. Things escalate when Seo Jin encounters Jang Ha Na (Han Ji Min), who works at the park.
Bring in the GVs: There aren't a lot of K-Dramas that tackle mental disorders so this one stands out immediately. Add in Hyun Bin's portrayal of the two personalities and we're hooked.
ADVERTISEMENT - CONTINUE READING BELOW
Hello, Me!
Where to stream: Netflix
Gist: Downtrodden Bahn Ha Ni (Choi Kang Hee) is nowhere near where she thought she would be at 37 years old. She somehow crosses paths with her younger, spunkier 17-year-old-self, played by Lee Re, and chaos promptly ensues.
Bring in the GVs: We're sure there are a lot of things that could be said between you now and your much younger self. This ongoing dramedy's unique plot hits that point just right.
Mystic Pop-up Bar
Where to stream: Netflix
Gist: A mysterious pop-up bar-that literally pops up wherever-is ran by even stranger figures, namely the hot-tempered Weol Ju (Hwang Jung Eum), cheerful Yook Sung Jae (Han Kang Bae), and former afterlife detective Chief Gwi (Choi Won Young). Anyone who enters the bar is helped by the odd trio to solve their life problems-whether they want the help of the mysterious bar owners or not.
Bring in the GVs: This sometimes-comic, sometimes-dramatic series is a unique take on time travelling. Aside from being invested in the stories of main characters, it's also hard not to get pulled into the lives of the customers.
ADVERTISEMENT - CONTINUE READING BELOW
Check Spot.ph out on Viber to join their Community and subscribe to their Chatbot.
Load More Stories