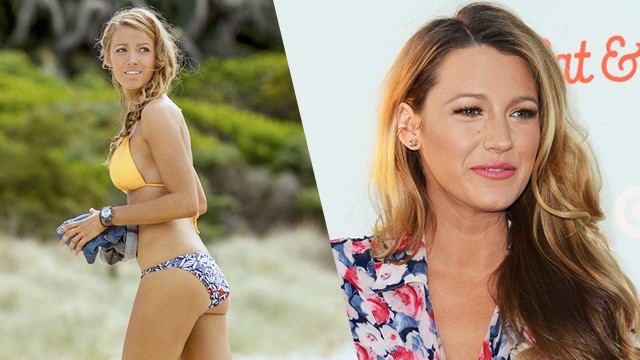 Actress Blake Lively cut gluten and soy from her diet to slim down for her role in shark attack thriller The Shallows.

The star spends almost all the movie in a two-piece bikini and in order to make sure she looked like a svelte surfer babe she made some food sacrifices.

The 28-year-old was still carrying a little extra weight after giving birth to her first child, James, in December, 2014, so she cut out all processed foods for the film.

She tells Australia's Kyle and Jackie O Show, ''What we actually did was no gluten and no soy. It seems like it was really easy to cut out but you realise there is soy in everything... Even if it's healthy (U.S. grocery store) Whole Foods or organic stuff there's always soy in it.

"But once you remove soy you realise you are eating just, like, no processed foods. That's basically what I did. No processed foods and then working out."

Blake reportedly fell pregnant with baby number two just before she had to return to the set for reshoots, but thanks to her healthy diet she was still in top shape.

"I've never been in that good of shape in my whole life," she said. "To do it after having a kid is actually really nice because you see your body after having a kid and it's beautiful because you just gave birth but you're like, 'Oh my God, this is not what my body looked like'."

But the actress doesn't want other mums to go to the lengths she did to lose weight for a film role, insisting the pressure on new mothers to get back into shape after giving birth is ridiculous.

"It's so celebrated," she recently said. "It's like, 'This is what someone can look like after a baby.' I think a woman's body after having a baby is pretty amazing.

"You don't need to be Victoria's Secret (lingerie) ready right away because you just did the most incredible miracle that life has to offer. I mean, you gave birth to a human being! So I would really like to see that celebrated."
ADVERTISEMENT - CONTINUE READING BELOW
CONTINUE READING BELOW
Recommended Videos
Comments
Load More Stories