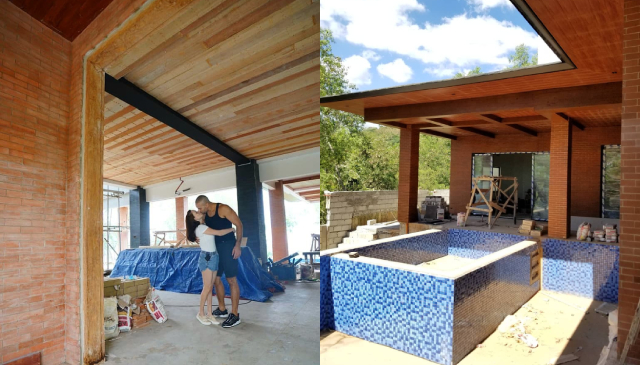 Chesca and Doug Kramer's new home is nearly finished. In fact, they are planning to move in this month.
Since January 2018, Doug has been giving us updates on the construction of their abode. His latest post is the view of their home's open lanai and infinity pool area.
ADVERTISEMENT - CONTINUE READING BELOW
CONTINUE READING BELOW
Recommended Videos
"Our open lanai to the city view! Bbq pit will be at the edge! With an outdoor table under the shade to enjoy the view and breeze, while watching over the kids swim! Soon!!!" he said.
Look:
He also shared the kids' study area in an Instagram video.
Doug also posted a snapshot of their beautiful high-ceilinged living room area. According to the cager, the chandeliers and the cross wood art—which has an interesting back story—are all locally-made.
"Chesca and I decided for the small squares to form a cross. It's a reflection of our faith and love of a resurrected Jesus Christ! He's the reason for everything for us!"
Of course, the couple also gave a sneak peek of the master's bedroom. 
"I am so thankful that I have such a hands-on husband when it comes to the construction of our house and making sure everything is meticulously done," Chesca shared while posing inside the master's bedroom.
ADVERTISEMENT - CONTINUE READING BELOW
She added: "I have nothing to do with this. I just come with him every now and then and I am surprised each and every time."
From living in a rented house, then a small condo, to a rented townhouse, now #TeamKramer's about to make new memories in a place of their own.
Can't wait to see new viral #TeamKramer videos filmed here soon!
Comments
Load More Stories