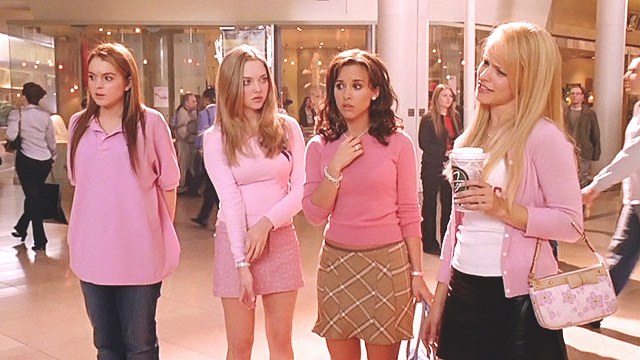 If you've been online this past week, chances are you've come across these viral Mean Girls videos making the rounds on Facebook. What makes these videos special and super hilarious is they're dubbed in Tagalog by Facebook user Macoy Averilla.
In his two-part videos, the first features the "Jingle Bell Rock" performance of the Plastics and the second is of Cady Heron's first meeting with Regina George in the cafeteria. Macoy gives us so much LOLs with his fresh take on our fave teen movie; case in point: hearing the iconic conversation of Cady and Regina in the cafeteria with all these Pinoy punchlines is the best thing ever:
ADVERTISEMENT - CONTINUE READING BELOW
Regina: Ba't hindi kita kilala? (Why don't I know you?)
Cady: Bago lang ako. Galing akong Divisoria. (I'm new. I just moved here from Africa.)
Regina: Ano? (What?)
Cady: Sabi nang Divisoria. (I used to be home-schooled.)
Regina: Teka. Ano? (Wait. What?)
Cady: Divisoria. Malapit sa Carriedo. (My mom taught me at home.)
Regina: Gaga, alam ko 'yun. So, galing ka talagang Divisoria? (I know what home-schooled is. I'm not retarded. So you've actually never been to a real school before?)
Cady: *shakes head*
Regina: Manahimik ka! Manahimik ka! (Shut up! Shut up!)
Cady: Pota, wala nga akong sinasabi. (I didn't say anything.)
Regina: Divisoria. Mukhang okay 'dun. (Home-schooled. That's really interesting.)
Cady: Tenks. (Thanks.)
Regina: Pero ang ganda mo, ah. (But you're, like, really pretty.)
Cady: Shelemet. (Thank you.)
Regina: So, maganda ka? (So, you agree?)
Cady: Ha? (What?)
Regina: Ganda ka? (You think you're really pretty?)
ADVERTISEMENT - CONTINUE READING BELOW
Cady: Hindi ko alam. (Oh, I don't know.)
Regina: Pak! Ganda ng pulseras! Saan galing? (Oh, my god. I love your bracelet. Where did you get it?)
Cady: Galing Quiapo. (Oh, my mom made it.)
Regina: Ganda. (It's adorable.)
While the transcript isn't a direct translation of the script, Macoy gave it his own Pinoy flavor that we just love. Watch his two-part Mean Girls videos below:
This story originally appeared on Cosmo.ph.
* Minor edits have been made by the Femalenetwork.com editors.
Comments
Load More Stories