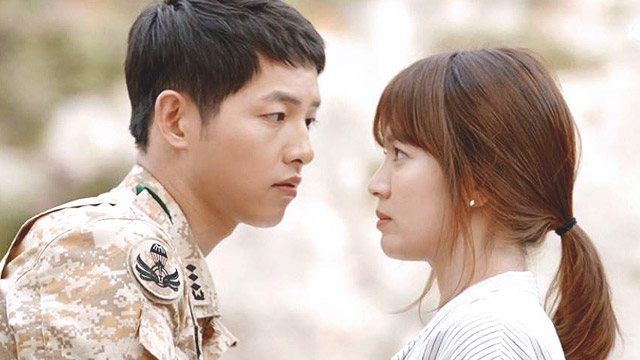 In case you missed it, Descendants of the Sun stars Song Joong Ki and Song Hye Kyo are getting married on October 31.
Fans are shocked in a really wonderful way to learn of the big announcement from the couple's reps. We feel the same way, too, because there were no reports of them going out and they shut down rumors before. But today, KoreaBoo revealed details about the couple's love story...and we're in love!
ADVERTISEMENT - CONTINUE READING BELOW
According to the couple's friend, Joong Ki (31) and Hye Kyo (35) have already started seeing each other even before they started filming the top-rating Korean drama. "The two of them began falling in love last February, before Descendants of the Sun began filming. The drama started filming mid-2015, and only aired after it was completely filmed," they said.
The best part? Their friend also gave us inside info on how sweet the actor could be towards Hye Kyo. 
According to them, Joong Ki surprised Hye Kyo with snacks during a photoshoot: "This was even before the show started airing so the staff on scene wondered why Song Joong Ki would randomly show up to her photoshoot. In hindsight, everyone realized that they had begun developing feelings for each other."
ADVERTISEMENT - CONTINUE READING BELOW
Furthermore, according to them, the two haven't really hidden their relationship. They told people they trust that they're already dating, but they didn't want the media to reveal it first because they thought it was their duty to reveal the big news to their fans.
How romantic!
Dispatch also released photos of the couple during their dates including photos from their Tokyo vacation where Joong Ki reportedly revealed his feelings for her. 
ADVERTISEMENT - CONTINUE READING BELOW
Dispatch knew beforehand that the couple were dating, but revealed that they didn't come up with reports because they knew the two were serious and were already considering marriage. That's why they had to be careful.
Such a happy day, right? We just love these two so much. And now we'll never see Kang Mo Yeon and Yoo Si Jin in the same light ever again. 
ADVERTISEMENT - CONTINUE READING BELOW
This story originally appeared on Candymag.com.
* Minor edits have been made by the Femalenetwork.com editors.
Load More Stories