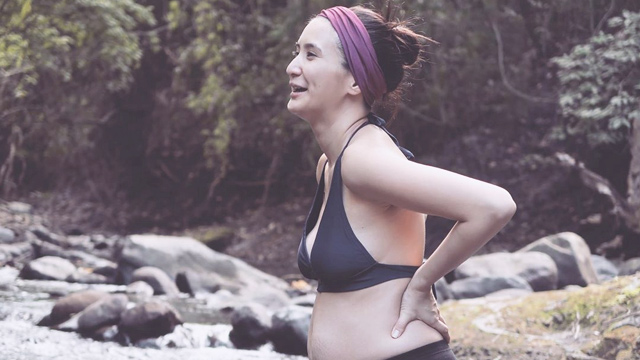 Rica Peralejo is expecting a baby once again.
Through her YouTube channel, Rica and her husband, Pastor Joseph Bonifacio, revealed that she is four and a half months pregnant.
The soon-to-be mother of two said, "We're so happy to share the news with everybody, especially everyone who has cheered for us when I shared about reproductive health issues online.
ADVERTISEMENT - CONTINUE READING BELOW
"So many people have messaged me and have started praying for me, and I really appreciate that.
"I want to thank each and every one of you.
"I may not know you personally, I read all of your messages...
"I really am thanking all of you from the bottom of my heart."
ADVERTISEMENT - CONTINUE READING BELOW
Recommended Videos
Back in August 2018, Rica detailed her personal journey after experiencing two miscarriages.
She also revealed her failed attempts, including the procedures she underwent, so she would conceive again.
At the end of that vlog, Rica was happy to report that she was given the go-signal to have a baby again.
Rica and Pastor Joseph have a five-year-old son named Philip.
FIRST RUSH OF EMOTIONS
Back to her pregnancy announcement vlog, Rica recalled the moment she felt that she was pregnant.
"It was, I think, around August. I remember the day, it was a Saturday night. I was just so tired, so sleepy from the entire day.
"When I went to bed, I closed my eyes, and then I thought, 'Parang may activity sa womb ko? What if pregnant ako?'
"The next day—Sunday is usually a super booked day for us because that's our church day.
"That day, before going to 3 p.m. services, Philip and I went to a coffee shop to grab a bite because we were feeling a little bit hungry, and somebody approached me, somebody from our church also, somebody I've never met before.
ADVERTISEMENT - CONTINUE READING BELOW
"She looked kind of very hesitant and shy to tell me that God told her that whatever it was that I was believing for, when it comes to having a baby, she feels that it's coming soon.
"Parang, sobrang bizarre lang yun sa akin na that night before, I was thinking exactly that, and somebody would confirm or affirm it.
"So, I really had a feeling that I was already pregnant as early as [then]."
There was no immediate way to confirm it yet, but she was already filled with mixed emotions—among them, she said, was "fear."
The former actress continued, "Because, siyempre, parang sanay ka na na there's always bad news coming after good news like that.
"But also, there was really excitement because I really, really, really want to have another baby."
She waited for her monthly period first before making any further assumptions. When it was delayed, she took a pregnancy test.
ADVERTISEMENT - CONTINUE READING BELOW
The result was positive.
To ensure the baby's safety, her doctor prescribed a lot of medicine, which had her feeling weak during her first trimester.
In fact, she could barely stand up and had to use a wheelchair.
But Rica didn't mind. 
"For now, this is what I feel is going to give us peace in being able to keep the baby safe inside of me.
ADVERTISEMENT - CONTINUE READING BELOW
"So far, we've passed the mark.
"The first miscarriage was at, I think, 12 weeks. I found out there was no heartbeat, but the baby was only sized at eight weeks.
"The second one didn't go past six or seven, pero no heartbeat na talaga yun.
"Now, we are on our 17th week. Actually, almost 18th. Probably by the the time you're watching this, I'm on my 18th or 19th week already."
ADVERTISEMENT - CONTINUE READING BELOW
DELICATE PREGNANCY
Rica also revealed that upon her work up and test results, they discovered that her markers are borderline for the condition known as APAS, or the Antiphospholipid Antibody Syndrome, an autoimmune disorder common in pregnant women.
As described in an article by Smart Parenting, the autoimmune disorder "occurs when the body makes antibodies that mistakenly attack phospholipids, a type of fat that's found in the blood.
"This then causes blood clots to form in veins and arteries, which can lead to numerous problems and complications."
Miriam Quiambao, who is now seven months pregnant, has this condition.
In Rica's case, she recalled in her vlog how she needs to take as much as 15 pills a day, plus inject herself with blood thinners at a certain time each day.
Watch the full vlog post below:
This story originally appeared on Pep.ph.
* Minor edits have been made by the Femalenetwork.com editors.
ADVERTISEMENT - CONTINUE READING BELOW
Load More Stories