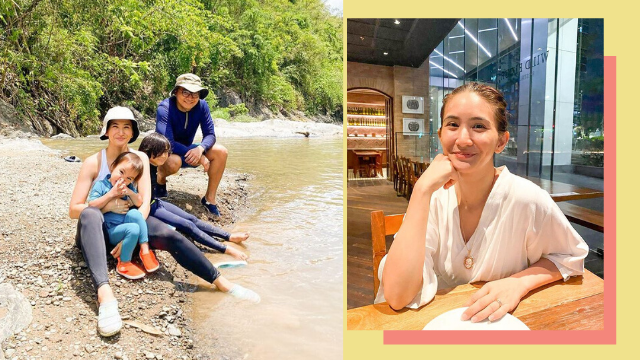 Rica Peralejo is looking forward to moving into her family's new home in Laguna.
In a vlog on YouTube last Saturday, June 5, 2021, the 40-year-old former actress revealed that her family will be renting a new house in the City of Santa Rosa. 
ADVERTISEMENT - CONTINUE READING BELOW
She also gave a tour of the place they're moving into in the coming weeks.

In the video, Rica shared three major things they considered before making this big decision for the family.
Know your budget
For Rica, the first and most important factor to consider when finding a house to buy or rent in is the budget.
CONTINUE READING BELOW
Recommended Videos
She explained, "There are three considerations that I think are very important when you are looking for your home. First thing there, obviously, it would be your budget.
"Ano ba iyong budget mo? Kasi reality mo na kaagad iyon na... And that was part of our decision-making, kami ng asawa ko. Ang dami naming tinignan, 20 plus houses and some of them, nasa mataas na renta, iyong iba mababa. Mataas na presyo kung bibili, iyong iba naman mababa. And after everything that we've seen, we had to go back to our reality na, 'Ano lang ba tayo? Ano lang ba iyong afford natin?'" 
ADVERTISEMENT - CONTINUE READING BELOW
Factor in your values
The celebrity mom also noted the importance of "knowing your values," meaning your aesthetic/design and philosophical values.
For the aesthetic values, Rica said they had a lot of things to consider, but one thing they learned from the experience was that they like open spaces.
"I realized na for the two of us, ang gusto namin is an open-space concept.
"May mga bahay kaming nakita na sobra niyang laki, parang pag binigay sa iyo iyong measurement ng bahay, 'Oh, that's a good size for us.' But then when you go in, it's not an open space concept so there's a lot of harang-harang. Naggawa sila ng partition, ng walk, and it makes it feel cramped."
"When you're looking for your home or you want to build a home, pay attention na, 'Ano ba iyong design value ko? Gusto ko ba iyong mailaw? Gusto ko ba iyong madilim? Gusto ko ba iyong maraming bintana, maraming dingding?"
ADVERTISEMENT - CONTINUE READING BELOW
Rica said she and her husband also to entertain their family and friends. This was also a factor they considered for the house they're moving in to.
"We love to host. We just like having people in our home because I feel like this is the best way that you can share life with others.
"Having them over for meals and stuff, although we can't really do that ngayong pandemic. But ever since back then, even when we're in the condo, I had one of the walls torn down kasi sabi ko, hindi ko naman kailangan iyang kuwarto na iyan.
"Pero kailangan ko iyong bigger space so I can have people over dinners and lunches, knowing na we are like that. That's a value in our lives. We look for spaces where there are really good, like, there's a good amount of open space for entertaining people."
She later added, "For us, at least because we have two growing boys, that the community is very important. One of the selling points of the house where we are moving in right now is that our friends are just a few steps away."
ADVERTISEMENT - CONTINUE READING BELOW
Temporary or permanent? 
The third important thing to consider, according to Rica, is their "season of life." For Rica and her family, living in Santa Rosa, Laguna permanently is something they have yet to decide on, which is why they opted to rent a house instead of buying one.
Rica expounded, "The other thing I [considered]: Is it a season for settling down, like forever? Or is it a season that will also end? 
"And for us, it's a season that will end. I don't think that this house where we're moving in to is our last house. I think we are not going to determine that until a few years in to it na, 'Okay, gusto na nga talaga namin dito.' Or mas may iba pa pala kaming place na gusto sa Laguna. Or malipat na naman iyong asawa ko. We'll never know."
Knowing that they will only be staying in this house for a certain amount of time made it easier for Rica and her husband to compromise on the things they want for the house.
ADVERTISEMENT - CONTINUE READING BELOW
"At least to know that this is not gonna be forever for us makes us move faster and decide faster na, 'Ah, okay lang, there are some things that we're not gonna be able to...' Like we have this dream thing that we want to have, but within that dream konti lang or some things, pumasok dun sa requirement.
"Some things na we can overlook, some of those things just because we know that this is not forever naman, e. So we can settle with the things that we didn't really get in this home for now because we know na this is not for the long, long, super long haul."
Load More Stories