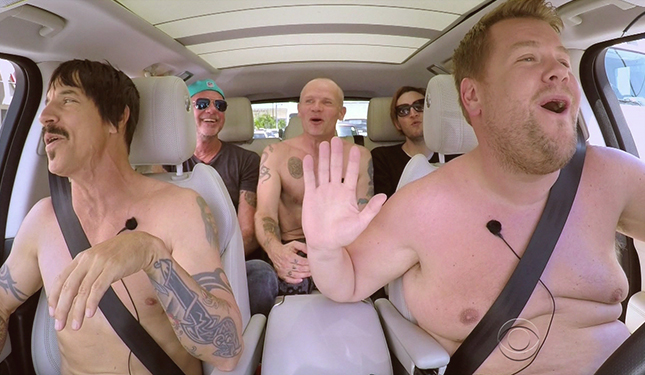 Anthony Keidis feels "encumbered" when he wears clothes.

The Red Hot Chilli Peppers frontman is famous for stripping off on stage, and is perhaps more recognisable shirtless than fully clothed. And during the group's appearance on James Corden's Carpool Karaoke on Monday night, Anthony admitted he feels a lot more comfortable without them.

"It seems normal, it seems natural," Anthony told James of his desire to disrobe. "I feel a bit encumbered!"

The 53-year-old then said he felt James had given him a "cue" to strip off, and encouraged the host to take the plunge too. In the end, Anthony, James and bassist Flea went shirtless.

"If I'm in the car on my own with my top off, it feels weird," James laughed. "Somehow with the three of us having our tops off, it feels completely normal!"

Earlier in the segment, Anthony and James enjoyed a "man wrestle" when the host pulled over to a random person's front lawn. While the singer launched himself into the challenge, James struggled to control his laughter, and said afterwards: "You destroyed me, I didn't see that coming Kiedis. It's difficult to wrestle when you're laughing that much."

James' now famous Carpool Karaoke segment sees musicians join him in the car to belt out some of their most famous hits. When the chat show host James complimented Flea on his incredible bass playing skills, he replied: "I remember reading a book about Bob Marley once when I was a teenager and he talked so much about the only thing that really mattered when you're playing music is the motivation and that intensity and commitment to what you're doing in the moment.

"And that commitment to the moment really struck home to me – and I find my greatest purpose in life when I'm completely lost in the music. As I think we all do."

As the segment drew to a close, James thanked the group for being such good sports.

"I always knew that this would be a fun part of my life – to be in a car with you," he said. "But I never expected it to be as much fun as it has been. People say don't meet your heroes, but I don't think they ever met the Red Hot Chili Peppers. Thank you so much for this."
ADVERTISEMENT - CONTINUE READING BELOW
Comments
Load More Stories