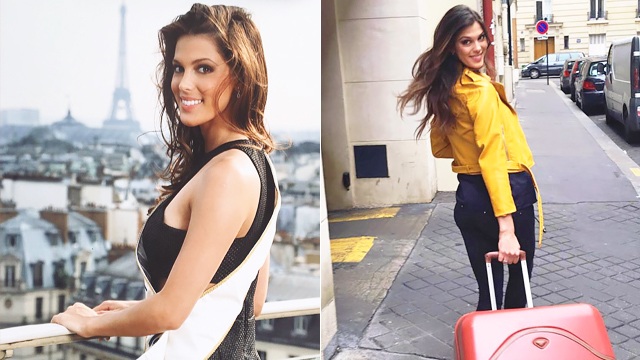 It was just yesterday when Miss France Iris Mittenaere was crowned the new and confidently beautiful Miss Universe 2016; and with her grace and wits, she has proven just how much she deserved the win.
Aside from her stunning looks and intellignece, there's more to her than meets the eye. Here are a few other things about the reigning queen that prove she's just like us...on most days, at least:
She's not afraid to eat what she wants.

While some girls shy away from fatty food like pizza, Iris eats whatever she wants because #PizzaIsLife.
She LOVES to cook.

While she's not a chef, she still tries her best to learn about the glorious world of culinary arts. No wonder she loves to eat!
She works hard for her body.
https://www.instagram.com/p/BMO6ALdgoFx/" style=" color:#000; font-style:normal; font-weight:normal; line-height:17px; text-decoration:none; word-wrap:break-word;" target="_blank">Lilloise jusque dans l'effort !! ????????‍??Coureuse de la citadelle par @coureurdudimanche Coaching @form_athlet
People often mistake skinny for sexy, but this French stunner proves that you don't have to be super thin to be beautiful, and that hard work pays off.

Look at that toned body!
She has to juggle multiple priorities.

The 24-year-old beauty from France is currently in pursuit of a degree in dental surgery. According to Bustle, she would "push her platform of advocating dental and oral hygiene around the world."
She fights for what she believes in.

During the press conference after she was crowned, the new Miss Universe says that she really wants to fight for her advocacy against AIDS and HIV. "I think this is very important and this is a problem in every country; this is not just in one country. I want to ask all the people to get tested. I am a dentist, and this is a medical problem I know of and I know the treatment is difficult."
She loves to travel…just like us!

She's been to the UAE, China, and Italy – among other places.
She knows how to have fun with her friends!

Just like any other #squad!
She's a pet lover.

Here she is snuggling with her cute kitty.
She's making history.

Iris creates a milestone for France as she is the second woman from her country to take home the crown. The title was first won by Christiane Martel in 1953. You too can mark little milestones in your life; it may not be winning the Miss Universe title, but the little victories you achieve in life can make a big impact on your future.
ADVERTISEMENT - CONTINUE READING BELOW
Latest Stories
Load More Stories