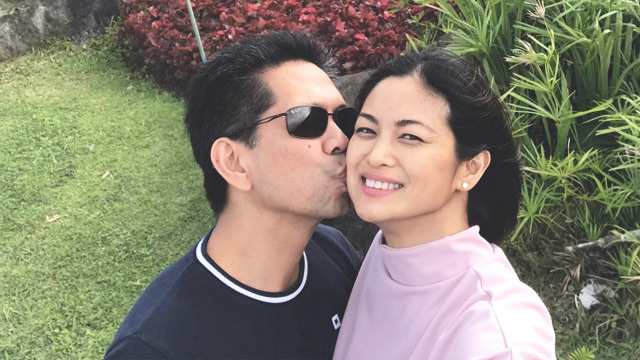 Pregnant at age 43, the beauty-queen-turned-inspirational-speaker considers her baby a miracle. Miriam Quiambao and husband Ardy Roberto waited four years to conceive, and they did so naturally after failed IVF attempts.
Six months into the pregnancy, the soon-to-be mom of two is thankful even more for the gift of life. Miriam wholeheartedly made the sacrifices needed to nurture the much-awaited addition to their family.
ADVERTISEMENT - CONTINUE READING BELOW
CONTINUE READING BELOW
Recommended Videos
"Finally away and alone with my love!" the preggo mom wrote on Instagram. She and Ardy were finally able to have their babymoon (a couple's honeymoon before the baby arrives) in Tagaytay, just a short drive away from the city.
"I'm so grateful that I finally have the chance to get away with my husband even in Tagaytay for our short baby moon this long weekend," she wrote. "Thanks, babe @ardyroberto for this much-needed trip and bonding time," the 1999 Miss Universe first runner-up said.
Due to her high-risk pregnancy, Miriam is not allowed to travel long distances or out of the country. She had to cancel most of her speaking engagements here and abroad the moment she confirmed her pregnancy.
"I was willing to do this for the sake of my miracle baby, but I have to say that I was beginning to grow restless staying in the city all the time," she shared. It didn't help that Miriam was ordered to be on a week-long bed rest in November.
ADVERTISEMENT - CONTINUE READING BELOW
Miriam is only allowed to get up to go to the bathroom and minimal movements, so she was still able to work on her computer and homeschool their 11-year-old son Joshua, as long as she stays put in bed. "Although I am not allowed any physical or emotional stress," she added.
After going through a routine congenital anomaly scan, doctors found that she's been having persistent premature uterine contractions. "If it continues, it might push the baby [out]," Miriam explained in an interview with Pep.ph during the Olay's Fearless First event.
Miriam and Ardy also shared a gender-reveal video on Instagram on November 12. They each picked a red- or blue-painted egg, depending on their guess and cracked them open. "Blue raw egg means it's a boy, red raw egg means it's a girl," Miriam wrote.
The eggs revealed that they're having a baby boy! "Grateful to God for the gift of a healthy baby free from any congenital anomalies. What an answered prayer," she said.
ADVERTISEMENT - CONTINUE READING BELOW
Oh, and Ardy might have already revealed the name they've chosen for the baby. "Mama's big boy :) and little Elijah boy (in her tummy) are getting bigger and bigger!" the expectant dad wrote as a caption for Miriam and son Josh's photo.
This story originally appeared on Smartparenting.com.ph.
* Minor edits have been made by the Femalenetwork.com editors.
Comments
Load More Stories