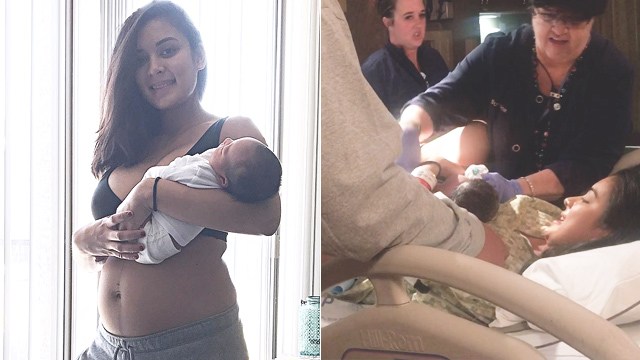 A month after giving birth to her first baby, actress-turned-chef Michelle Madrigal shared a video that captured their first meeting. "No caption needed, just love," Michelle wrote. We also heard her say in the video, "One month ago, I met my baby girl, Anika, I fell in love all over again."  
ADVERTISEMENT - CONTINUE READING BELOW
In the video, Michelle was lying on the birthing table surrounded by her support team and fiance Troy Woolfolk. One woman, presumably her doctor, counted down to help her push, and as soon as the baby was out, Michelle reached out for her daughter and held her close to her chest as a birth assistant wiped her down.

Everyone in the room was ecstatic. You could hear them saying, "There she is!" "Oh my god, you did it!" "Great job!" You're amazing!" until Baby Anika let our her first cry. 
Her video Instagram post was filled similar comments. Some also noted how Michelle did not look like she had a hard time giving birth. Michelle wasn't ashamed to admit she had an epidural. She pushed her baby out in 35 minutes! (The epidural is the most common preferred pain relief method for childbirth. It is injected into the spine and delivers continuous pain relief to the lower part of your body while allowing you to remain fully conscious.) 
ADVERTISEMENT - CONTINUE READING BELOW
A week after giving birth, Michelle posted an honest take on motherhood. "Not gonna lie, I am exhausted from all the sleepless nights, frustrated when I can't seem to understand what she wants every time she cries," the new mom wrote, adding that she worried about her milk supply like most new moms. "It's been a roller coaster experience for me, and sometimes I just cry to let it all out. My hormones are still all over the place, but this little angel is keeping me sane at the same time. She taught me what unconditional love is," Michelle added.
ADVERTISEMENT - CONTINUE READING BELOW
At four weeks postpartum, Michelle was already working to get back in shape. "My man put me to work this am. Thanks for the push and helping me snap back to my pre MOM Bod," Michelle wrote. She currently weighs 130 pounds, and aims to "be at 120lbs with lean & toned muscle with bigger ???? and flat abs."
This story originally appeared on Smartparenting.com.ph.
* Minor edits have been made by the Femalenetwork.com editors.
Recommended Videos
Comments
Load More Stories