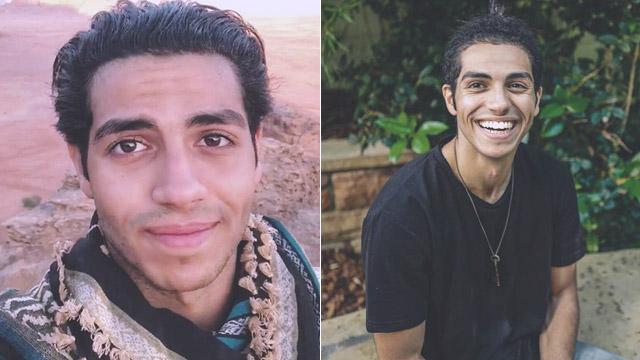 In the live-action Aladdin movie, Mena Massoud is called "riffraff" and "street rat," but we definitely don't buy that! Now that he's slowly becoming a household name, we're sure you're dying to know more about the actor who brought to life one of the most well-loved characters from Disney, so here are five things you need to know about him: 
ADVERTISEMENT - CONTINUE READING BELOW
1. He is originally from Cairo, Egypt! 
Mena was born on September 17, 1991. When he was younger, his family immigrated to Canada and settled in Toronto. Mena also has two older sisters. 
CONTINUE READING BELOW
Recommended Videos
2. As far as we know, he is currently single.  
A little Googling and Instagram digging led us to the conclusion that Mena has not, in fact, found his real-life Princess Jasmine yet. 
However, we noticed that on March 6, 2019, Mena posted an Instagram video of him holding an unnamed female's hand, while at a resort in Mexico. 
ADVERTISEMENT - CONTINUE READING BELOW
3. Mena has a deep connection with Aladdin! 
"My parents knew about the story of Aladdin far before the animation film. It's a folk tale that is very prevalent in Egypt," Mena shared during an interview with the New York Times. 
Mena also loved Aladdin and the soundtrack as a kid! "He's one of the only [animated] characters that I could relate to on a cultural level. I have two older sisters. They had it on at the house before I could even walk, so I grew up with it in my childhood in a big way." 
ADVERTISEMENT - CONTINUE READING BELOW
4. Aladdin is Mena's first lead role for a film. His previous projects include TV shows Jack Ryan and Open Heart. 
His next big project is another TV series called Reprisal, which he describes as "very dark and dramatic and very different from Aladdin."
5. Mena is vegan and he's actually the founder of a plant-based food community called Evolving Vegan.
According to the website, Mena started the project "to share the stories of incredible restauranteurs, chefs, entrepreneurs and above all, fellow human beings who are trying to make a difference in the world. It's not about labels, or eating habits or any of that crap. It's about evolving in the right direction so that we can help save our planet, our bodies, and our fellow living souls."
ADVERTISEMENT - CONTINUE READING BELOW
Watch him cook here: 
Load More Stories