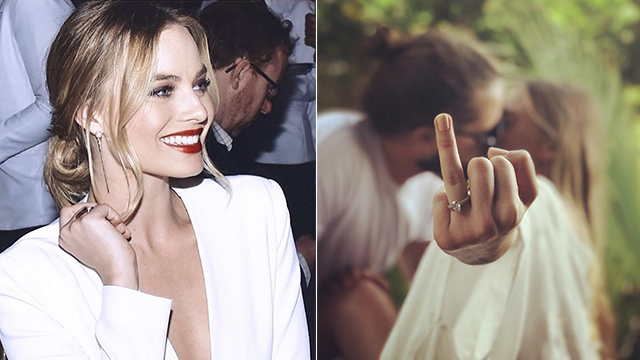 Margot Robbie seemed to confirm she had wed boyfriend Tom Ackerley by sharing a picture of her ring on social media.

Multiple reports were published on Monday suggesting the Suicide Squad star had tied the knot with the British filmmaker during a low-key ceremony in Byron Bay in her native Australia on Sunday.

ADVERTISEMENT - CONTINUE READING BELOW
Margot, 26, fueled the speculation on Tuesday by sharing a picture of a new sparkler on her finger on Instagram without an explanation in the caption. In the snap, Margot's hand is in focus while the background, of Margot and Tom kissing, has been giving a blurry effect. The ring finger is stuck up to the camera, almost as if she is giving a rude hand gesture to the camera. However, while the diamond sparkler is new, it looks more like an engagement ring than a wedding band, further adding to the riddle of a possible marriage.

According to reports, Margot's mother Sarie Kessler gave her away as the actress is estranged from her father Doug Robbie, while her sister Anya served as her maid of honor. Her brothers Lachlan and Cameron were also in attendance.

The groom's brother James also posted some images on social media from inside the popular Harvest Newrybar venue, where the couple is thought to have held its wedding reception.

The couple met in 2013 on the set of the World War II drama Suite Francaise, and she sparked engagement rumors when she was spotted wearing a gold band on her ring finger last year.

In an interview with Vogue magazine earlier this year she called him "the best-looking guy in London" and described how their romance started.

"We were friends for so long," she said. "I was always in love with him, but I thought, 'Oh, he would never love me back. Don't make it weird, Margot. Don't be stupid and tell him that you like him.'

"And then it happened, and I was like, Of course we're together. This makes so much sense, the way nothing has ever made sense before."
Load More Stories