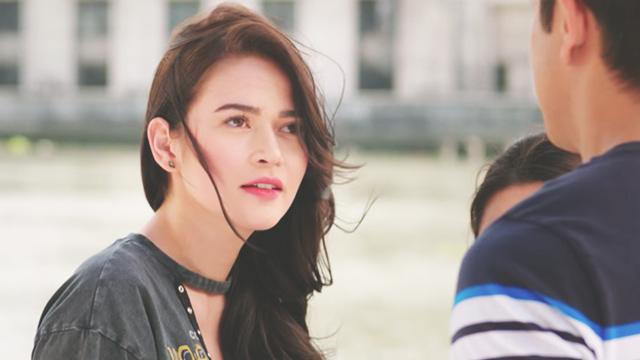 Do you believe in luck? In the movie Luck at First Sight, Joma who is played by Jericho Rosales is a debt-laden gambler who has to rely heavily on it. He seeks out a lucky charm store where an old lady sells him what she calls the eye of the Mountain Buddha, something that's supposed to lead him to his ultimate life charm—a person who will give him great luck.
ADVERTISEMENT - CONTINUE READING BELOW
That's where Diane played by Bela Padilla comes in. Diane is not having much luck in life either, with her dad being sick and money being scarce. But she turns out to be Joma's life charm. Every time they have some kind of physical contact, something good happens. So the two devise a plan to make the best of their newfound luck by playing a dice game, scratching lottery cards, betting on basketball score endings and on horse races.
CONTINUE READING BELOW
Recommended Videos
Check out the movie's trailer here:
The movie, which is directed by Dan Villegas, is a fun and light rom-com you and your friends can enjoy. But it's not without some life lessons we can all learn from.

1. Get out of debt.
Joma wouldn't be so desperate to make fast cash if he wasn't in so much debt. So if you're in or approaching your 30s, you need get serious about financial freedom. While it may seem like your credit cards or loans are able to let you live the life you want NOW, there will come a time when you will realize that it's actually what is holding you back.
ADVERTISEMENT - CONTINUE READING BELOW
2. Save your money.
Diane had some savings, but definitely not enough to pay for their electricity bill and certainly not enough for when her dad needed to go to the hospital.
Take it from Robert Kiyosaki, author of the best-selling book Rich Man, Poor Man, who says that "having contingency plans makes us feel less vulnerable and exposed if we find ourselves facing a setback. This preparation would include cash reserves, in the event of job loss or a decrease in income, as well as a Plan B. That Plan B could be a part-time business that supplements income from a full-time job to help create a cushion in the event of unplanned expenses or any type of financial setback."
3. Learn how to negotiate.
When Joma proposed the plan of partnering with Diane, she didn't immediately jump at the opportunity. She and her cousin, Kate (Kim Molina), set guidelines such as exactly how much physical contact was needed and how long they would have to do this.
ADVERTISEMENT - CONTINUE READING BELOW
?When getting into any deal, whether it's for business, a new job, or a new set-up at home, think things through, ask the important questions, and voice out your concerns. There are a lot of people who can take advantage, so make sure you do your homework and protect yourself from bad deals.
4. Surround yourself with a good support system.
Joma had his best friend, Boggs, played by Cholo Barretto by his side always, and Diane had her cousin, Kate. It's important to have people in your life that you can trust, people who will call you out when you're going the wrong way and be there for you when the going gets tough.
5. We need to learn from the mistakes of our parents.
Joma started to gamble so he could buy back their home, which was repossessed by the bank when his father, also a gambler, put it up as collateral to fund his gambling habit. He should have learned from his father's mistakes.
ADVERTISEMENT - CONTINUE READING BELOW
Because there is a tendency for children to pick up behavior from their parents or close family members, we should be careful to reflect on our own behavior. We should be old enough to see and avoid the mistakes of our families, whether they're blunders on finances, relationships, health, or attitude.
6. Nothing beats good ol' hard work.
While it would be great to have the kind of luck that Joma and Diane had, we also know that we can't rely on things that are beyond our control. Luck can always run out.
That's why it's important to be faithful to do the work we need to do. That means being disciplined with money and working hard and being smart about career or business. Do your very best always, and life will always find a way to reward you.
Load More Stories