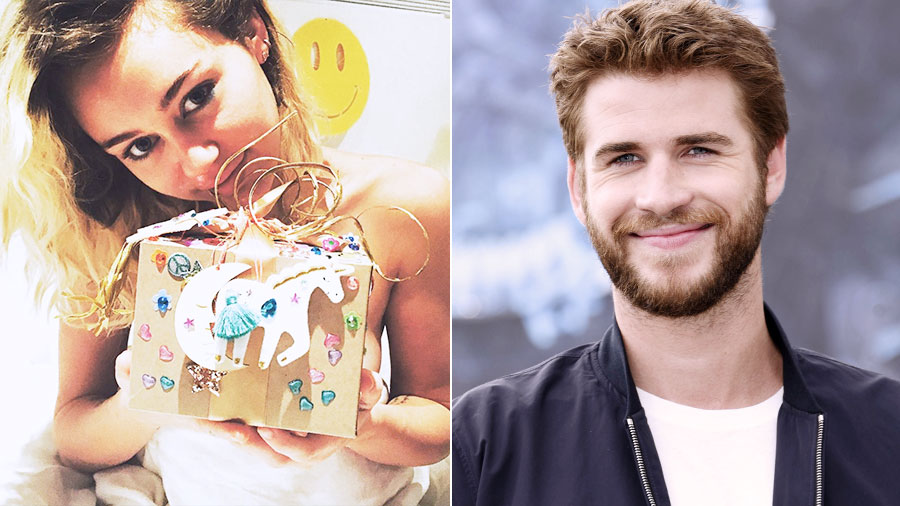 Miley Cyrus celebrated her birthday on Wednesday with a colorful new ring from fiance Liam Hemsworth.

The Hunger Games star took to Instagram to share a photo of the birthday girl holding up an unopened box decorated with colorful hearts, flowers, smiley faces, stars, a moon, and a unicorn.

ADVERTISEMENT - CONTINUE READING BELOW



"Happiest birthday to my favorite little angel!" he captioned the sweet snap.

Miley then posted more shots on her own social media page, including a picture collage showing off her present – a large gold ring studded with multi-colored stones, which she wore on the middle finger of her left hand.


CONTINUE READING BELOW
Recommended Videos



"Look at datttt Rainboooowwwwwwww rock (sic)! You always know how to make my 'grubby little kid fingers' *SHINE*!!!", she gushed. "(P.S. please take notice of that beautiful packaging!!!! )"

Miley was also treated to a bouquet of pink and yellow flowers and two star-shaped balloons featuring smiley faces, which she held onto while lying in bed in another image posted online.





"Best bday evaaaaaa (sic)!!!!!!!" she wrote beside the second photo. "Thank you my loooooove (sic)".

Miley also received birthday wishes from her fellow judges on U.S. reality show The Voice, Blake Shelton, Alicia Keys, and Adam Levine, who serenaded her in a video obtained by E! News.

Miley's latest piece of jewelry from Liam appears to be more her style after she recently confessed she only wears the gold and diamond engagement ring he proposed with to make him happy.

The singer/actress admitted she isn't always comfortable wearing the pricey ring, but when she does, she likes to complete her look with costume jewelry.

"This is really weird because this is like, real jewelry and most of my jewelry is made out of gummy bears and cotton candy," she laughed to talk show host Ellen DeGeneres last month. "They don't look that good together because they kind of mix up, so sometimes I replace it (engagement ring) with an actual unicorn or a Looney Tune (charm).

"And he (Liam) is kind of like, 'What's going on?' I am like, 'This isn't really my aesthetic, but I'll wear it because you love me'."

Liam originally popped the question to Miley in 2012, but the couple split in 2013. The stars reconciled late last year and while it's not clear if their wedding plans are back on, Miley has been spotted sporting the sparkler ever since.
ADVERTISEMENT - CONTINUE READING BELOW
Comments
Load More Stories