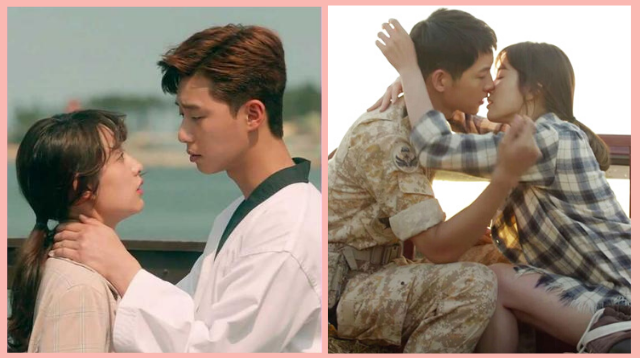 How often do you rewatch the most kilig scenes in Korean dramas? To be honest, we could probably tell you the exact time stamp for some of our fave scenes, because the feels are just that good. In the mood for more K-drama recos? We asked Pinays in our Cosmo Community Facebook group for couples with the best onscreen chemistry, and they delivered!
ADVERTISEMENT - CONTINUE READING BELOW
1. 
Yang Se Jong and Seo Hyun Jin in 
Temperature of Love
"Yang Se Jong and Seo Hyun Jin in Temperature of Love. They played Dr. Do and Dr. Yoon in Doctor Romantic [season] 1. They had more chemistry than Seo Hyun Jin and Yoo Yeon Seok." - Trina
2. Park Min Young and Kim Jae Wook in Her Private Life
"Park Min Young and Kim Jae Wook in Her Private Life! As in [I] really wished they got together [in real life] (more chemistry pa than Park Min Young and Park Seo Joon)." - Paulina
"They're my recent favorite, too! The tension during their scenes is undeniable but the lovey-dovey ones and the behind-the-scenes are really kilig!" - Maricar
3. Park Seo Joon and Kim Ji Won in Fight For My Way
"EVERYTHING WAS TOO NATURAL FOR MY LIFE." - Mikee
"It's so authentic and organic. Couldn't get over them!" - Haydee
"[I love the] Fight For My Way aegyo couple! I'm a fan of K-dramas and I've watched a LOT of them. What made this drama memorable is due to how relatable the characters are and how these actors made you root for them as they struggle in everyday life. Plus factor is the chemistry and very good acting skills of the OTP. I wish to see PSJ and Ji Won in another drama." - Rosa
"Their scenes don't need slo-mo to make us feel the kilig kasi they really look like childhood friends slowly realizing their feelings for each other." - Jillian
4. Nam Ji Hyun and Do Kyung Soo in 100 Days My Prince
"It's Nam Jihyun and Do Kyung Soo for me, especially in one of the 100 Days My Prince scenes wherein D.O. walked backwards in order to see Ji Hyun's face. It's just so pure and cute!!!" - Inna
5. Song Joong Ki and Song Hye Kyo in Descendants of the Sun
"Song-Song couple of DOTS pa rin talaga. Tuwing naririnig ko yung "Every Time" kinikilig pa rin ako kahit nagdivorce na sila, huhu." - Nicole
6. Kim Soo Hyun and Seo Ye Ji in It's Okay To Not Be Okay
"Their chemistry is off the charts. They don't need to kiss, just them looking at each other will give you kilig." - Erika
***
What does your zodiac sign say about you? Subscribe to Cosmopolitan Philippines and find out!
ADVERTISEMENT - CONTINUE READING BELOW
Load More Stories