Kim Chiu, 29, was rushed to the hospital after being bitten by a dog while inside an establishment in Bonifacio Global City, Taguig, on November 24, 2019.
ADVERTISEMENT - CONTINUE READING BELOW
On her Instagram account, the Kapamilya actress uploaded a series of photos showing her needle patches after getting anti-rabies shots at St. Luke's Medical Center - Global City.
Her boyfriend, Xim Lim, 30, together with three non-showbiz companions, were with the actress in the hospital room.
In the caption, Kim related that it was partly her fault because she petted a "stranger" dog "just because [it's] cute and small."
Kim wrote, "Rushed to ER. Bitten by a 'small dog' in bgc. lesson learned never pet a 'stranger' dog, just because they're cute and small.
"To all the owners walking their dogs, please be mindful and always keep them on a leash.
"Look after them and never leave them unattended.
"Thank you to shangrilafort for the urgent assistance and st lukes bgc. #antirabiesshot"
Meanwhile, based on the video and photo that Kim and Xian uploaded on their Instagram Stories, the dog's breed appears to be a Pomeranian.
Xian also answered a netizen who asked what happened.
The actor replied: "Hindi hawak nung owner yung leash [crying emoji]."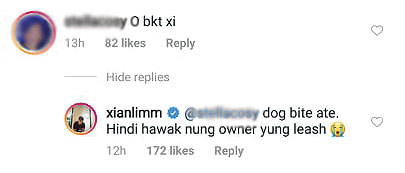 Xian also told the fans that Kim is now okay.
ADVERTISEMENT - CONTINUE READING BELOW
In his Instagram Story, the VIVA star posted an edited photo and captioned it "pagsasadula," which reenacted the incident.
It showed Kim inside a restaurant, sitting next to a table, where Xian inserted a computer-generated image of a dog.
The actress found the dog cute, and petted it.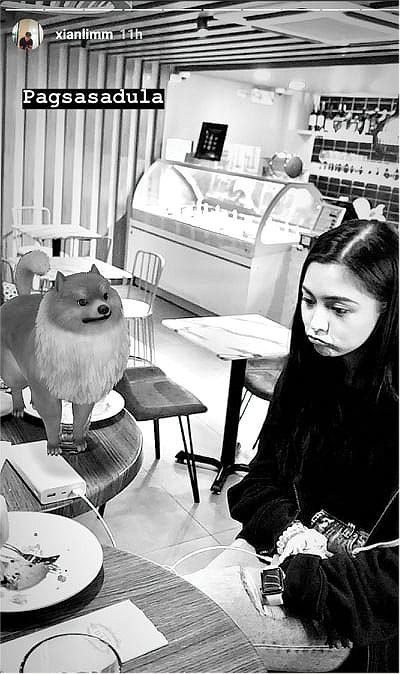 ADVERTISEMENT - CONTINUE READING BELOW
What to do after a dog bite
Here are some first-aid tips from the websites health.clevelandclinic.org and healthline.com.
(Note: First-aid treatment depends on the severity of the wounds)
1. Press the skin around the wound gently to encourage bleeding to flush out as much bacteria as possible.
2. Wash the wound with mild soap and water.
3. Use clean cloth to slow the bleeding.
4. Apply over-the-counter antibiotic cream.
5. Wrap the wound with a sterile bandage.
6. Seek immediate medical help or go to the nearest animal bite center to make sure you won't have infection or rabies.
Load More Stories