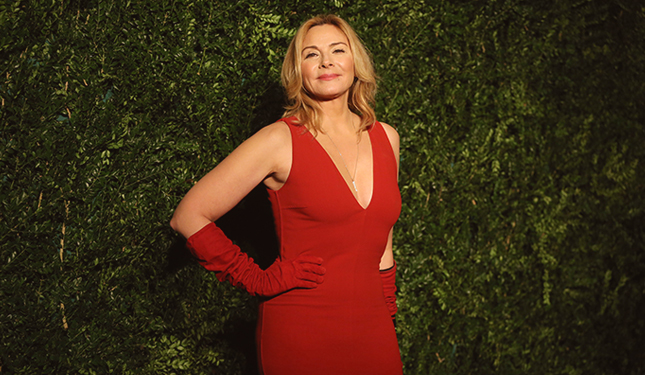 Kim Cattrall has a very definite idea of her dream man - a British guy with bad eyesight.

The 59-year-old actress has been married three times - to Larry Davis from 1977 to 1979, to Andre J. Lyson from 1982 to 1989 and Mark Levinson from 1998 to 2004. She has been single since then, but is hoping to find a beau during her trip to England to promote her new series Sensitive Skin.

As she appeared on U.K. television show Good Morning Britain on Tuesday, Kim was asked if she would like to date a British man.

"I do like (British guys)," she replied. Kim then made a joke about her admission earlier in the interview that the road rage in New York had put her off driving, adding: "He has to have a driver's licence, that's for sure, and maybe have bad eyesight in the morning..."

Kim will be turning 60 this August, and has always been an advocate for ageing naturally - denouncing those who go under the knife for a flawless complexion.

Her new television series sees her play former actress and model Davina Jackson, and it was incredibly important for Kim that she should be shown in all her glory.

"I remember when we were doing Sensitive Skin and I said, 'Of course I'd like camera tests because I want the best angles'. But they said to me when were finished, 'Well we can do a digital wipe now and get rid of all the wrinkles'. And I said, 'No, no, no - stop! That's what this show is about!'

"I want people to see that this character has lived as I have lived. It's part of the journey that I have had, you know, and I want to continue to look good and feel good, but also the stories that I'm telling are about ageing - but about ageing in a positive way, not in a negative way. What is the story? People talk about women as fine wines, which is all well and good, but there's so much more to it than that. So much more interesting and complex."
ADVERTISEMENT - CONTINUE READING BELOW
Comments
Load More Stories