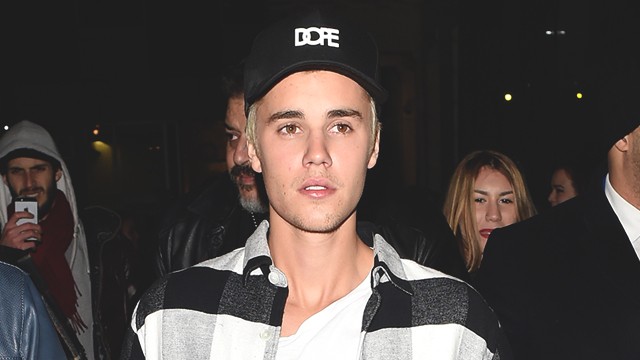 Justin Bieber has reignited the feud between Taylor Swift and Kanye West by posting an image from a video chat with the rapper on Instagram.
The "Shake It Off" singer has been embroiled in an argument with the rapper over his song "Famous," in which he namechecks her, for months. Taylor's team denied she had given him permission to use her name but it was revealed she had in an explosive video uploaded to Snapchat by Kanye's wife Kim Kardashian last month.

Taylor and Kim have kept largely silent in the two weeks since the private phone conversation was published and the feud appeared to have died down, until Justin reignited it on Tuesday by showing he's siding with Kanye.

Justin posted a black and white screen grab on Instagram of his video call with Kanye and the rapper's two friends, one thought to be Justin's manager Scooter Braun, and wrote in the caption, "Taylor swift what up."

Taylor and Justin have never publicly discussed a feud, however it was reported she didn't approve of his relationship with her pal Selena Gomez and footage from backstage of the Billboard Music Awards in 2013 showed Taylor sticking out her tongue in disgust as she witnessed them kissing.

While Taylor has taken time away from social media since the drama, her friends have spoken out to support her, including Selena and Uzo Aduba, while Fergie came up with a theory that the entire incident was a publicity stunt.
Kanye hasn't been so silent on the matter and stopped Drake's concert to reference the feud at the end of July. He told the crowd in Chicago, Illinois, "All I gotta say is, I am so glad my wife has Snapchat, because now y'all can know the truth and can't nobody talk s**t about Ye (Kanye) no more."

In the Snapchat video, Taylor can be heard saying, "Umm, yeah go with whatever line you think is better. It's obviously very tongue in cheek either way. And I really appreciate you telling me about it, that's really nice," when he runs a line by her.

However, Taylor issued a statement clarifying that she never approve him calling her "a b**ch" in the song and accused Kim of assassinating her character by making her out to be a liar.
ADVERTISEMENT - CONTINUE READING BELOW
Load More Stories