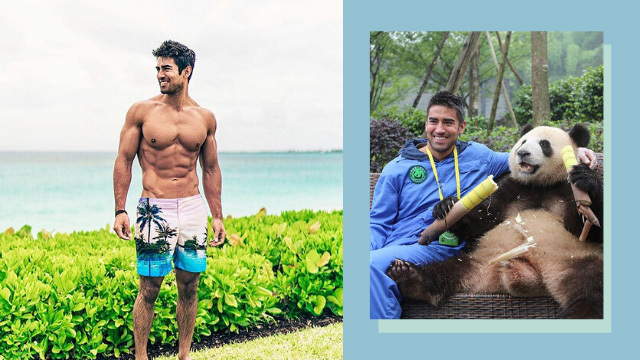 It's only been a day since Pia Wurtzbach and Jeremy Jauncey have confirmed their relationship—through a magazine cover, no less!—but eagle-eyed fans have been noticing similarities in the couple's Instagram stories since their alleged January trip to Indonesia. Talk about detective skills!
ADVERTISEMENT - CONTINUE READING BELOW
As Miss Universe 2015, Pia traveled extensively to represent the organization and raise awareness for HIV/AIDS testing. Jeremy is the founder and CEO of Beautiful Destinations. As both admit to a love of travel, it's not much of a surprise that their meet-cute happened all the way across the globe in London. According to Philippine Tatler, it was Jeremy who approached Pia first: "She blew me away."
But who exactly is Jeremy Jauncey? Here's what we know so far:
 1. He's the man behind popular travel Instagram account, Beautiful Destinations.
Created in 2012, the travel-oriented Instagram account grew into an award-winning creative agency behind some of the most innovative travel campaigns. 
2. He's half Scottish, half Colombian!
Born in Venezuela to a Scottish dad and Colombian mum, Jeremy grew up in Edinburgh, Scotland.
ADVERTISEMENT - CONTINUE READING BELOW
3. He has a hot younger brother. 
Tom Jauncey is the VP of Content Creation for Beautiful Destinations. When he isn't teasing his brother by posting funny captions on Insta, Tom stays busy creating amazing video content of his travels.
ADVERTISEMENT - CONTINUE READING BELOW
4. He's a Global Ambassador for the World Wildlife Fund (WWF).
His partnership with the WWF allows Jeremy to promote sustainable tourism and environmental protection on a bigger scale. Thanks in part to his extensive travels, Jeremy wants to ensure that future generations can share the same experiences. "The notion that smart conservation can lift up both people and nature is core to WWF's mission, and is something I relate to strongly," he shared in an interview with the WWF.
ADVERTISEMENT - CONTINUE READING BELOW
5. He's very into fitness and living an active lifestyle.
Jeremy regularly shares fitness content on his personal Instagram. He played rugby for Scotland when he was still in school, and actually moved to New Zealand to pursue a professional athletic career. Due to serious injuries, he switched paths to become an entrepreneur, and Beautiful Destinations was born in 2012. 
ADVERTISEMENT - CONTINUE READING BELOW
6. He was a Bench ambassador!
Who can forget his shirtless and board shorts-clad photo plastered along billboards everywhere in the summer of 2017?
ADVERTISEMENT - CONTINUE READING BELOW
7. He's a proud mama's boy.
Both Jeremy and his brother Tom are very close to their mum, whom they've fondly nicknamed 'Mouse' on social media. You can spot her in photos across their feed—or by their use of the mouse emoji in the captions!
ADVERTISEMENT - CONTINUE READING BELOW
8. He has a special place in his heart for the Philippines and the Filipino people.
Jeremy first visited the Philippines back in 2016. Along with four other members of the Beautiful Destinations team, the Department of Tourism toured Jeremy around Manila, Cebu, Bohol, Palawan, and Pangasinan. Jeremy has tried to return every year since. "We have a large Filipino audience and I've always had so much support from Filipinos that I love being able to support the country and try to promote tourism there." There's even a Beautiful Destinations office in Manila!
ADVERTISEMENT - CONTINUE READING BELOW
ADVERTISEMENT - CONTINUE READING BELOW
Load More Stories