Having two very young kids—a terrific two-year-old and a newborn—is not easy, but it's manageable when you come prepared and when you're fortunate to have help. That's what celebrity mom Iya Villania swears by.
"Getting a night nurse upon arriving home from the hospital was the best thing I did this time around," Iya wrote after giving birth to her second child, urging new moms to do the same. "Thank God for night nurses/midwives that can help out!" she wrote on her Instagram Stories. 
ADVERTISEMENT - CONTINUE READING BELOW
To illustrate how helpful they are, Iya described one "tough night" when her newborn was a bit gassy. "Here's my night nurse putting Leon back to sleep after being a little fussy [because] of his gas," she said. "I went back to sleep after feeding him [because] I'm pretty sure he wanted boob every hour so I was trying to get every minute of sleep I could," the mom of two added.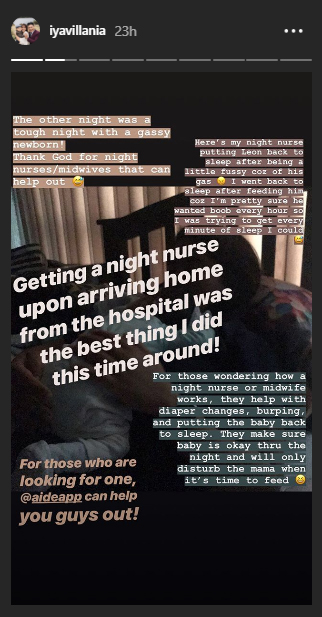 After that incident, night feedings with Leon became more manageable, with a two- to three-hour interval routine. Iya then shared an interesting theory plus her tip. "If your baby is gassy, it may be because of what mama ate. I think Leon had better sleep last night [because] the mama didn't have her usual dose of cake," she wrote.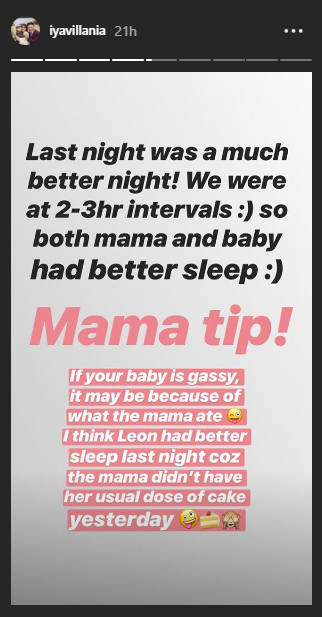 ADVERTISEMENT - CONTINUE READING BELOW
What is a night nurse exactly? A night nurse or midwife is a person who works shifts to help with diaper changes, burping, and putting the baby back to sleep. "They make sure the baby is okay through the night and will only disturb the mama when it's time to feed," she explained. They do the "dirty work" in the middle of the night, so that the new mom could get enough rest. 
In her previous Instagram Stories, Iya revealed that when they got home from the hospital after giving birth to Primo, she tried to do it all by herself at first "Until I started to get a little crazy and decided to get the help of night midwife."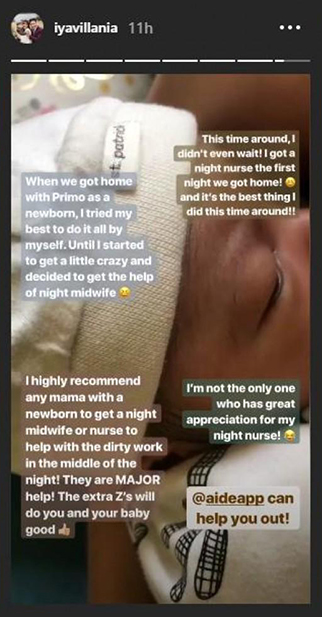 ADVERTISEMENT - CONTINUE READING BELOW
This time, upon bringing Leon home from the hospital, she immediately got a night nurse."They're [a] major help! The extra Z's will do you and your baby good!" Iya added.
The new family of four then began their smooth and peaceful transition, with mom Iya breastfeeding her newborn on demand while still being able to have time for her firstborn. Dad Drew Arellano mostly took over caring for Primo when Iya was busy attending to Leon.
ADVERTISEMENT - CONTINUE READING BELOW
They were even able to pull off a successful intimate birthday party for kuya Primo, as baby Leon slept and cooperated.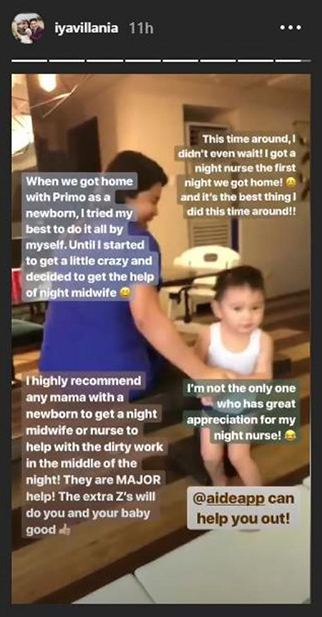 ADVERTISEMENT - CONTINUE READING BELOW
Iya is thankful she didn't hesitate to hire a night nurse. "I am not the only one who has great appreciation for my night nurse." 
The TV host is not the first celebrity mom who through social media recommended getting a night nurse. Actress Isabelle Daza also got a night nurse after giving birth to her first child Baltie in April. She posted about getting one via the Aide App, the same mobile app Iya used to find a night nurse. It's the first app in the country that connects you to a doctor, therapist, or nurse to attend to your medical needs, whether that's a home checkup, laboratory work, therapy session, or nursing aide.
ADVERTISEMENT - CONTINUE READING BELOW
Caring for a baby and getting decent sleep can be achieved, after all. When a mom is well rested, she can better care for her little ones—moms need self-care, too, after all.
Contact AIDE's hotlines: (02)981.7594; (0928)520.1665; (0927)8068478. Download the AIDE App for free on the Apple Store or Google Play. 
This story originally appeared on Smartparenting.com.ph.
* Minor edits have been made by the Femalenetwork.com editors.
Load More Stories