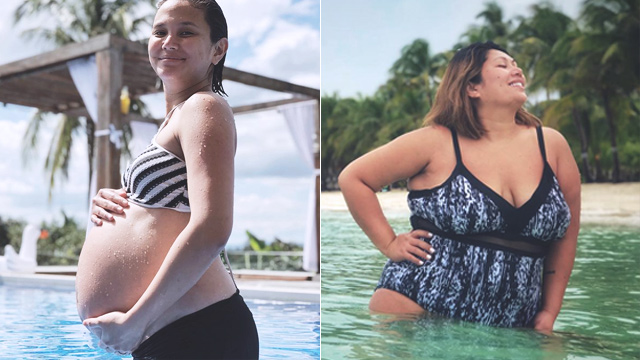 Babymooning and blooming preggos Isabel Oli-Prats and Rona Samson Tai recently took to their social media accounts to address nasty 'mema' comments they have received about their bodies.  
Isabel Oli Prats addressed her baby bump size (though she should not have to)
Almost ready to pop at 37 weeks, Isabel Oli-Prats had a family holiday over the long weekend with husband John Prats and their daughter Feather Prats at the Nayomi Sanctuary Resort in Batangas. 
ADVERTISEMENT - CONTINUE READING BELOW
The soon-to-be dad of two took a photograph of his pregnant wife and shared it on Instagram. "My sexy buntis," John wrote, adding an "I love you" in his caption. John, however, eventually disabled the comments section. 
"My husband posted a preggy photo of mine 'cause he was happy, and he can't contain his excitement for the arrival of our prince @freedomprats," Isabel wrote as a caption for a pregnant and proud photo of herself cradling her 37-week baby bump. 
"Little did he know that he would receive such rude, negative, and uncalled-for comments about my pregnancy. Hence, he turned-off the commenting section," Isabel continued.

The preggo mom said she was not mad but saddened by being judged by people who "don't have the slightest idea about the actual situation."
Isabel's post dropped a hint what the comments were about: her huge tummy. The soon-to-give birth mom also took the opportunity to address any concerns about her pregnancyand her unborn baby's health. 
ADVERTISEMENT - CONTINUE READING BELOW
"I'm very fine. I'm not sick or whatsoever. I'm still within my normal weight range, and as much as I want to work out, my OB doesn't allow me for numerous reasons," Isabel wrote. "Yes, I do have a BIG tummy—you may find the size 'abnormal,' but this is how my tummy [looked] even during my first pregnancy," she stressed. 
Towards the end of her post, Isabel remained positive and reminded everyone that every woman is different and every pregnancy is different and to stop comparing preggos and pitting women against women. "The world will truly be a better place if we all learn to be kind and truly love one another," she said. 
Rona shared a candid message about her plight as a pregnant plus-size woman.
During her babymoon in Bohol, which also marked her birthday, with husband Eric "The Eruption" Tai, Rona Samson Tai, who is currently in her second trimester of pregnancy, posted about her experience receiving comments as a plus-size pregnant woman.
ADVERTISEMENT - CONTINUE READING BELOW
"Every mom-to-be, especially first-time mothers, is always full of apprehension, scared that they might not be up to the task and might mess things up one way or another," she wrote on Instagram. "For plus size women, this feeling is magnified by the numerous sources that speak of doom for babies born of plus-size mothers or the numerous risks associated with said pregnancies," Rona stressed.
The curvy model got pregnant via in vitro fertilization (IVF). Rona shared in the past that both of her fallopian tubes and her left ovary were surgically removed, which significantly diminished her chances of conceiving the natural way.
Studies have shown that women on the heavy side are more prone to pregnancy complications. Women who conceived via IVF or other assisted reproductive technologies (ART) are also automatically considered high risk. 
ADVERTISEMENT - CONTINUE READING BELOW
"Most [plus-size preggos] worry that they might be hurting their babies in one way or another and are always in a state of doubt and fear with the wish that others knew the internal torment they are already going through," Rona continued. "So there is no need to quote the statistics or repeat a scary fact you read somewhere," she stressed.
A happy mommy equals a happy baby. Isabel and Rona may have chosen to address unsolicited comments that no doubt many preggos receive more positively. But for the nth time, no one needs to comment on a pregnant woman's body or her pregnancy. Ever.
This story originally appeared on Smartparenting.com.ph.
* Minor edits have been made by the Femalenetwork.com editors.
Comments
Load More Stories