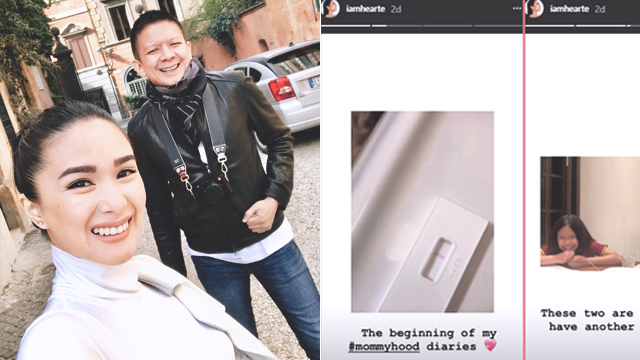 The 33-year-old actress made a timely announcement on May 12, on Mother's Day weekend. On Instagram, Heart Evangelista revealed that she and husband Senator Francis "Chiz" Escudero are expecting their first child together after three years of being married.
"The greatest of blessings all in God's perfect timing! Our beautiful family just got a little bigger. We can't wait to meet you little one," Heart captioned a photo showing her holding a Baby Dior pajama onesie (retailing at P18,000), as Chiz wrapped his arms around her.
ADVERTISEMENT - CONTINUE READING BELOW
CONTINUE READING BELOW
Recommended Videos
In an exclusive interview with Manila Bulletin, Heart opened up about her first pregnancy, revealing she got pregnant only three months from the time they began really trying for a baby. She was so shocked; she didn't think it could happen that fast. (Though as we've pointed out before, current statistics show a rise in women having children later.)
ADVERTISEMENT - CONTINUE READING BELOW
"I thought I would cry, but I laughed because I was excited and I couldn't believe it," Heart said of her reaction when she first found out. "I'm a super duper believer of family planning," she said. "As a woman, however, you're never prepared. I'm super terrified and scared but excited at the same time," Heart admitted.
Among her many pregnancy quirks is wanting everything white, such as "eggs, white bread, and anything with mayonnaise," and "ice cream or anything with cheese." If she craves for pizza, she has to have it. "Sometimes, I wake up in the middle of the night looking for a ham-and-egg sandwich," Heart shared.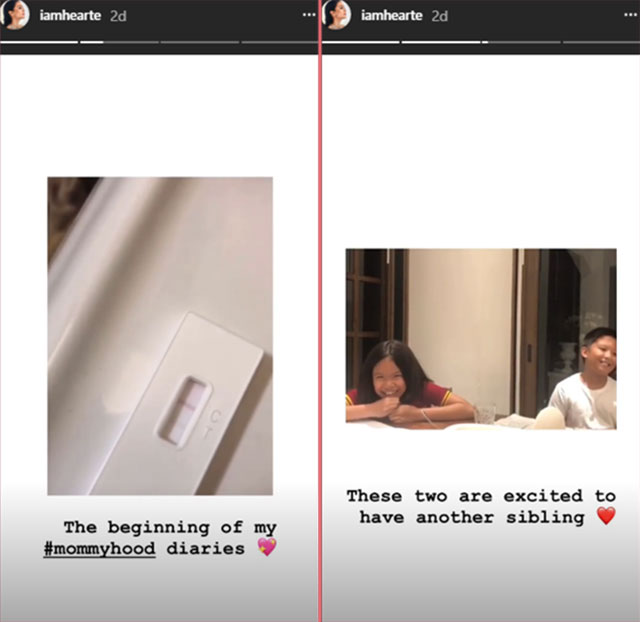 ADVERTISEMENT - CONTINUE READING BELOW
Her sense of smell is also on overdrive. "I don't like certain perfumes. When someone's frying something, I don't like it," Heart said. The actress also revealed going through morning sickness, although "it hasn't been so bad compared to other women."
A key factor in how well Heart is coping with pregnancy is her husband's support, which took the self-confessed independent girl by surprise. Then again, she said Chiz supported her even during the time she was putting off their baby plans and when she doubted her readiness to be a mom.
"I never thought I'd have him with me all the way," she said, citing an incident when Chiz took a blood test with her even though he didn't need to, just so Heart would overcome her aversion to needles. "He's so sweet. If he was sweet before, he's even sweeter now. I must say I'm really enjoying the perks of being pregnant," she shared.
ADVERTISEMENT - CONTINUE READING BELOW
Heart feels good that Chiz said he's proud of how she's handling the pregnancy symptoms. He also assured her that she's going to be a good mom, based on how she takes care of her many dogs, and with how she's taken care of Chiz's twin kids with his ex-wife. "They're just as excited about this baby as I am," Heart revealed.
ADVERTISEMENT - CONTINUE READING BELOW
Is Heart prepared for all things motherhood coming her way? "I'm confident I'm going to be a good mom. I have so much to share. I have so much love to give. I'm excited for my child. It's going to be a fun life," the actress said. This early, she's already preparing a "neutral" and "classic" baby room.
What kind of mom would she want to be? "I want to be my own mom," Heart said in the video interview. "I feel that it'll come naturally to be proactive and to love your child, but I feel like I'm going to be a modern mom," she added.
"I'm not going to forget about my dreams; I'm going to dream with my baby. I'm going to teach her how it's done," the mom-to-be said.
This story originally appeared on Smartparenting.com.ph.
* Minor edits have been made by the Femalenetwork.com editors
ADVERTISEMENT - CONTINUE READING BELOW
Comments
Load More Stories