Sex is usually a taboo subject that family members don't openly discuss, especially if you grew up in a Filipino household. In an effort to reduce this stigma on sexual health and wellness, sisters Isabelle Daza and Ava Daza launched their newest venture, The Sexy Time podcast.
ADVERTISEMENT - CONTINUE READING BELOW
In an Instagram post, Belle wrote, "We started this podcast to create a safe space to talk about all things sex.
"We want to bring more awareness around topics on sexual health and help destigmatize the taboo around pleasure and sexual wellness. It's everything we wish we learned. (But there's still time.)"
CONTINUE READING BELOW
Recommended Videos
ADVERTISEMENT - CONTINUE READING BELOW
Of course, what better way to start the #NSFW series than inviting their mom, former Miss Universe and notoriously unfiltered Gloria Diaz, to become their very first guest? It's safe to say that her candid takes on the controversial subject and naughty storytelling style had us laughing out loud.
"Oh Belle, my gosh, during my time, we didn't even use the word 'sex'," says the iconic actress-former beauty queen. "We never, never, never, ever used it. You have to go to confession once you say the word 'sex'! You have to go straight, 'bless me, father, for I have sinned.'"
She also elaborated on how growing up in a religious or otherwise repressive environment provided no space in tackling a relevant topic. She said sexual topics were either talked about through whispers or disguised as jokes for everyone's entertainment. Sex was never treated as an important matter to be discussed.
ADVERTISEMENT - CONTINUE READING BELOW
"During my time, supposedly, when you get married, it's the first time you have [sex]. But of course, it wasn't happening. So if you had any kind of sex, of course, that's a secret. Sex was not the main part of our lives, it was the hidden part."
"Now, in fact, I'm still a bit shocked when you guys talk openly," she says. While the country's first-ever Miss Universe was raised at a time when sex talk was usually frowned upon, Gloria looks like she found her way to keep up with the times; although hearing it from Belle and Ava, it wasn't always the case.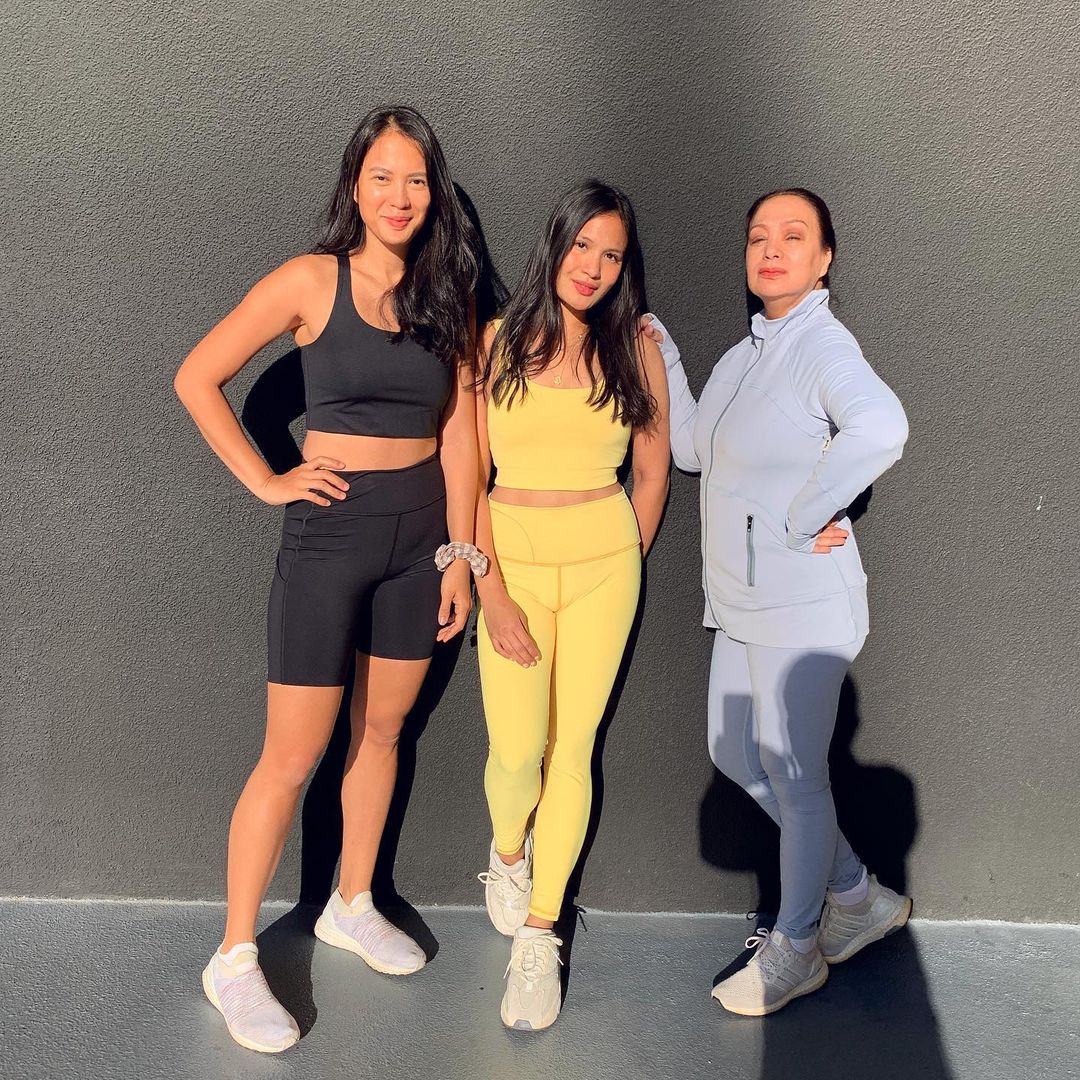 Instagram/isabelledaza
ADVERTISEMENT - CONTINUE READING BELOW
Belle, who followed her mom's footsteps into the entertainment scene, recalls an incident when her mom opened up about her virginity to the press. "Mom was going around telling people I was virgin!" she exclaims.
In the said interview, Gloria was quoted saying, "Oh, that's an achievement! Dapat mong ipagmalaki 'yon, sabi ko sa anak ko. Pero naiintindihan ko siya, kasi nahihiya yung bata na sa tuwing may tatawag sa kanya sa telepono, ang tawag sa kanya 'Isabelle, the virgin one.'" LOL!
Belle also shared her trauma in using tampons, which was greatly influenced by her mom's remarks way back. She said, "Avs, remember when we wanted to use a tampon, and Mom was like, "No, you can't use a tampon because you're gonna lose your virginity to the tampon."
The beauty icon explained, "If you put [the tampon] in and out, in and out, you're gonna lose your virginity!"
ADVERTISEMENT - CONTINUE READING BELOW
Up to now, Belle said she still couldn't bring herself to use tampons because of the experience.
They then delved into a more serious note. When asked if she thinks sex education played a big role in their brother's foray into teenage fatherhood, Gloria was quick to reply, "Of course! It's important not to treat it as a taboo to your children."
She proceeds that the lack of trustworthy and informative sources on these sexual topics is the main cause of the boom in unwanted pregnancies, a juxtaposition in a highly conservative country like the Philippines.
Gloria also gamely talked about some of her ~kinkier~ days on the podcast. When asked if she ever slept with a co-actor, she namedropped Vic Vargas in a sec!
Her hot take on dating a fellow celebrity? "Do not go to bed with any of your super attractive, unbelievable, and super you-think-he-loves-you-so much, cannot-live-without-you actor because it's only in passing."
ADVERTISEMENT - CONTINUE READING BELOW
"So you're not into one-night stands?" asked Belle.
"No, I've never had. But at 70, I always say, I think one of my bucket lists, which of course my partner doesn't like, is to actually have a one-night stand!" Gloria shares.
Ava and Belle playfully told her it's not too late to make her fantasy come true, and it looks like the ever-witty Gloria is in a grey area about it: "No, It's just something in my mind, you know, because I can have a one-night stand, but no, I guess okay naman ako. But sometimes when I'm feeling really adventurous, yeah, I said, why not? Age doesn't matter!" 
Spoken like a true queen.
Listen to their hilarious podcast episode here.
*This story originally appeared on Cosmo.ph.
Minor edits have been made by the Femalenetwork.com editors.
Female Network is now on Quento! Click here to download the app and enjoy more articles and videos from Female Network and your favorite websites!
Load More Stories