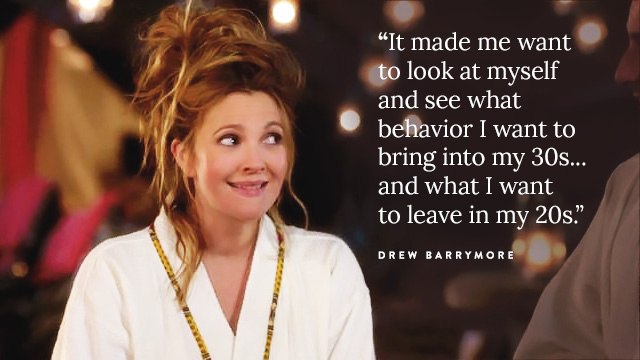 There's something about going into your 30s that feels really significant. It's a chunk of your life where you fully enter adulthood, and it is both scary and exciting. But just in case you need a bit more encouragement, here are some words from some of our favorite ladies about how they handled entering their 30s:
ADVERTISEMENT - CONTINUE READING BELOW
CONTINUE READING BELOW
Recommended Videos
Drew Barrymore 
"It made me want to look at myself and see what behavior I want to bring into my 30s...and what I want to leave in my 20s." Now that's a woman with a plan! Take all the things that you love about yourself, your life, your career, and see how you can take them with you moving forward. In the same respect, look clearly about what needs improvement, and take measures into how you can make things better in the coming decade.
Keira Knightley
"I keep being asked about it like I'm meant to be having a nervous breakdown, and I didn't realize I was meant to be having a nervous breakdown. I've got a lot of friends in their 30s and they all seem alright, so I'm sure I'll be fine!" Take it from a tough gal like Ms. Knightley. Age is just a number, and you're more than equipped to handle whatever your 30s will bring your way.
ADVERTISEMENT - CONTINUE READING BELOW
Reese Witherspoon
"Turning 30 was really big for me. I can get really stuck on, 'I don't like this or that about myself.' I've found that the only thing that breaks that for me is being able to spend time alone, going to the movies by myself or going to art museums alone. I do that a lot. I've discovered the importance of even 15 or 30 minutes a day where it is just me." One of the best things that comes with being in your 30s? Getting really comfortable with who you are. The older you get, the more you know about what you like and what you don't like, and you become sure of it.
"I think as a woman, you get older, you feel more confident in your sexuality. You're not as intimidated by it, not as embarrassed by it. Sexuality and femininity is an accumulation of age and wisdom and comfort in your own skin. I feel better—so much better now than I ever did in my 20s. I am calmer; I know who I am. And as a result, I feel much sexier.... There's always going to be somebody younger or sexier. That's why I like to say, and it's become my famous line, 'Funny doesn't sag.'" Of course we wouldn't skip out on the good stuff! They say that you reach amazing peaks in your sex life in your 30s, and it sure looks like our girl Reese is confirming that claim. Definitely something to look forward to about your 30s!
ADVERTISEMENT - CONTINUE READING BELOW
Olivia Wilde
"Don't freak out about all the brilliant people who accomplished more than you by 30...what you achieve is far less important than what kind of human being you are." It's easy to freak out when you look around you and it seems like everyone else has got it together. It's easy to feel envious of other people's lives, especially in today's world of curated content and social media. But everyone has their own time, groove, and measures of success. Focus on your own thing and on self-improvement. And every time you feel tempted to wallow in self-pity or jealous ambition, remember this saying: comparison is the thief of joy.
Comments
Load More Stories