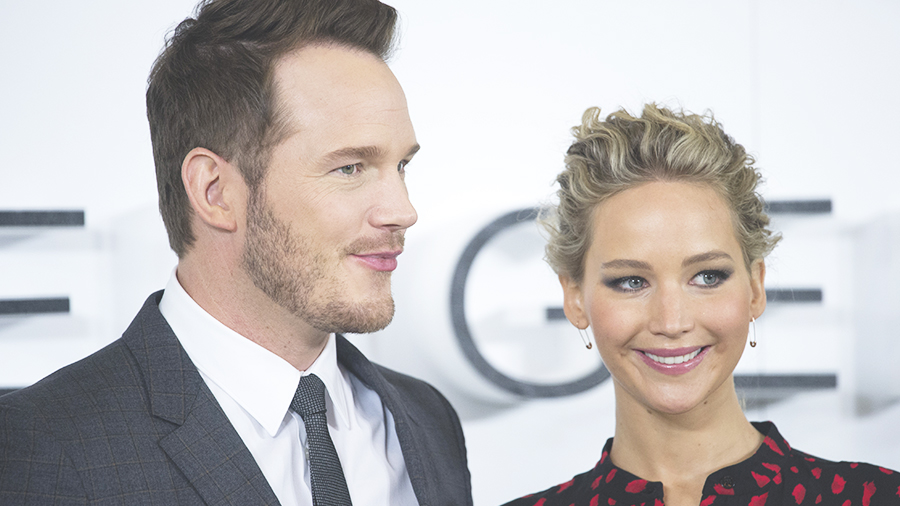 Chris Pratt had a big responsibility to calm Jennifer Lawrence's nerves during their sex scene in new film Passengers, because it was her first.

The Jurassic World actor and Lawrence share a romantic scene in the new movie, and he went out of his way to make sure his castmate was comfortable because he didn't want her onscreen sex debut to be a disaster.

ADVERTISEMENT - CONTINUE READING BELOW
Chris, who is an old hand when it comes to love scenes, says, "I don't want to make generalizations based on gender, but I feel the responsibility falls on me (to make my co-star comfortable), and I've been in that situation a couple times," he tells Jess Cagle. "Essentially it's your job to just minimize the discomfort by, you know, making sure there's nobody else on set than is required, having a closed set, periodically checking in, and just doing everything you can to assure the person you're with that they're OK."

CONTINUE READING BELOW
Recommended Videos
Chris explains romantic scenes may look appealing to the audience, but the process is very awkward for the actors.

"For all the sense of anxiety that comes leading up to a scene like this, you get into it and you realize there's really nothing sexy about it at all," he continues. "It's just really awkward. But, you know, it's part of the gig and you just do what you can to check in with the other person and try to minimize any discomfort that they feel."

ADVERTISEMENT - CONTINUE READING BELOW
Last year, Jennifer revealed she decided to have a few drinks before shooting the scene with Chris – and later regretted the idea.

"I had my first real sex scene a couple weeks ago and it was really bizarre," she told The Hollywood Reporter. "It was really weird. I got really, really drunk. But then that led to more anxiety when I got home because I was like, 'What have I done? I don't know'."

She also confessed she felt all the more awkward about getting intimate with Chris, because he is a married man.

"It was going to be my first time kissing a married man, and guilt is the worst feeling in your stomach," she said. "And I knew it was my job, but I couldn't tell my stomach that. So I called my mom, and I was like, 'Will you just tell me it's OK?'

ADVERTISEMENT - CONTINUE READING BELOW
"It was just very vulnerable. And you don't know what's too much. You want to do it real, you want everything to be real, but then… That was the most vulnerable I've ever been."
Load More Stories