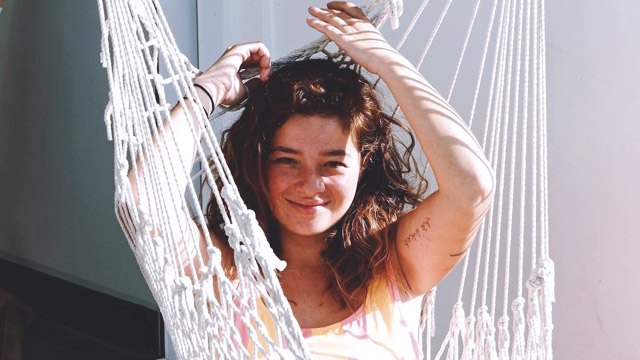 Andi Eigenmann stood in the middle of the crowd, quietly inspecting the merchandise of Aigle, a French outdoor brand, which she is currently an endorser of. Further proof of how far she's come since she truly connected with life outside the city: There was no air of superstardom around her, contrary to the "suplada" accusations of a "fan" on Instagram, which caused her to say that she would be happier choosing a simpler life over the frivolities of fame.
Despite all the negativity thrown at her, Andi has remained true to herself--the outspoken, stand-your-ground woman who found happiness beyond the limelight. Her face glowed without the layers of makeup we've gotten used to seeing on celebs, and her eyes brightened when she spoke about things she loved the most.
"I'm a water baby," she said enthusiastically, professing that she always had a penchant for water activities. "Surfing was that one sport that I thought living here in the city, in Manila, and being young… I thought that me wanting to learn how to surf is something that will remain a dream.
ADVERTISEMENT - CONTINUE READING BELOW
"It was only [when] I grew older that I [learned about] a lot of different surf spots in the Philippines. When I found out, I went for it, and then I fell in love just like I thought I would. Then it became my life. It changed my life. Greatly."
She admitted that her first time surfing was nothing short of "horrible." "I got dizzy, I got a headache because the waves were pretty big and choppy at the same time." Yet it was exactly what pushed her to keep going. "It made me want to work harder and train harder and figure out why is it that people—like I watch my idols and I tell myself, 'Wow, I wanna be able to do that.'" Pro surfers Kelia Moniz, Alana Blanchard, and Maud Le Car were among those she considered legendary.
Competing has already crossed her mind, but she wasn't ready to face the pressure yet. "I don't want to surf and just feel like I'm competing or fighting for something. I'd rather just do it for myself and enjoy." She noted that she found peace in being in the ocean, far away from all the noise and the flashing lights of showbiz.
"[Surfing has] taught me how to meet the proper balance in life that you're supposed to give yourself. You know, time for yourself and time for others. Time for work and time for family. With surfing, I'm also able to bond with myself, so it's just like yoga with others, right? They reach a certain level of bliss whenever they're doing that, and I feel that way whenever I surf."
ADVERTISEMENT - CONTINUE READING BELOW
Andi wisely acknowledged that there would always be a part of her that's frightened to go paddle out into the water, but also how that fear almost shaped her philosophy in life.
"I'm scared all the time. I still get scared up to today. You can never understand how the waves will go. But the thing is, if [I] don't really go for that, then what will happen to me? So I'm still scared, but it's all about going for it and just giving it a shot no matter how scared you might be. It's all about conquering your fears."
Comments
Load More Stories