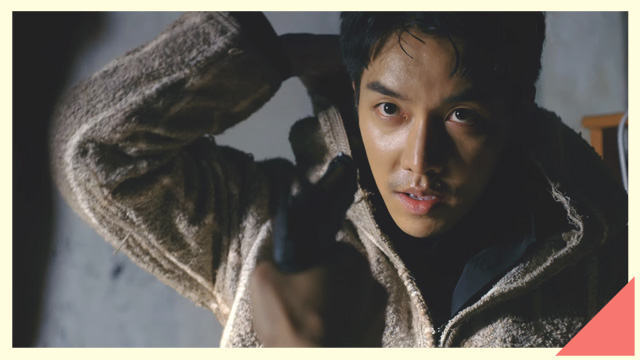 There's no doubt that romantic Korean dramas are potent-they've got you wishing you had an S.O., and even the stone-hearted can't help but swoon. We know you love a good rom-com, but there are days when it's overwhelming that a break is in order. If you're looking for a thrilling action K-Drama, you'll be happy to find out that there are several shows streaming on Netflix and Viu. Here, we round up 10 Korean series that will give you a welcome mix of fight scenes, gripping investigations, and jarring stunts.
ADVERTISEMENT - CONTINUE READING BELOW
These action K-Dramas on Netflix and Viu will have you on the edge of your seat: 
Vagabond (2019)
Where to stream: Netflix
Vagabond follows average guy Cha Dal Geon (Lee Seung Gi), a struggling stuntman who wants to be an action star, all the while taking care of Cha Hoon, his nephew. Cha Hoon boards a flight to Morocco to participate in a taekwondo exhibition, but the plane crashes and leaves no survivors. Korean embassy worker Go Hae Ri (Bae Suzy) is assigned to help the affected families. Desperate for justice and the truth, Dal Geon seeks Hae Ri's help, except the duo find themselves entangled in a complicated web of lies and corruption.
Stranger or Forest of Secrets (2017)
Where to stream: Viu and Netflix
Before Bae Doona was Seo Bi in Kingdom, she was first Han Yeo Jin in Stranger. She plays a kind female detective who works with Hwang Shi Mok (Cho Seung Woo), a cold and emotionally detached prosecutor. The duo must get to the bottom of a serial murder case, all while exposing the rampant corruption in the prosecutor's office. Fun fact: It's also known as Secret Forest or Forest of Secrets, and it's one of South Korea's highest rated dramas in history.
Signal (2016)
Where to stream: Viu
Criminal cases are difficult to solve, but what if you had help from a detective living in the past? Hae Young (Lee Je Hoon) is a criminal profiler who doubts his fellow cops due to an injustice he witnessed in his youth. As he leaves the police station one night, he hears someone speaking to him. He quickly looks around and picks up a sound from a walkie-talkie. The voice on the other end of the line belongs to Jae Han (Cho Jin Woong), a detective from the year 2000. They maintain communication to help each other solve cases in two timelines, but it has serious consequences.
Nobody Knows (2020)
Where to stream: Viu
Cha Young Jin (Kim Seo Hyung) lost her friend 19 years ago, but she can't get over it and is haunted by her guilt and trauma. Now a detective, Young Jin channels all her time and energy to catch the infamous Stigmata serial killer that took her friend's life.
ADVERTISEMENT - CONTINUE READING BELOW
Rugal (2020)
Where to stream: Netflix
Kang Ki Beom (Choi Jin Hyuk) is a top-class detective that has earned enemies by dishing out the truth. Criminal organization Argos isn't about to let him win, as they raid his home and gouge out his eyeballs. He wakes up and the National Intelligence Service has already equipped him with a pair of new eyes and offers him a place in Rugal, a special team formed to take down criminal organizations. 
The Cursed (2020)
Where to stream: Viu
If you like your action show dashed with supernatural elements, The Cursed is right up your alley. Reporter Im Jin Hee (Uhm Ji Won) is trailing the activities of Forest, South Korea's biggest IT company. As she delves deeper into Forest's dealings, she uncovers a spiritual consulting company headed by Jin Kyung (Jo Min Soo) who advises Forest chairman Jin Jong Hyun (Sung Dong Il). She's determined to uncover the secret, but things go south when a spirit possesses her and gives her special abilities.
ADVERTISEMENT - CONTINUE READING BELOW
Two Weeks (2016)
Where to stream: Viu
Jang Tae San (Lee Joong Gi) simply exists. He lost everything when he was still a gangster, and now wants to lead a low-key life. He gets another shot at life when a former lover (Park Ha Sun) returns, but she's pulled from his reach when he's suddenly framed for a murder he didn't commit. He's had enough, and he refuses to let the gang life ruin him a second time.
Last (2015)
Where to stream: Netflix
When you're swimming in money, nothing else matters. Jang Tae Ho (Yoon Kye Sang) lives the luxe life without worries-until a financial deal falls apart, leading to a loss of billions. With nothing to his name, he's forced to run from loan sharks and into the harsh, cold embrace of Seoul's homeless people. In order to survive, he must follow their rules. He's unable to get over his failed deal, and is adamant to figure out what went wrong in order to return to his former lifestyle.
ADVERTISEMENT - CONTINUE READING BELOW
Possessed (2019)
Where to stream: Netflix
Detective Kang Pil Sung (Song Sae Byeok) possesses excellent skills and instincts, but he is lazy and tactless. While investigating a case, he encounters Hong Seo Jung (Koh Joon Hee), a girl who keeps her psychic abilities a secret. Pil Sung senses there's more to her than meets the eye and enlists her help to solve cases together while knowing more about their pasts.
The K2 (2016)
Where to stream: Netflix
Kim Je Ha (Ji Chang Wook) is a rogue soldier that goes by the name of K2. Presidential candidate Jang Se Joon (Jo Sung Ha) has a lot of secrets, including illegitimate daughter Go Anna (Girls' Generation's Yoona), whom Je Ha is now tasked to protect. Je Ha usually gets his work done with no hitch, but he finds himself attached to Anna, and immersed in her family's political and personal problems.
Load More Stories