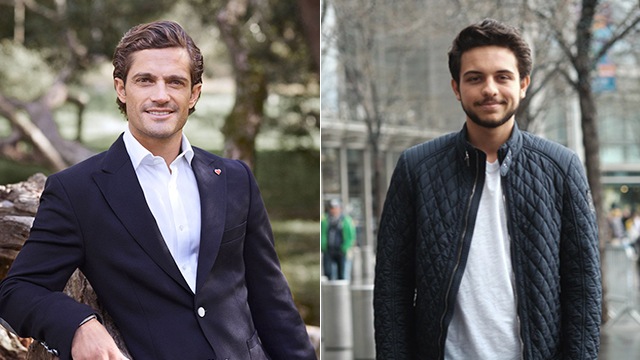 When the words "hot" and "royalty" are spoken, who comes to mind? For us, it's the British royal family—specifically Prince Harry. We're blaming Disney for the "marry prince Charming to have a happy ever after" fantasy all girls seem to grow up with, but luckily there's proof that you don't need to BE royal to marry a royal.

ADVERTISEMENT - CONTINUE READING BELOW
Once you've finished admiring...err, reading up on Prince Abdul Mateen of Brunei, here are seven other hot royals for you to discover.
1. Sheikh Hamdan bin Mohammed Al Maktoum, Crown Prince of Dubai
Born: November 14, 1982
Age: 34
Royal Heritage: He is the son of Sheikh Mohammed bin Rashid Al Maktoum and his senior wife, Sheikha Hind bint Maktoum bin Juma Al Maktoum. In 2008 he was named the hereditary prince of Dubai.
What's to admire: Like Prince Harry, he completed military training at Sandhurst, before studying at the London School of Economics. The outdoorsy prince is a semi-professional skydiver and loves diving and horse riding. He writes poetry under the nom de plume Faaza. 
2. Prince Carl Philip of Sweden, Duke of Värmland
Born: May 13, 1979
Age: 37
Royal Heritage: The only son and the second of three children of King Carl XVI Gustaf and Queen Silvia. As of 2016, Prince Carl Philip is fourth in the line of succession, after his older sister, Crown Princess Victoria, his niece and goddaughter Princess Estelle, and his nephew Prince Oscar.
What's to admire: The prince has a passion for racecar driving and also completed his military service as a combat boat commander.
3. Prince Amedeo of Belgium, Archduke of Austria-Este
ADVERTISEMENT - CONTINUE READING BELOW
Born: February 21, 1986
Age: 31
Royal Heritage: He is the heir to the headship of the House of Austria-Este, a cadet branch of the Habsburg-Lorraine, and is sixth in line to the throne of Belgium.
What's to admire: The prince is a reserve officer in the Belgian army, and completed a Master of Business Administration (MBA) at the Columbia Business School of Columbia University. 
4. Prince Andrea Casiraghi of Monaco
ADVERTISEMENT - CONTINUE READING BELOW
Born: June 8, 1984
Age: 32
Royal Heritage: The eldest son of Caroline, Princess of Hanover, Prince Andrea's maternal grandmother is Hollywood icon Grace Kelly. He is fourth in line to the Monagesque throne after his twin cousins Hereditary Prince Jacquesand Princess Gabriella, Countess of Carladès.
What's to admire: His cheekbones look like they could cut glass. Plus he speaks four languages — English, French, German, and Italian. Since 2004 he has supported the World Association of Children's Friends (AMADE), a philanthropic organization founded in 1963 by his grandmother Grace. In August 2006, the Prince paid a visit to Manila on behalf of a joint venture of AMADE and the Virlanie Foundation.
5. 

Prince Felix of Luxembourg



ADVERTISEMENT - CONTINUE READING BELOW
Born: June 3, 1984
Age: 32
Royal Heritage: As the second son of Grand Duke Henri and Grand Duchess Maria Teresa, he is currently second in the line of succession.
What's to admire: A speaker of multiple languages, Prince Felix speaks fluent Luxembourgish, French, English, and German. He has also studied Spanish and Italian. The prince is an avid sportsman and regularly plays tennis, football, volleyball, golf, and basketball. 
6. Crown Prince Hussein bin Abdullah of Jordan
Born: June 28, 1994
Age: 22
Royal Heritage: The eldest son of Queen Rania and King Abdullah II of Jordan.
What's to admire: He recently graduated from Georgetown University with a degree in international history, and is a first lieutenant in Jordan's armed forces. In 2015, Prince Hussein became the youngest person ever to chair a meeting of the United Nations Security Council.
7. 

Prince Constantine-Alexios of Greece
Born: October 29, 1998
Age: 18
Royal Heritage: As the eldest of son of Pavlos, Crown Prince of Greece and his wife Crown Princess Marie Chantal, he is heir to the throne. However, Prince Constantine is prince in name only — in 1974 Greece voted to establish a republic, and the monarchy was abolished.
ADVERTISEMENT - CONTINUE READING BELOW
What's to admire: Growing up largely out of the limelight, Prince Constantine seems to be a budding artist and a fan of black and white photography (as shown in his Instagram feed). 
Bonus:
Hugh Grosvenor, 7th Duke of Westminster
The young 26 year-old inherited the title of Duke of Westminster on 9 August 2016, after the unexpected death of his father. The duke is estimated to be worth US$13 billion, making him the world's richest person under 30 years old.
ADVERTISEMENT - CONTINUE READING BELOW
Fun fact: he is a godfather to Prince George of Cambridge.
This article originally appeared on Cosmo.ph
Minor edits have been made by the FemaleNetwork.com editors.
Load More Stories