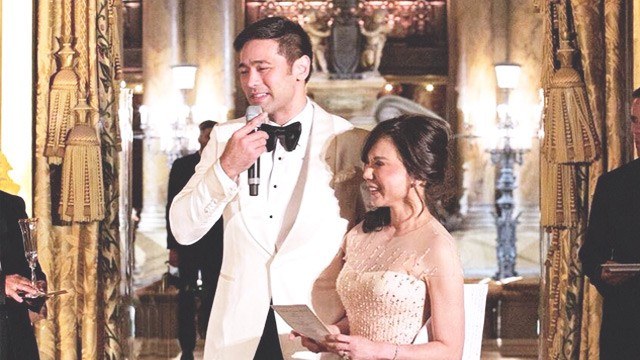 It took 12 years for doctors Vicki Belo and Hayden Kho Jr. to bring their romance to the altar, but when they did, they did it in grand style. 
Not only did they have the wedding in Paris, they also had festivities surrounding it that can rival any major affair in this country—or in France—for a very long time.
ADVERTISEMENT - CONTINUE READING BELOW
They had at least 250 guests flying in from everywhere, they feted them the night before the wedding in a yacht that cruised the lovely River Seine, and they feted them again the night after, during the actual wedding reception in no less than the National Opera House in Paris, where the whole party was served once again by the same "most expensive French caterer." 
But in the end, of course, it had to be about the church wedding. Held at The American Church in Paris, it was also a grand affair, but it was also marked with solemnity and tears.
As Hayden put in his own words, on Instagram, before the ceremony: "Chapter 1 of our romance story, finally concluded…"
Following the wedding celebration, one of the celebrity guests, Congresswoman Lucy Torres-Gomez, took to Instagram to describe the mood inside the church.
She said there wasn't "a dry eye in the church" when the bride and groom exchanged vows.
ADVERTISEMENT - CONTINUE READING BELOW
Lucy wrote, "Your vows to each other were so beautiful it took my breath away. It was raw, genuine, straight from that part in the heart where only truth thrives…"
Inquirer.net's Lifestyle Editor Thelma San Juan put out a few lines from the couple's vows.
Vicki told Hayden: "You are my rock in my weakest moment.
"In my ugliest time, I look in your eyes and I see my reflection, and you make me feel beautiful."
For his part, Hayden said: "When you look at me, you see a man I could become.
"When I look at you, I see only love."
Later, the groom posted a lengthy message for his wife on Instagram, which came with a portrait of Mrs. Kho.
Hayden wrote: "But when I close my eyes and think of you, I only see... love. 
"Like love, you never give up on anyone.
ADVERTISEMENT - CONTINUE READING BELOW
"You care more for others than yourself. 
"You never boast. You're never arrogant.
"You keep no record of wrongs. 
"You always trust.
"You always look for the best in everyone.
"You never look back but keeps on going to the end. 
"And just as love never dies, my love for you too will never perish."
Vicki and Hayden said their "I do's" on September 2, 2017 (Paris time).
This story originally appeared on Pep.ph.
* Minor edits have been made by the Femalenetwork.com editors.
Comments
Load More Stories