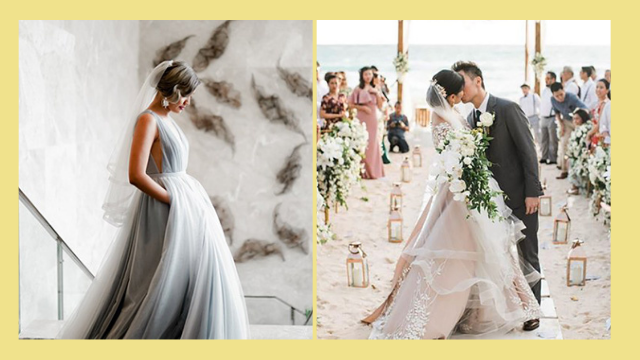 When wedding gowns are a topic of conversation, one immediately thinks about the fabric, the silhouette, and the whole vibe of the design itself. It's quite rare for anyone to discuss color since white has always been the norm. Well, you'd be surprised to know that non-white dresses a.k.a. colored frocks have actually been a thing for quite some time now. Many celebs in recent history have walked down the aisle in subtly-hued dresses, and that hasn't changed! In fact, one of the top bridal gown trends this year is pastel dresses in watercolors like pink, purple, and pistachio.
READ MORE ABOUT WEDDING GOWNS
In case you still aren't convinced, we endeavored to find real brides who tied the knot in colored dresses to prove that they're just as breathtaking as typical ivory ones. Read what they have to say below:
ADVERTISEMENT - CONTINUE READING BELOW
Roz Noriega Parma in a gray tulle gown with pockets
"[The pockets] were super helpful! I used them to keep a printed copy of my vows, my phone, and money that were given as gifts. Haha!
"Our wedding was laid back and chill and I wanted my dress to be simple yet elegant, and comfortable enough to allow me to dance the night away without worries (which I did!). I knew I didn't want a white dress, and I chose gray because it perfectly matched the color of my hair at the time."
Janine Yao in a blush dress with white overlay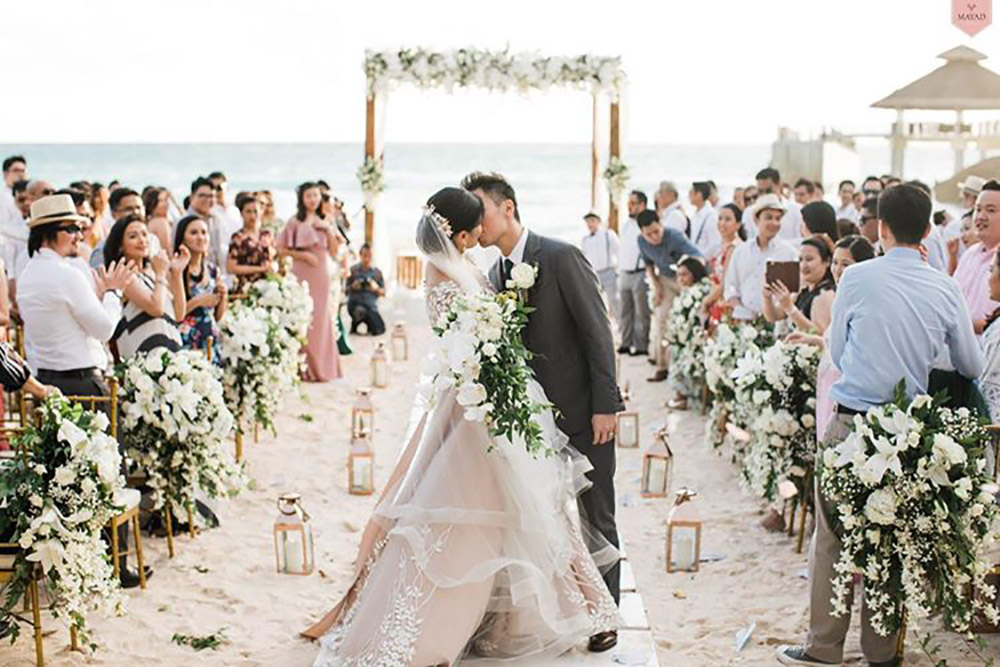 "I was instantly drawn to blush because it looked delicate, feminine, and unique while still looking bridal. When it came to the design, I asked for a convertible dress fit for a beach wedding. The ceremony dress was what I wanted since I was a little girl—big and fluffy! My designer gave me a dramatic ribbon and ruffles that look like waves. She made the skirt detachable so that it reveals my reception gown, which is of a totally different style—a fitted long gown with a high slit perfect for the reception."
Mary Therese Rigor in a Victorian-inspired black dress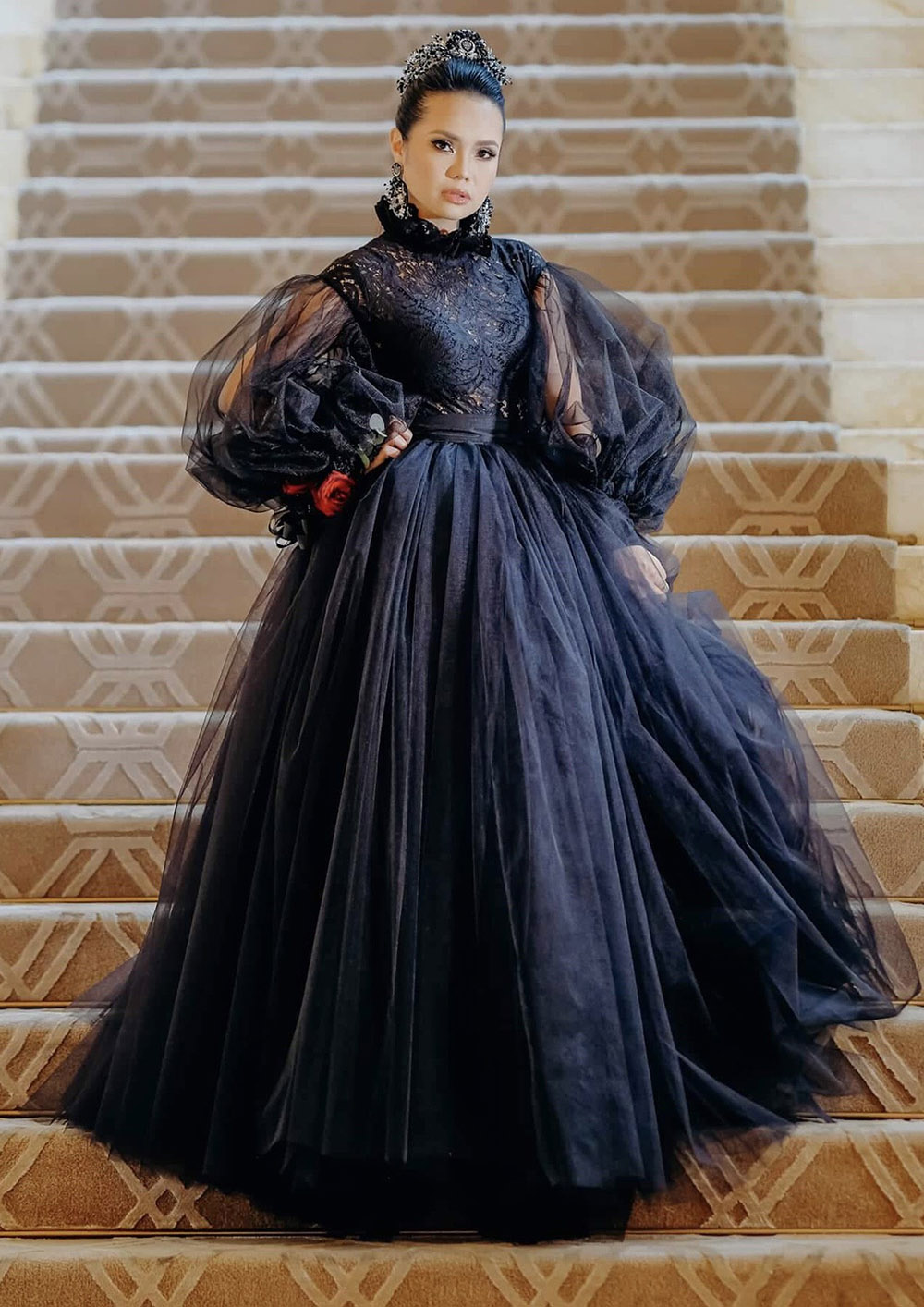 "[My husband and I] are both musicians and we always wanted to have a "Rock Black" wedding concept. We are both born again Christians, so we decided to have it in Slabadu Cafe, where we could have our intimate wedding with less than 100 guests. We invited rock bands [who are based] here in Cebu to play for our wedding. It's our dream wedding. I sang 'I'd Do Anything For Love' by Meat Loaf while my husband played the guitar with our band on stage.
ADVERTISEMENT - CONTINUE READING BELOW
"[The dress] suits both our personalities. We both love rock music and we love wearing black when we perform on stage." 
Kizia Redulla-Hill in a rustic-meets-elegance gold dress  
"I never considered myself to be [conventional], and although white wedding gowns have been the norm for generations, gold has its own appeal. And, [I believe that all brides] want to feel the most beautiful in whatever gown they choose to wear on their special day.
"The gold wedding gown I chose was a gift I gave to myself to show how much I embrace my morena skin, which I struggled to accept for a long time. As we all know, gold complements tan/olive skin tones very well." 
Mylane Balila-Kennerly in a gray Vera Wang gown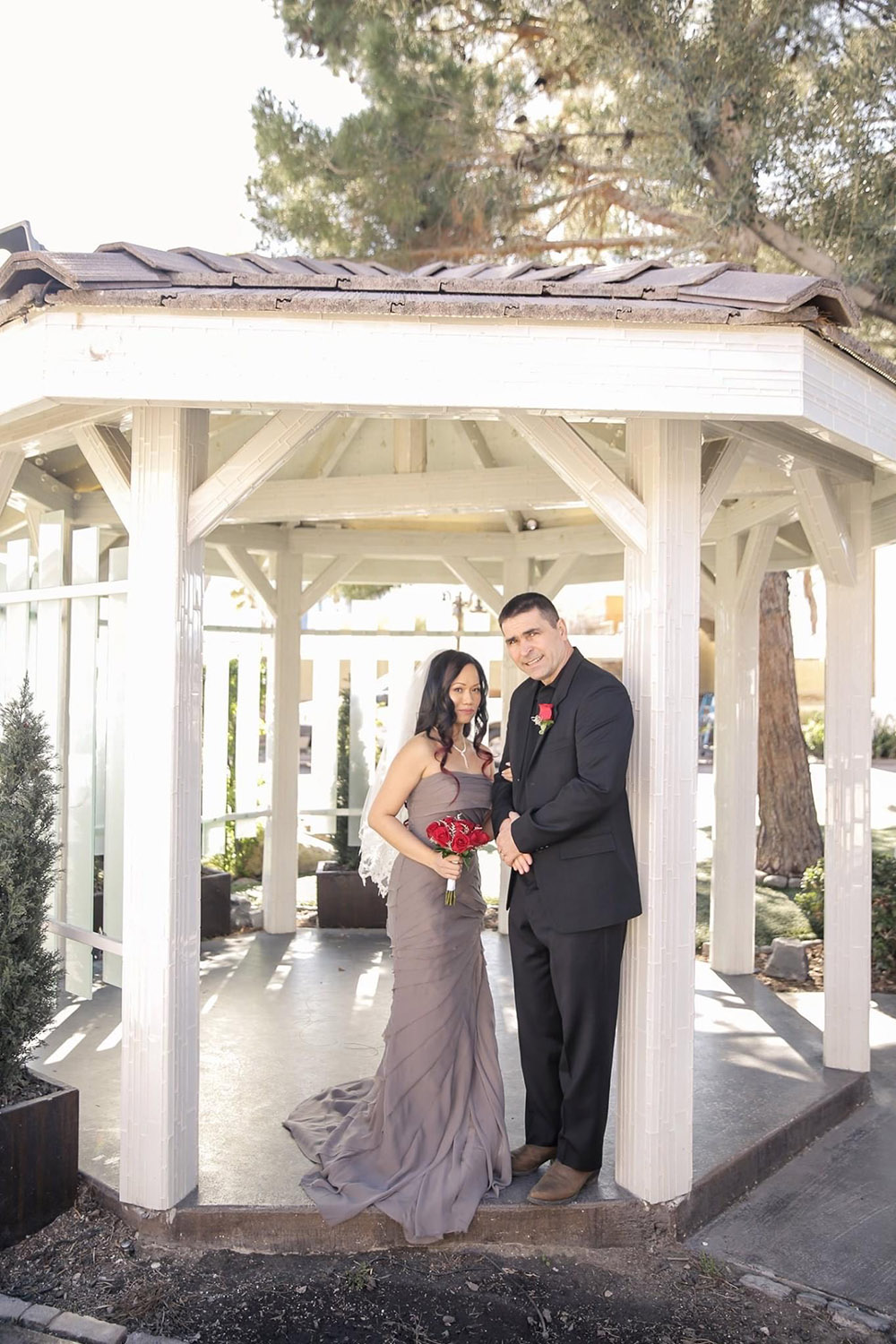 "I had a hard time choosing the color of the gown so my husband asked our daughter to pick one for me, and she did! She was only four years old back then. She was very adamant that I should wear that dress in that particular color!" 
Chynna Ortaleza Cipriano in a gray caped gown
"The dress was a collaboration between Pepsi Herrera and I. He passed on before we were able to start [making it] so Edwin Tan finished the design with me."
ADVERTISEMENT - CONTINUE READING BELOW
"As a young girl, I could not imagine myself as a bride walking down the aisle in white. I've always been a fan of darker shades." 
"I chose gray as a representation of my personality. I [keep it] real, and I'm never fearful of showing my character. It was also a symbol of our union—that we would be entering into a life-long commitment, fully aware that we would stay committed despite the good and bad sides of our ever-changing personas."
READ MORE ABOUT WEDDING GOWNS
"I knew I wanted a cape that could be detached and initially did not want a veil but was convinced to wear one for softness."
Load More Stories