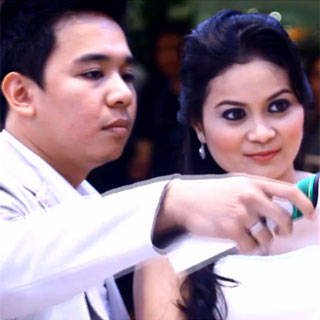 Typically, wedding celebrations are filled with saccharine ballads to set a romantic mood. Ellen and Chris decided to take another route for their wedding, and instead used upbeat tracks to liven up their affair. Their wedding--despite not having the requisite sappy songs--was nothing short of endearing.
Their wedding video also reflects the couple's nontraditional taste. They gave their videographers from Reel Deal the freedom to do his magic, and he painted an accurate picture of the couple's fun and lively wedding. Using The Calling's "For You" for Ellen and Chris' wedding video, the videographers immortalized the couple's special day in three minutes. The song for the video also held a special meaning for the couple: it is the groom's favorite song, plus he used it for his vows during the ceremony.
There was much laughter and dancing captured, as the couple and their guests moved to the music throughout the celebration. Ellen shares, "Let the coordinators do their work so [you] will be relaxed and happy, and you won't look stressed in the video. Have fun, and let the video and photos capture that. Let your personality shine throughout the wedding."
Chris & Ellen SDE from Bryan Ignacio on Vimeo.
Comments
Load More Stories