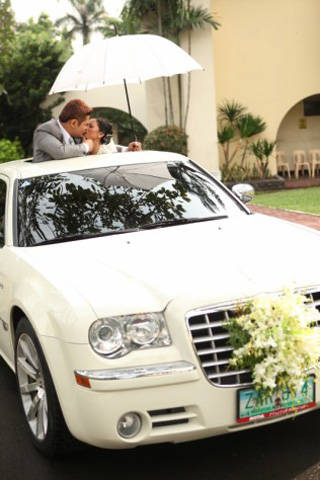 Joy and Ryan let their personality as a couple shine through their wedding with a number of DIY details. Their red and gold color motif gave their affair an air of romance and whimsy.

Want to know more about Joy and Ryan's story? Click on any of the following links:

Love Story
Joy initially knew Ryan from a distance. He was her college friend's younger brother, and hardly encountered him until the time when Ryan accompanied his sister on an errand with Joy. Two years later, Joy found out that Ryan has been nagging his sister for Joy's number, but his request was always declined.

On the summer of the same year, Joy received a text from Ryan. He revealed that he had to steal her number from his sister's phone just to get in touch with her. Ryan's efforts proved to be worthwhile, as their relationship eventually led to the altar.

Joy shares that Ryan didn't have a grand proposal. The couple just knew from the beginning of their relationship that they would get married, and it was just a question of when. That time came in December 2010, and the couple finally tied the knot with a red and gold themed wedding that exhibited everything about their relationship.

Back to main page
Find out about their wedding preparations

Wedding Preparations
Joy and Ryan exchanged I do's with a theme that celebrated everything about them. Because their courtship had often entailed hearing mass and having dinner at a mall, the couple decided on a church wedding and then taking the rest of the festivities to an events space on the topmost floor of a mall.

Joy shares, "Our theme was 'All About Us,' [and] we wanted a very personalized wedding. [O]ur personalities, places that are important to us, food we like to eat, and all the DIY [projects] we [did made] our wedding more meaningful."

While the couple was hands-on with their wedding preparations, Joy shares that couples should learn not to get too carried away with the trivial things. "All the frilly details are only secondary to both of you. It's not about the flowers, venue, nor the dress. It's about finally marrying the one you love," Joy shares. In relation to this, Joy says that couples should also prepare for the marriage and not just the wedding alone. "Preparing ourselves for our marriage should be our utmost priority. If we're willing to spend thousands of pesos for flowers, then we should also allot a bigger budget for marriage seminars. These will really help you and your partner prepare for your life ahead as husband and wife," she explains.
ADVERTISEMENT - CONTINUE READING BELOW
Comments
Load More Stories